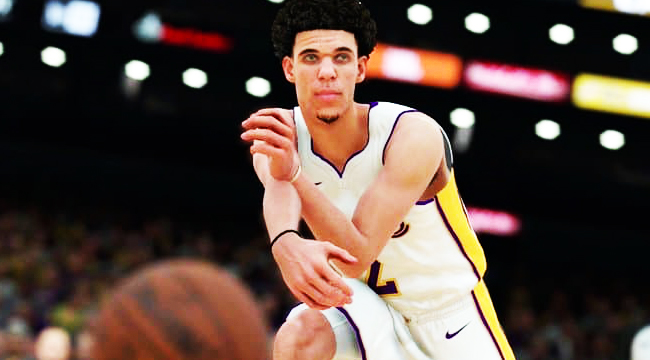 It's getting to the point (okay, maybe it's already gotten to the point) where NBA 2K is the Madden of basketball. Diehard fans wait anxiously for the release date every year, and snap up the new installment as quickly as they can when it drops. This year, those who pre-ordered even got to play the game several days early. If there's a better incentive for pre-ordering, I'd like to hear it.
This year's edition of the game continues to improve upon 2K's stated goal to make the most realistic NBA experience possible for players. When it comes to the core of the game, the actual on-court gameplay, they've accomplished that many times over. The final product this year just straight-up looks like a televised NBA game, from the player models to the onscreen graphics, to Ernie Johnson hosting the halftime show and flanked by a grumpy Shaquille O'Neal.
The gameplay and handling is spectacular, with plenty of options to tweak your shooting, controls, and game settings to get it right in the sweet spot of what you're looking for. The addition of all-time teams is also extremely welcome, and gives you another 30 or so options for teams to play as when you're tired of using the Warriors or Cavs to whomp on opponents.
Beyond the actual on-court games with actual teams, GM mode is also a ton of fun, and it's a blast to simulate your way through a season, even if you simulate every game all the way to the Finals. There are some real twists and turns to be had as you take control of an NBA team of your choosing, even if you might get tired of seeing your created GM and the people he talks to gesticulate wildly with their hands in lieu of there being recorded dialogue. We're not going to spoil anything for you, but let's just say at one point, you might be given a choice to fire an unsavory employee, and it might be extremely gratifying.
The MyTeam mode, where you open packs of "cards" to unlock players and attempt to create the best possible team, has a few new game types but remains largely unchanged from last year's game. If you liked last year's iteration, you'll like this year's. If that mode isn't for you, there's plenty of other stuff to do while you poke around under the hood of NBA 2K18.

One of the big selling points of this year's game was the Neighborhood, an online virtual location in the MyCareer mode. You'll take control of your created player and lead them from streetball all the way to the NBA (a journey that 2K18 explains is as simple as pie), and then attempt to level up your dude and bring them to prominence as a league superstar. What NBA 2K18 tries to do with its new MyCareer mode is seriously impressive, and they almost nailed it.
But first, an aside. Face scanning is back, and absolutely better than its ever been. Tony's player looks exactly like him, and it's actually kind of jarring. If he's playing NBA 2K18 with his friends, they will 100% be able to identify him in NBA 2K18 by his player model. It looks that realistic.
The new MyCareer has its drawbacks. The idea behind The Neighborhood is excellent. It's supposed to be a living, breathing, basketball world that takes more than a few pages out of Grand Theft Auto and World of Warcraft. It's something no other sports video game franchise has ever attempted, so they deserve some trail blazing points here, but it's far from perfect. For one, everything just takes too long. Your player doesn't physically move through the Neighborhood fast enough, and the load times going in and out of every shop, or the animations going in and out of trying a shirt on, for example, is a bit much.
If these were activities you only had to do a handful of times, it'd be easy to overlook, but if you're driving down The Road To 99, you're going to have to wait at the same loading screens, watching the same animations, over and over and over again. How you maneuver around the Neighborhood doesn't feel good over a long period of time, which is unfortunate because a lot of the stuff NBA 2K18 packs in there is fun. It's stuff you'll want to see and experience, but it's a constant battle with your patience.
There are more egregious issues with MyCareer than the clunky Neighborhood. Some users have experienced both VC (virtual currency) loss, and complete deletion of their progress. These are things NBA 2K18 has already released a patch for that (hopefully) fixes the issue entirely, but it was an unfortunate error for those loyal NBA 2K18 fans who pre-ordered the game.
Because it's 2017, NBA 2K18 also gives users a ton of different things to spend real-world money on by way of its VC system, and while that isn't a problem, the way some of that is displayed in the new MyCareer isn't great. For one example, you have to spend VC on new hairstyles for your player, again, nothing wrong with that in theory, but there is no option to see what that hairstyle looks like on your player before you purchase it. It's not the end of the world, but it's not the best look, either.
There are enough good aspects of the new MyCareer and Neighborhood worth building on. NBA 2K18 has something here, and if they keep the open-world format in NBA 2K19 with a year's worth of polish, it could be something truly special.
If you were on the fence about picking up NBA 2K18 and you're eager to play some basketball, you're not going to do better than this. The downsides are unfortunate, but in no way negate the fact that this is well worth your time.
This review was written in part using a review code provided by 2K Sports.