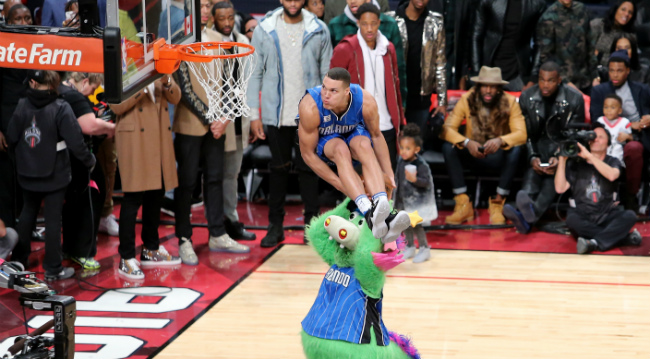 The NBA All-Star Game is, like every All-Star Game in the world of sports, quite the spectacle. It's the perfect example of how silly basketball can be, as the best athletes in the game come together to play a defense-optional game and try to accrue as many points and highlight plays as humanly possible.
But one night before, the basketball world sets its eyes on a series of competitions that always seem to be captivating: The Skills Challenge, Three-Point Contest, and Slam Dunk. They're a beloved portion of the weekend, as fans are treated to some of the league's premier players showing off their skills, jumpers, and ability to throw down.
Here are the participants for all three of the competitions during the 2018 edition of NBA All-Star Saturday Night:

Skills Challenge
Spencer Dinwiddie, Nets
Joel Embiid, 76ers
Al Horford, Celtics
Lauri Markkanen, Bulls
Donovan Mitchell, Jazz
Jamal Murray, Nuggets
Kristaps Porzingis, Knicks
Lou Williams, Clippers
Three-Point Contest
Bradley Beal, Wizards
Devin Booker, Suns
Wayne Ellington, Heat
Paul George, Thunder
Eric Gordon, Rockets
Tobias Harris, Clippers
Kyle Lowry, Raptors
Klay Thompson, Warriors

Slam Dunk
Victor Oladipo, Pacers
Aaron Gordon, Magic
Larry Nance Jr., Lakers
Dennis Smith Jr., Mavericks
There are a ton of fascinating names in all of these fields: Porzingis is the defending champion in the Skills Challenge, Gordon and Thompson are the last two Three-Point Contest champs, and while no one in the Slam Dunk field has won in the past, both Oladipo and Gordon have been runners up.
Beyond the competitions, there will be a performance for those in attendance at the Staples Center. Andra Day and Common will perform "Stand Up for Something," the Grammy and Oscar-nominated song from the film Marshall.
All three of these events and the musical performance should be awesome, and as is usually the case, All-Star Saturday Night has the potential to be unforgettable.