The World Series produced another classic on Sunday night, its fourth in five attempts, and it was good to see the NBA slide in where it was supposed to. This league isn't going to pry a pastime out of anyone's hands and it's just not going to pretend to bother with an NFL behemoth that can't get out of its own way. It shouldn't want to. It should make sure April, May and June work.
The extend-o-sked, declining to toe the typical chalk around Halloween in exchange for a mid-October start, wasn't meant to compete with the baseball postseason or provide fans with an NFL alternative. It was merely meant to clear up some more of the nonsense that carried over from when the NBA wasn't making a ton of money, extending the calendar while keeping the lucrative l'82. The league is two weeks into its season and we're not even in November, and this is working so far.
Some has gone terribly, as you well know. The first thing we pulled out of our stocking this year was Gordon Hayward's antipodal ankle and seemingly every third NBA push notification features a $100 million player making his way off the court after a fall gone wrong. Time beyond these worries, though, is here to help.
Fewer exhibition jaunts and more time for in-season alteration leaves a day-to-day coach happy, and if the point of the plug is to counter what looks unmovable, this is why the borehounds out of Detroit and Memphis did well to pile up five wins before the World Series even got to a fifth game.
They're not the only ones sneaking it in. Thank goodness, because if I have to write columns about Detroit and Memphis all season I'll be out of a job soon.


Boston: Pilots, when the cockpit starts to tilt, probably have that one dial they look toward instinctually first, even if it isn't the most important blink. Boston's defensive needle is nearly pinned to the wall, second in the NBA in defense so far, as Brad Stevens dabs the bead off his wings with the shortsleeve of his shirt. Rookie Jayson Tatum's true shooting marks are sickeningly sweet and somehow this team has sprung out as a Dr. Dracula's monster on the defensive glass (up from the bottom five last year to top five so far).
Houston: Chris Paul's body was going to do this. Chris Paul's body was always going to do this. Better to let Chris Paul's body do this in October when the leaves are falling and everything feels like a WB teen drama set from 15-to-20 years ago. Five wins in seven tries, and though little appears sustainable as they drag James Harden Costume through the ringer, at least the Rocket wins piled up in a West that features just four sub-.500 teams right now (Dallas, Sacto, Phoenix, the Lakers).
San Antonio: It's very possible, considering that it would take a stalled elevator to get him to vault into lawlessness (read: a laconic eyeroll) that Kawhi Leonard features a very tightly wound set of sinew inside that visibly thoughtful, very Spurs-y exterior of his. It's also very possible that his quad injury, despite whispers of its collegiate escapades, has less to do with chronic pain or overuse fears and instead just might rank as "A Thing That Sometimes Happens." Get that out of the way, with rest, in October. Also get these cities out of the way: Miami, Orlando, Indianapolis, Boston, Chicago. A win over Boston on Monday puts the Angry Spurs at 6-2 heading back to Texas, with Rudy Gay sparkling along the way.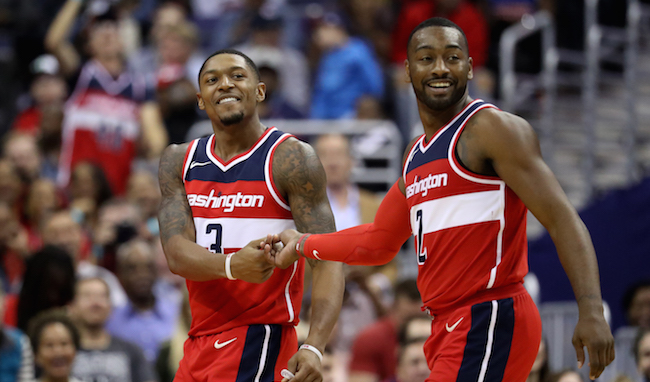 Washington: The NBA is already sick of the Wizards' sh*t, and it has come to expect this team to compete consistently on the level of the championship contenders Washington sometimes smirks at. I love how, if I'm reading the room right, the league kind of decided to give its lone Bill Mussleman speech to the Wizards. Not that Scott Brooks isn't worth listening to:
(A win in Phoenix on Wednesday puts the 'Zards at 5-2. This team is fine, furious in fantastic places, and they love hearing this crap.)
Indiana: It says quite a bit about Victor Oladipo's giddy ways that so many have already deliriously copped to being wrong about their initial squint at last summer's Paul George deal. Watching Oladipo battle the Spurs on Sunday was a joy, he dominated the fourth quarter after Gregg Popovich so clearly made initial transition defense on Victor (Danny Green can be sticky) a priority for the first three sets. This is a spark and a so-far All-Star (25.5 points, 4.5 boards per game) that knows when to prod, and when to pull back.
Milwaukee: This weekend, in a season where Giannis Antetokounmpo will be expected to carry everything but the phone charger which is still back in the car, the Bucks will be able to fly home to rest and practice in between road games in Detroit (Friday) and Cleveland (Tuesday, probably on TV) on Nov. 7. Then they'll get a couple of days off, at home, to do what they have to do prior to a probably-on-TV game in San Antonio on Nov. 10.
This is the sort of space these players need. The 82-game compromise was always going to work for the league and even its players, there are still those bank accounts to think of, but it was becoming a true burden on the sort of fan that wishes there were a game every night, but understands why there should be half as many as 82.
It's to the league's credit that they found this space, in reaction to the time (most often paired with money) that we give up in our own lives to tune into Giannis against Cleveland, and in San Antonio.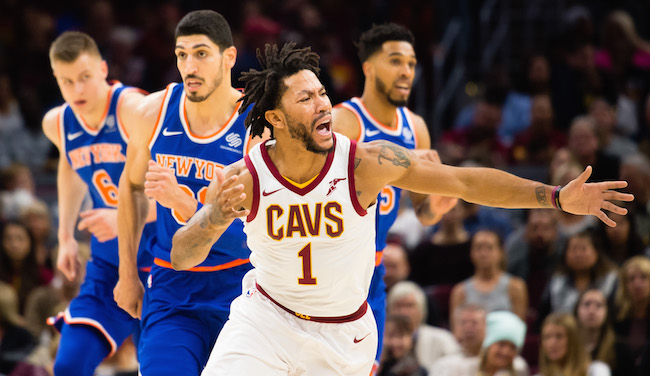 Like I told you, what I said
We couldn't get out of the weekend without a Knicks Sunday, we'd never want to, as the franchise managed to impressively down the Cavaliers in Cleveland behind Kristaps Porzingis' 32 points, 12 boards and two blocks. The Knicks peeled off their second win in a row after eight consecutive losses spread out over the exhibition season and 2017-18's first three contests, try to spot the difference, and Frank Ntilikina (five points, three rebounds and assists, two steals and four fouls in 16 rookie minutes) even played.
Porzingis (27.6 points, 8.6 boards, 1.4 blocks and the 22-year old has only turned it over seven times this season) has been masterful and Tim Hardaway's 34 points were needed on the road, but it is because of that gray line that these sorts of evenings won't return with enough consistency to drag us away from everything else.
The problem here is that the Knicks will forever have unanswered texts in every city. In Cleveland, Derrick Rose was ready to talk. Due as he saw it to make more money as a free agent in New York than anywhere else during the offseason, the guy who quit on his team in 2016-17 described the summer that sent him to Ohio:
"From our side, we were just waiting to see what was going to happen. We didn't hear anything. So with us not hearing anything, we knew they were probably looking somewhere else. And they drafted a point guard. Both sides were on two different wavelengths." Rose said Sunday.
"I would've loved to come back. I loved playing there even though we lost," he added. "The city itself, the fans, like everything about it. They made changes. Phil being gone, I would've loved being part of it."
Phil being gone.
Derrick Rose couldn't even keep Phil Jackson's name stuck in a sentence that ended with a period, he had to keep it (with a live dribble!) and drag it into a comma swipe that ended with discussion about something he "would've loved being part of," such as "of" was and WILL FOREVER BE in New York until James Dolan sells this team can I get a.
Rose went out of his way to tell the press on Sunday, prior to hitting for 15 points on 14 shots in the loss, that he held no enmity toward Jackson for reeling him in to play his way through New York's Jackson-less, joyless version of the triangle offense from 2016-17. It was meant as a kind statement but instead merely reminded us that Phil Jackson, triangle offense obsessive, once dealt for Derrick Rose to play inside of the triangle offense.
This is where Phil left himself, and what could have been his Knicks. His absence was the thing Derrick Rose wanted to play for.
That Cavs win was something else, Kristaps repeatedly looked to establish himself on a court where he had no choice to: Cleveland's half-hearted attempt to establish a versatile, diverse mix of foreheads for him to shoot over found little success.
The Cavs will move on, no amount of Jayson Tatum fun in Boston will have anyone thinking Cleveland anything less than the overwhelming Eastern favorite in a season that doesn't begin for them until the buds jump back up on the branches. Derrick Rose will play or at least be around for a fair amount of that nationally televised mutes, reminding and talking and talking and reminding all along the way, and Knicks fans will just have to be happy with Jarrett Jack, a bowler worth denigrating less and less as his nine-gig career moves along.


Beating around the bush with the wrong end of the stick
Also Steve Mills, the whole New York Knick president, traveled with his team to visit with the press in Cleveland on Sunday, a normal and capable thing that happens in the NBA. He re-affirmed that the Knicks' "goal is to make sure everyone understands what we're trying to do," prior to strapping a giant bass drum to his back just before blowing through two verses of "Mack the Knife" on what appeared to be a giveaway kazoo.
The Knicks game – I love watching a cloudy team play in a dark arena – allowed us to sign off on this dumb thing: everyone that has gotten away from Russell Westbrook has pulled in a ton of rebounds this year.
It starts in Indiana, where things rarely do, with ex-Thunder big Domantas Sabonis more than doubling his rebound rate on his way toward the Dale Davis stats (13 and 10) with the Pacers. Teammate Victor Oladipo has shot up in more ways than one outside of OKC, his rate is up as well, but not nearly as much as that of Enes Kanter and Dougie McDermott's as they work in New York. Meanwhile Paul George and Carmelo Anthony's have dipped in Oklahoma, though Melo doesn't play nearly as much with Russell as George has so far. That hasn't helped, as Russ only grades out at 9.8 rebounds per game on the season so far, which absolutely will not do.
Hot damn was that worth it. Every single thing about Russell Westbrook's throwaway, legendary 2016-17 turn was worth every small cede we offered.
I spent a lot of time on the beach this summer and last July I saw Zach Zarba pause and review a sunset to make sure that its feet weren't on the line.
At referee camp, Zach Zarba was the kid that made sure that everyone was in their bunks and that lights were out at 10:30. The counselors were gonna let you kids stay up until the news came on, maybe even the start of Letterman but sure, Zach, you can call another huddle.
This doesn't mean you shouldn't invite Zach Zarba to your boat party, because it's always cool to see what a real life parachute looks like.
Zach Zarba's favorite film is the 1994 William Baldwin/Keene Curtis feature, Sliver.
Zach Zarba's first name was originally spelled with a 'k' but he replaced the letter because 'h' is set to take the charge while the 'k' is obviously out of position with the block.
There are nine games on the NBA's Monday schedule, and we'll detail them at Behind the Boxscore in this space tomorrow!
Check out Kelly's next step, the debut of The Second Arrangement on Nov. 1: tsa.substack.com