Draymond Green took the ball from the basket and turned towards the floor to in-bound to Steph Curry. But Matthew Dellavedova, naturally, was there to deny the MVP, forcing Green's pass to Andre Iguodala. The Golden State Warriors' usual Sixth Man dribbled cautiously up the floor and looked to the sideline as he crossed halfcourt.
With his squad suddenly trailing the Cleveland Cavaliers 7-0 after the opening minutes of a near must-win game, Steve Kerr calmly called timeout. Both teams walked to their respective benches as Quicken Loans Arena rose to its feet in a cacophonous roar. So much for the longevity of Golden State's last-second lineup change, right?
Wrong. Their coach was simply ensuring the Warriors would stay as calm he was.
Sparked by a surprise change in the starting lineup, the Warriors withstood an early deficit and late third quarter run to beat the Cavaliers 103-82 in Game 4 of the NBA Finals. Iguodala was the best player on the floor Thursday night, scoring a season-high 22 points and grabbing eight rebounds while frustrating an exhausted LeBron James into 7-of-22 shooting.
But Golden State's return to form wasn't relegated to Iguodala's influence alone. Kerr shortened his rotation to seven players in Game 4, affording normal starter Andrew Bogut a measly three-minute stint in the second quarter before sitting the Aussie center for good. David Lee was the only big man to get meaningful playing time behind the Warriors starting frontcourt of Harrison Barnes and Green, while Shaun Livingston spelled Iguodala, Curry, and Klay Thompson in the backcourt.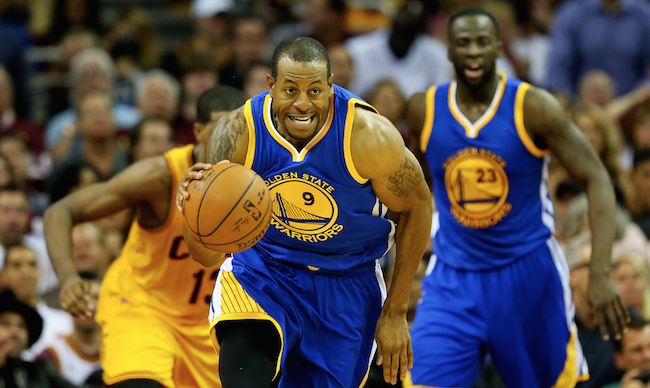 The means behind Kerr's adjusted rotation didn't need his explanation. Following three games of James slowing the pace to a crawl and Cleveland daring anyone to score but Curry or Thompson, he sought to inject tempo and ball movement in the championship series by only employing players capable of running the floor and making plays in space. After watching the Warriors finally resemble at least a portion their dominant offensive selves, though, Kerr confirmed what Game 4 made obvious.
"For pace," he said of justification for the lineup adjustment. "We did it for space and floor spacing and just to get the tempo going."
But playing small against a dominant rebounding team like the Cavaliers presents nearly as many negatives on one end as positives on the other. Tristan Thompson exhibited that reality during Cleveland's run to open the game, scoring the first points of the night on a follow-up slam and grabbing another offensive rebound on the next trip down the floor.
Kerr, however, understands that long-term process always wins out over short-term results. He told his players as much during that timeout early in the first quarter which immediately preceded a Golden State scoring barrage, and kept believing it even as Timofey Mozgov and the Cavaliers kept pounding the offensive glass en route to a third quarter run that cut Golden State's lead to 73-70.
"The big thing we were trying to get across to the players, not just when it was 7-0, but even today, it's 48 minutes," he said. "We have to have pace for 48 minutes, so there's going to be some lulls. We knew that the rebounding was going to be an issue at times. The third quarter they pounded us. But the pace was good.
"Obviously we got off to a good start. It was our tempo, and we were able to withstand the rebounding barrage that was, at some point, inevitable."
Cleveland had 20 second-chance points via 16 offensive rebounds on Thursday. Mozgov dominated the paint all night long, scoring a career-high 28 points. Assuming those necessary evils are offset by an identity on the other side of the ball that's been their calling card all season long, the Warriors will happily live with them for the remainder of the Finals. For so much talk of James' extraordinary box score numbers, remember, defense didn't let them down through the first three games against the Cavaliers.
It was offense that made Golden State look ordinary, and its performance in Game 4 suggests those struggles could be in the rearview mirror as this series becomes a best of three.
Evidence of Kerr's strategic gambit ultimately paying off was obvious even as the Warriors opened by missing their first three shots while allowing a pair of offensive rebounds. A missed jumper by Curry out of isolation was followed by a pair of errant triples from Barnes and Iguodala – both wide open shots from the coveted short corner.
Just as encouraging as the attempts themselves is how they came about.
As we chronicled following his wholly dispiriting Game 3 performance, Green has been uncharacteristically uncomfortable with the ball in his hands on the backside of Curry ball-screens. Plagued by a lack of confidence in his jumper and general hesitance as a decision-maker in those veritable 4-on-3 situations, the playmaking power forward hardly lived up to that billing throughout the first three games of this series – a surprising development that served as a crux of his team's sweeping offensive labors.
But sometimes a fix is simple. Given the same swath of space Cleveland allowed him just 48 hours earlier, Green made a subtle adjustment from the outset on Thursday night that directly accounted for so much of Golden State's success. Instead of popping to the arc as became his custom this season, he mostly rolled towards the basket in Game 4 and caught the ball on the move.
Limiting the amount of time a player has to think can be crucial in a game where instincts reign supreme. Green was behind the three-point line with the ball after setting a high pick for Curry so many times before Game 4, stuck between the rock of a supposedly broken jumper and the hard place of Mozgov protecting the paint. By taking one option off the table on Thursday, he rediscovered the comfort and confidence he's had under similar circumstances since the season tipped off in late October.
It bears mentioning, though, that in every clip but one of the video above Green is playing center. The extra space afforded by a power forward alongside him who can stretch the floor proved vital not just for the Michigan State product as a pick-and-roll attacker, but also for the Warriors as a whole.
Despite Thompson and Mozgov manning the Cavaliers' frontcourt for 27 minutes, Golden State's was only comprised of two traditional bigs for five minutes in Game 4 before Kerr emptied his bench. By essentially playing Green and Lee full-time at the 5, the Warriors were able to create early halfcourt offense. A majority of possessions began with either fleet-footed center setting a drag screen for Curry, immediately setting off chain reactions that normally produced an open shot and got the comparatively lumbering – not to mention tired – Cavaliers moving.

Golden State didn't employ this double-high ball-screen often, but it nonetheless indicates what a chore it is for Cleveland to track the ball with so many gifted passers and capable shooters on the floor.
Yet at the same time, this play is a reminder that much of the Warriors' offensive surge on Thursday night is the kind their opponents can tolerate.
According to NBA.com, 20 of Iguodala and Barnes' combined 24 field goal attempts in Game 4 were uncontested. The former connected on seven of his 13 such tries, while the latter made three of seven in the same scenarios. Iguodala and Barnes are good players; they're key cogs on the league's best team for a reason. But it's no accident that a whopping 83.3 percent of their shots were open, either.
Iguodala, who shot 8-of-15 from the floor, missed each of the following looks.
Just imagine if he'd knocked a couple of these down. And conversely, imagine if he'd misfired on a few of the ones he made. Considering Iguodala notched a season-high in this crucial win, which theoretical outcome seems more likely?
Injuries forced the Cavaliers' hand into this defensive strategy. David Blatt knows his team can't score with the Warriors, and is trying to ensure it doesn't have to by forcing anyone to rain shots other than Curry and Thompson. That's a difficult chore in a vacuum or otherwise, but Cleveland has the individual defensive talent and unceasing commitment to scheme that makes things hard on the Splash Brothers.
Now that Golden State has opened the floor by playing small full-stop, however, the game is suddenly easier for the ancillary parts Cleveland is begging to win it.
Kerr made the Finals' first move, spurring the Warriors to a crucial road victory and instilling confidence in them that's been sorely lacking all series long. The problem for Blatt is that he might not have a similar card to play. Considering the Cavaliers' sustained success keeping Curry and Thompson in check, though, there exists a possibility that he doesn't need one to win a championship.
We'll find out the chances that possibility comes to fruition Sunday night.