Draymond Green took the ball from the basket and turned towards the floor to in-bound to Steph Curry. But Matthew Dellavedova, naturally, was there to deny the MVP, forcing Green's pass to Andre Iguodala. The Golden State Warriors' usual Sixth Man dribbled cautiously up the floor and looked to the sideline as he crossed halfcourt.
With his squad suddenly trailing the Cleveland Cavaliers 7-0 after the opening minutes of a near must-win game, Steve Kerr calmly called timeout. Both teams walked to their respective benches as Quicken Loans Arena rose to its feet in a cacophonous roar. So much for the longevity of Golden State's last-second lineup change, right?
Wrong. Their coach was simply ensuring the Warriors would stay as calm he was.
Sparked by a surprise change in the starting lineup, the Warriors withstood an early deficit and late third quarter run to beat the Cavaliers 103-82 in Game 4 of the NBA Finals. Iguodala was the best player on the floor Thursday night, scoring a season-high 22 points and grabbing eight rebounds while frustrating an exhausted LeBron James into 7-of-22 shooting.
But Golden State's return to form wasn't relegated to Iguodala's influence alone. Kerr shortened his rotation to seven players in Game 4, affording normal starter Andrew Bogut a measly three-minute stint in the second quarter before sitting the Aussie center for good. David Lee was the only big man to get meaningful playing time behind the Warriors starting frontcourt of Harrison Barnes and Green, while Shaun Livingston spelled Iguodala, Curry, and Klay Thompson in the backcourt.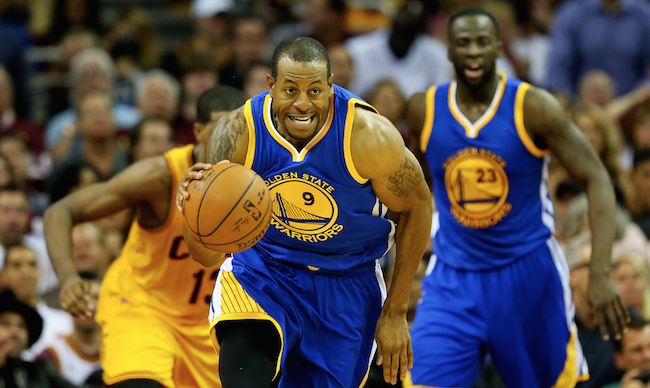 The means behind Kerr's adjusted rotation didn't need his explanation. Following three games of James slowing the pace to a crawl and Cleveland daring anyone to score but Curry or Thompson, he sought to inject tempo and ball movement in the championship series by only employing players capable of running the floor and making plays in space. After watching the Warriors finally resemble at least a portion their dominant offensive selves, though, Kerr confirmed what Game 4 made obvious.