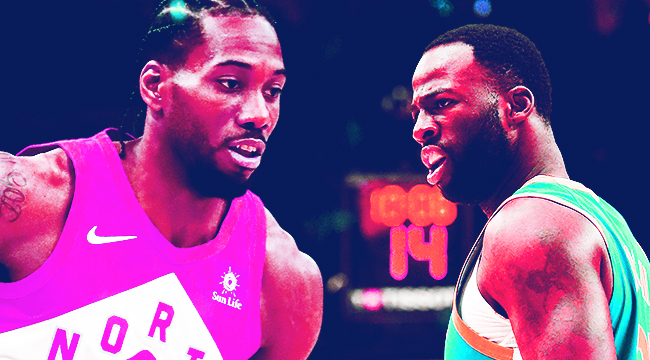 The long and grueling NBA postseason has nearly reached its conclusion. On Thursday, the basketball world's eyes will turn to Toronto for Game 1 of the NBA Finals between the Raptors and the Golden State Warriors. It's a series full of intrigue, with stakes that could potentially go beyond determining an NBA champion this season. Add in that it's a new, non-Cavaliers challenger for the two-time defending champions and this series has a potential to be a blast.
Before it starts, the Dime staff came together for a two-part roundtable to preview the Finals. Today, we looked at potential x-factors for both squads, debated which player is the most important, and predicted when we think we'll see Kevin Durant return from his lingering calf injury.
Who is the most important player in this series?
Jeff Siegel: Draymond Green. He's essential to what Golden State does offensively in their pick-and-roll game with Steph Curry and has to execute every time on the short roll. Toronto's going to make him finish at the basket and prove that he can do that over Marc Gasol or Serge Ibaka. If he can do that, then it opens up all the passing angles on which he thrives. Defensively, he'll be playing the Antetokounmpo role from the previous series — as Golden State funnels Leonard to his left, he'll be the one waiting in the paint to challenge at the basket.
Chris Barnewall: Kyle Lowry was finally able to shake off his playoff struggles in the Eastern Conference Finals, but he needs to continue that level of play against the Warriors. The Raptors can't have him throwing up donuts in Game 1. He needs to come out strong, aggressive, and smart.

Mike Zavagno: I'll go with the obvious one and say Steph Curry. We don't know when Kevin Durant will return to the series so the offensive burden falls squarely on Curry's shoulders. He has been excellent so far, but Toronto does have a strong trio of lengthy defenders to potentially throw at him in Green, Leonard, and Siakam. If Curry continues to play as well as he did in the Portland series, it's hard to imagine Toronto having much of a chance.
Robby Kalland: Leonard. He's the singular engine of this Raptors team and they go as he goes. He absolutely needs help, but he's the answer to all the questions Golden State will pose to the Raptors offense. They'll try to force him left, make life difficult, and make his teammates hit shots, but time and again this postseason he's proven to be capable of hitting contested shots over good defense. He's going to have to do that in this series to give Toronto a chance.
Brad Rowland: Leonard. It's just supremely difficult to see the Raptors winning this series, even with home-court advantage, if Leonard isn't great on both ends. That puts an immense amount of pressure on one player, but it's also the reality of the situation when the Warriors are on the other side.
Jamie Cooper: Steph Curry. His shooting is the engine that runs everything. It's what allows their offense to operate the way it does, and it forces opposing defenses into impossible, no-win situations. For the past six games, he's reminded the world why he's such a devastating force.
Nekias Duncan: I think it's Curry. I don't put much stock into the Finals MVP noise, but this is the series for him to end that talk for good. With Durant out for at least the first game (and I'd wager he misses the second as well), all eyes will be on him as the head of the snake. If he can break down the Raptors' defense, there won't be any real way for them to defend the Warriors.
Martin Rickman: I'm tempted to say Curry, as he's still gunning for his first Finals MVP, but that's disingenuous. The Warriors can win with Curry going cold, and have before, especially if Durant returns semi-healthy. It's part of what makes them so dangerous and dominant. We'll get a Draymond game, a Klay game, an Iggy game. Curry going molten isn't even a necessity. The Raptors cannot afford anything other than brilliance from Leonard. He knows it. The Raptors know it. The Warriors know it. The entire viewing NBA public knows it. We'll see an effort rivaling that of LeBron in 2015, or the Warriors will roll.
Bill DiFilippo: Kawhi Leonard. It basically comes down to this: If Steph Curry struggles, the Warriors have Klay Thompson, Draymond Green, and possibly Kevin Durant and DeMarcus Cousins to pick up the slack. If literally any of those four dudes struggle, they have Curry and the rest of their stars. It's an embarrassment of riches, but it's also the sort of thing that makes it so hard to say the most important player is any Warrior. However, if Toronto wins a championship, it's almost certainly because of the load Leonard shoulders. He's that good, he's that important, and he's that impactful.

What's the x-factor that can tip this in favor of the Raptors?
Siegel: If their shooting stays as hot as it was in the last few games of the Conference Finals, then they have a real chance to win this series. Fred VanVleet was shooting fire from his fingertips; can he continue to do that? Will Danny Green's shooting wake up from its slumber and give them someone Golden State just cannot leave on the perimeter? Will Marc Gasol be a ready and willing shooter when the Warriors help away from him? These are the questions that will define the series for Toronto offensively.
Barnewall: Pascal Siakam feels like a star in the making. If he can keep the Green and Durant (whenever he comes back) duo in check defensively, while still getting his on offense, he could really swing this series. Also, it goes without saying, but the Raptors have to make 3-pointers, although that's not really an x-factor, it's just a fact.
Zavagno: Danny Green. I alluded to the Warriors' size potentially bothering Eastern Conference Finals star Fred VanVleet above, much in the way the Sixers were able to get to him. If he isn't shooting at supernova levels, Green will have to be much better. He went 6-for-32 from deep in the ECF and will have gone 10 days without a made three when the Finals open. Plus he will likely spend time checking both Thompson and Curry, a daunting defensive task.
Kalland: Role players hitting shots. They were great late against Toronto, as VanVleet became a flamethrower from deep, Gasol hit some big, timely threes, and they just generally gave Leonard the support he needed. The Warriors know that Danny Green can be a killer, so I expect them to stick to him despite his struggles recently. That means they'll dare FVV to stay scorching hot, beg the question of Siakam to hit the corner threes he hasn't, and see if Gasol can consistently beat them from downtown.
Rowland: Everyone but Kawhi making shots. Leonard obviously needs to make some as well but, at the high end, Pascal Siakam and Kyle Lowry need to take advantage of opportunities. In pure supporting roles, Fred VanVleet, Danny Green, Marc Gasol and even Norm Powell need to have big moments.

Cooper: Kyle Lowry is an All-Star and one of the league's best point guards, but he's historically underperformed in the postseason. However, when he plays well, his impact can't be underestimated. The Raptors will need Lowry at the top of his game this series to have any chance whatsoever, and that's a tall order if past experience is any indication.
Duncan: Pascal Siakam has to put his stamp on this series. I trust him to defend well, no matter what Toronto's gameplan calls for (drop vs. switch vs. hedge and recover). It's just not going to matter in the grand scheme of things if the Warriors are able to comfortably defend him with a center and rotate away from him to bother Kawhi Leonard. Siakam has to put pressure on the rim, finish well, and draw some fouls. If he's ignored off the ball, he has to make the Warriors pay with the three ball.
Rickman: Lowry. He's put whatever was haunting him in the playoffs behind him, by nature of an extended playoff run. The Raptors need him to be as good as he can be, and sometimes better. Anything else will cause this series to slip away from Toronto.
DiFilippo: In the event Durant and Cousins either don't play or aren't themselves, the Dubs (Curry-Green-Thompson) have a better top-3 than the Raptors (Leonard-Lowry-Siakam). But the thing that fascinates me so much is that if Steve Kerr and Nick Nurse play 8-9 guys, I believe Toronto's next five or six guys are better than Golden State's next five or six guys. If Leonard-Lowry-Siakam can play Curry-Green-Thompson to a near-draw (very hard, but not impossible), I trust Marc Gasol, Danny Green, Serge Ibaka, Norman Powell, and Fred VanVleet more than I trust the collection of very good players the Warriors will throw out.

What's the x-factor that can tip this in favor of the Warriors?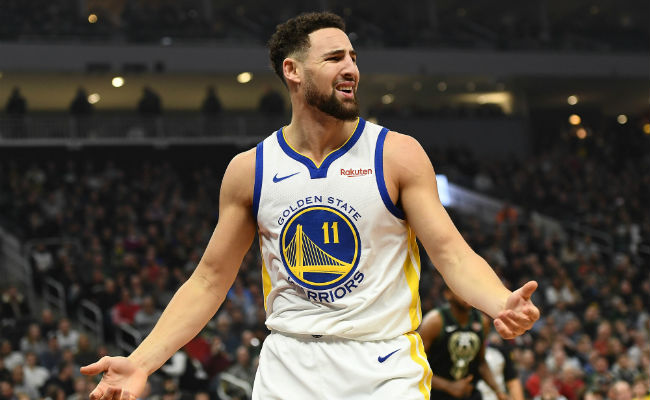 Siegel: Health, particularly in relation to the lineups that open the second and fourth quarters, when Steph Curry and Draymond Green are out of the game. Those lineups worked fine against Portland, but Toronto should be able to eat them alive when Golden State throws out Klay Thompson surrounded by a bunch of bench guys. The faster Kevin Durant and/or DeMarcus Cousins can get back out there, the faster those lineups in particular become a lot more dangerous.
Barnewall: Did you know Steph Curry has never won an NBA Finals MVP? It's not in his nature to hunt for his points, even in these situations, but if he decides he wants to make a run at that award, and he's hitting those shots that are impossible for even the league's best shooters, then he could end this one in a hurry.
Zavagno: As it often seems to be, my answer is Andre Iguodala. He is going to have the primary responsibility for stopping Leonard, at least until Durant comes back. Iguodala has the strength to bother Leonard and potentially keep him from getting to his spots. But he wasn't healthy to end the Portland series and didn't make a three in any of the three games he played. He will have to punish Toronto with his shooting when they inevitably ignore him.
Kalland: Klay Thompson. For however long Durant is out, the Raptors are going to focus their defensive efforts on Curry and trying not to let him get hot (as he did so often against Portland), forcing him to pass and begging the question of the other Warriors. If Thompson shoots it well and can get into rhythm, he can take a lot of pressure off of Curry and really put stress on the Raptors defense. On the other end, he'll likely spend most of his time chasing Danny Green around, but will find himself on Kawhi Leonard some of the time as Golden State will surely try to give Toronto's top star different looks. An engaged Thompson takes this Warriors team to another level on both ends of the floor, and they'll need him to be in that zone to start the series.

Rowland: Andre Iguodala remains comically underrated in some circles and he's fantastic. Draymond is probably the pure "x-factor" but, since everyone knows that, Iguodala performs a similar act in checking a ton of different boxes that lead to winning.
Cooper: Klay Thompson. He'll have the unenviable task of guarding Kawhi for significant stretches, for which he's more than up for the challenge, and if he can get hot and have one of his signature outbursts where scores 35 points on nine three-pointers at some point, he could swing the series in Golden State's favor.
Duncan: I feel like I've spoken enough about how important Curry will be in this series. Aside from him and health, Andre Iguodala will have to be pretty darn good. He'll be tasked with defending Leonard for large chunks of the series. I don't have to explain how tough that will be. More than anything, he has to keep up his shooting from deep. If that falls off, the Warriors' offense (sans KD) will probably sputter. If the Death Lineup in particular becomes less effective, things could swing in Toronto's favor.
Rickman: Since it's not often I get to say this in reference to an x-factor situation without sounding sarcastic and/or ironic: Kevin Durant. If he stays sidelined through the whole series, we can see the sort of Beta Ball we saw in 2015-16 and the Warriors could get Steph his Finals MVP. If he comes back — and doesn't miss a beat — it's the introduction of a new element to the periodic table. He's Kevin freakin' Durant. Of course he's important.
DiFilippo: I want to say something super insightful about how good Draymond Green has been, or how Andre Iguodala has turned back the clock, or how they're champions who have been here before and know what it takes. Blah, blah, blah. The answer is Kevin Durant. He is basketball's version of a nuke. He's the difference between the Warriors being one of the 15-20 best teams ever and maybe being the best team ever.

When do you think we'll see Kevin Durant?
Siegel: Game 4. If Golden State gets one of the first two in Toronto, then there would be no reason to rush him back for a Game 3, but win or lose, they'll have him out there for Game 4. If they're down 2-1, then he comes back to help save their season. If they're up 2-1, then he comes back to help end the Raptors.
Barnewall: Game 3. Golden State will see how it goes in Toronto then bring him back for the home opener. That's my guess. I'm not a doctor.
Zavagno: Golden State probably feels the first two games out, but I'll predict Game 3. Like Chris, I am not a doctor.
Kalland: Game 4? That'd give him an extra week to get right and get some on court work in prior to returning to actual Finals games. I don't expect them to rush him back and I don't think he'll want to sit out the entirety if he can go. We'll see, though.
Rowland: It feels reckless to even guess without, um, any actual info, but let's go with Game 4. If the Warriors were down 2-0, it would feel more likely that we'd see Durant in Game 3 but, if it's split, they can give him a couple more days with the home crowd firing on all cylinders at Oracle.

Cooper: Game 4? If they split the first two games in Toronto, then maybe there's a bit more urgency for him to come back. That would be especially true if they somehow fall into a 2-1 hole. The more I think about it, it would have to be Game 4 at the very latest. Nobody wants to see him play one home game in the NBA Finals.
Nekias: I'm going to guess Game 3 here. The Warriors are talented enough to at least split the first two. That's all they really need.
Rickman: Game 4. It'd really be something if he sat the whole series, regardless of outcome, but it's sounding more and more like he's going to be right eventually. He's not the type to watch from the sidelines. If he can play, he'll play. Unfortunately there's potential for a narrative to develop of "did the Warriors even need him?"
DiFilippo: Game 4. The Warriors will be down 2-1 in the series, then will win three games in a row with Durant in the mix. The sun explodes, we die, the world ends.