The 2023 Final Four begins in earnest on Saturday in Houston, and the 2023 NCAA Tournament already made some history. By the Elite Eight, every No. 1 seed was gone, and the highest-seeded team remaining in the field is No. 4 seed UConn. While the Huskies clearly have the pedigree and advanced metrics of a team that would be a very "normal" national champion if that comes to fruition, the bracket essentially turned upside down and, along with it, the best of the best in terms of NBA draft prospects are largely absent when the basketball world turns its eyes to Houston.
Without spoiling the mock draft below, only one player in the top 30 will participate in the Final Four, and many of the top prospects in this class either operated entirely outside of the collegiate structure or missed the 2023 NCAA Tournament. Alas, there is still plenty of game tape to monitor and some of the prospects listed in this space jumped or fell based on March performances.
The very top of the board hasn't changed, and probably won't, but the 2023 NBA Draft is intriguing in many ways, and here is a pre-Final Four check-in on where things stand.
(Note: Draft order as of March 28)
1. Detroit Pistons – Victor Wembanyama (C/F, Metropolitans 92)
While at least some of these picks are informed by which team is choosing, Wembanyama is not. He is going to be getting his named called No. 1, regardless of team. In this instance, Detroit wins the top prize of the 2023 draft and gets to add a generational talent to the mix.
2. Houston Rockets – Scoot Henderson (G, G League Ignite)
It would take a very particular situation for a team to pass on Henderson at No. 2, at least from my personal viewpoint. Houston doesn't qualify under that premise, and if anything, it's probably time for the Rockets to invest in a true lead guard. There are some questions about Henderson's shooting and overall efficiency, but he's a clear No. 2 here.
3. San Antonio Spurs – Brandon Miller (F, Alabama)
Miller had a truly awful NCAA Tournament performance but, at least for now, neither that ugly ending nor his off-court questions are scaring teams away. His size and shooting project to translate, and Miller's passing vision and overall tools are intriguing.
4. Charlotte Hornets – Amen Thompson (G, Overtime Elite)
This isn't the most team-specific pick in the world but, hey, it's early. Amen Thompson isn't the cleanest fit with LaMelo Ball, but he's a tremendous athlete and has incredibly appealing raw tools. The lack of shooting and offensive role when opponents can slow things down is scary, but the upside is tantalizing.
5. Portland Trail Blazers – Ausar Thompson (G/F, Overtime Elite)
His brother is largely seen as the superior prospect, based in part on Amen's insane athleticism and twitchiness. Ausar is also a very good athlete, though, and he currently has more offensive appeal, craft, and shooting projection. Portland could go just about anywhere here, but Ausar shouldn't be slipping out of the top ten.
6. Orlando Magic – Cam Whitmore (F, Villanova)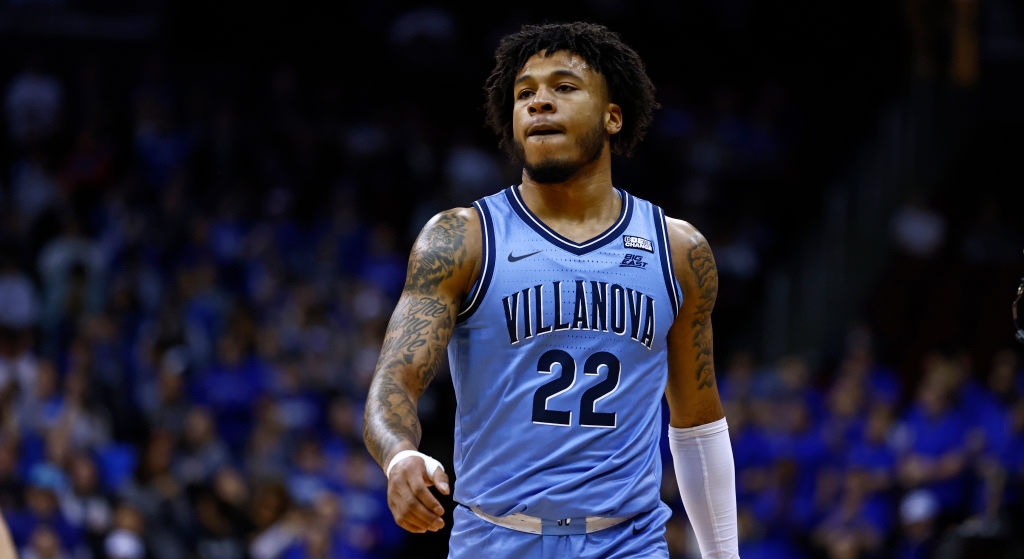 Orlando probably doesn't need another 6'7 forward with shot creation upside as much as they need other things. With that said, Whitmore consistently seems to be in the top half of the lottery and his athleticism and size are intriguing.
7. Indiana Pacers – Jarace Walker (F, Houston)
Walker probably won't be an offensive star in the NBA, and his role is a bit unclear on that end. There is a lot to like, mind you, but the real investment comes on defense with his 7'2 wingspan and impressive feel and reactivity.
8. Washington Wizards – Cason Wallace (G, Kentucky)
This isn't my favorite-ever fit or anything, but Wallace should be a lottery pick in my view. His defense is incredibly appealing, and Wallace might get the annual Kentucky bump after the way he was strangely utilized in Lexington. Washington may not be the team, but someone should be taking him in this relative range.
9. Utah Jazz – Anthony Black (G/F, Arkansas)
It's easy to fall in love with Anthony Black and how he views the game. He has great feel and great size. He knows where to be and how to get there. The questions are whether he's athletic enough to translate it all and whether his shot will go in. There seems to be a lottery floor, even if he can be polarizing.
10. Orlando Magic (via Chicago) – Gradey Dick (G/F, Kansas)
Like most teams, Orlando could use a shooter and Dick might be the best bet in the class. He is extremely dynamic as a floor spacer, and Dick is also capable of creating his own offense. Defensively, it might be a bit dicey, but he did improve during the season and has real length on the wing.
11. New York Knicks (via Dallas) – Nick Smith Jr. (G, Arkansas)
It's hard to find the best spot for Smith. He was one of the top-ranked recruits in the country out of high school and seemingly on the way to a top-10 landing spot. Now, he could go outside the lottery and it wouldn't be surprising after a bunch of injury absences and on-court struggles. His scoring appeal remains, but it's messier now.
12. New Orleans Pelicans (via Los Angeles Lakers) – Jordan Hawkins (G/F, UConn)
Hawkins is very easily the best prospect remaining in the 2023 NCAA Tournament. This would've probably felt high for him a few weeks ago, but Hawkins has played extremely well and has an easily translatable skill set. His shooting is the primary appeal, but he knows how to move off the ball and could be solid on defense at the NBA level.
13. Oklahoma City Thunder – Taylor Hendricks (F, UCF)
Because he played at UCF, Hendricks isn't exactly famous just yet, but he is widely considered to be a top-15 guy in the class. Evaluators that view Hendricks as a potential pick in the top half of the lottery really believe in his development ability as a scorer. Others are more tied to his clear projection as a havoc-creating defender who is 6'9 with the ability to shoot. Regardless, there is a lot to like.
14. Toronto Raptors – Keyonte George (G, Baylor)
George definitely has appeal in some scouting circles as a potential top-10 pick, but others point to his very middling efficiency as cause for concern. Baylor was an interesting system to evaluate him next to a handful of veterans but, going back to his high school tape, George's appeal as an on-ball guy is pretty clear.
15. Atlanta Hawks – Kris Murray (F, Iowa)
Murray could slot in for about 10 teams in this draft, maybe more. He's a 6'8 forward who can really shoot it and won't take much off the table. Murray also doesn't need the ball to succeed at the next level, making him a snug potential fit with the Hawks.
16. Los Angeles Lakers (via New Orleans) – Jalen Hood-Schifino (G, Indiana)
He's not a nuclear athlete, but Hood-Schifino is 6'6 with the ability to shoot, pass, and affect the game in myriad ways. He didn't play well in the NCAA Tournament, but that shouldn't scare anyone away. He's a potential lottery pick.
17. Golden State Warriors – Rayan Rupert (G/F, New Zealand Breakers)
Like many players in this range, there is a split on Rupert's appeal as a first-rounder. His defense and feel are undeniably strong, though, and the Warriors seem like a team that could maximize his offensive talents in the right situation.
18. Utah Jazz (via Minnesota) – Maxwell Lewis (G/F, Pepperdine)
Lewis isn't a mainstream name for non-draft consumers, but he's 6'7 with shot creation and athleticism. He also played on a pretty bad Pepperdine team and struggled late in the year, but Utah can take some swings and somebody is going to fall in love with what Lewis could become.
19. Houston Rockets (via LA Clippers) – Leonard Miller (F, G League Ignite)
It is hard to find a consensus with Miller, but he had a great close to the season in the G League. There have always been fans of his work as a 6'10 forward with intriguing physical tools, but his production improved and he's still young.
20. Brooklyn Nets – Kobe Bufkin (G, Michigan)
Some believe Bufkin could still consider going back to Michigan to be "the guy" next season, but he also seems to be a pretty safe first round pick at this juncture. Bufkin was highly efficient this season in Ann Arbor, improving as the season went along, and he is a good passer and finisher with NBA-level athleticism. Whether he goes ahead of teammate Jett Howard is up for debate, but Bufkin seems to still be rising on boards.
21. Miami Heat – Dariq Whitehead (G/F, Duke)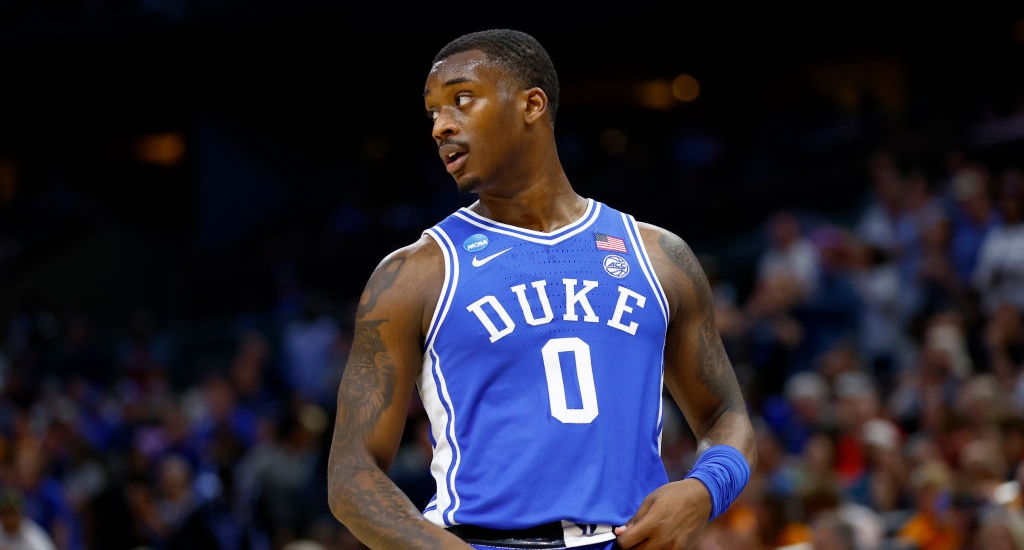 It's always a bit tough to figure out what Miami might do, but Whitehead falling here opens a clear door. He is a former top-ten high school recruit with real offensive flashes during his freshman season at Duke. Injuries and defensive struggles might push him down, but Whitehead also might kill it on the pre-draft circuit if he's healthy.
22. Brooklyn Nets (via Phoenix) – Brice Sensabaugh (G/F, Ohio State)
Sensabaugh's season ended prematurely with a knee injury but, provided that isn't a concern, he should be a top-25 pick. His shot-making chops are very impressive at this early stage, and it wouldn't be hard to fall in love with that for a wing player from a blue blood program.
23. Portland Trail Blazers (via New York) – Dereck Lively (C, Duke)
Candidly, I don't think Lively is going to fall this far by the time the process is over. His tools on the defensive end are just too appealing as a seven-footer with great movement skills and, even with offensive questions, he has starting center potential with upside beyond that.
24. Sacramento Kings – Colby Jones (G/F, Xavier)
A lot of teams should consider Jones in the back half of the first round. He is the archetype of a wing-sized player who does a lot of things well and doesn't struggle with much of anything. That kind of player falls too far sometimes and, well, Jones isn't terribly sexy. But he projects as a long-time rotation wing.
25. Indiana Pacers (via Cleveland) – Jett Howard (G/F, Michigan)
Howard was looking like a potential lottery pick before cooling off late in the season. He is very interesting as a 6'8 shot creator, but the lack of supporting characteristics brings questions.
26. Memphis Grizzlies – Terquavion Smith (G, NC State)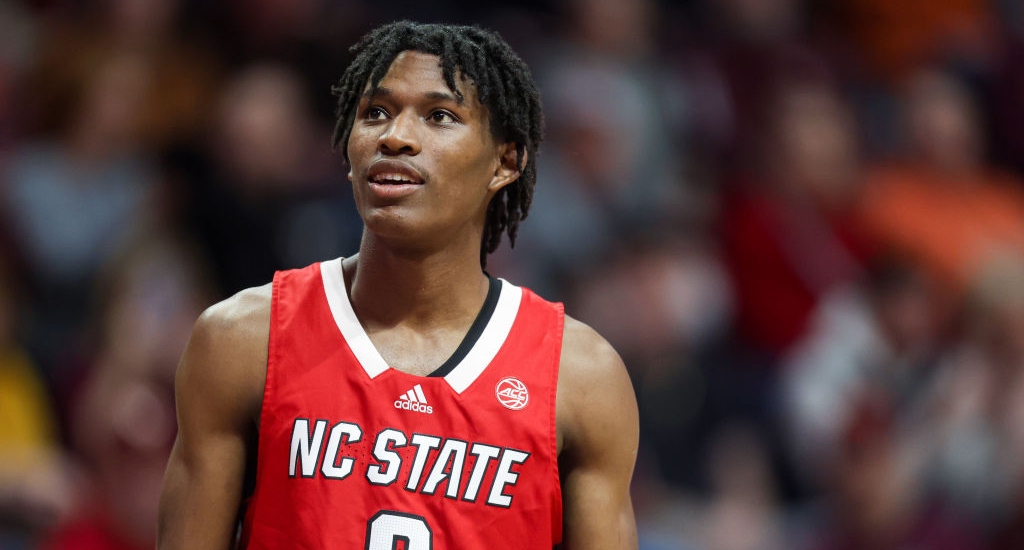 Smith might've gone higher in last year's draft, but he didn't do anything to really fall in 2023 either. The questions are obvious when it comes to his very slender frame and efficiency challenges, but Smith can really score and projects to be interesting as a potential sixth man who can create his own shot.
27. Utah Jazz (via Philadelphia) – G.G. Jackson (F, South Carolina)
With three picks, Utah takes a swing here. Jackson doesn't even turn 19 until December and he had a very weird season after reclassifying. He's going to take a while, but the Jazz can bring him along slowly and in a strong system.
28. Charlotte Hornets (via Denver) – Jaime Jaquez Jr. (G, UCLA)
Jaquez is not a high-ceiling player in the slightest and it should surprise no one if he slips into the 30's or even the 40's. With that said, he's appealing as a tough, two-way player with size and sky-high basketball IQ that would fit a lot of places.
29. Indiana Pacers (via Boston) – Kyle Filipowski (C/F, Duke)
Filipowski has a lot of fans around the league and, if a team buys into his shooting, he could go considerably higher than this. He's a seven-footer with incredibly high feel and impressive skills, though Filipowski's defense is a big-time question mark at the next level.
30. LA Clippers (via Milwaukee) – Sidy Cissoko (G/F, G League Ignite)
He's something of a developmental selection at this point, but Cissoko checks a lot of interesting boxes. He just turns 19 later this week and Cissoko has size and defensive tools to go along with appeal from his basketball feel.