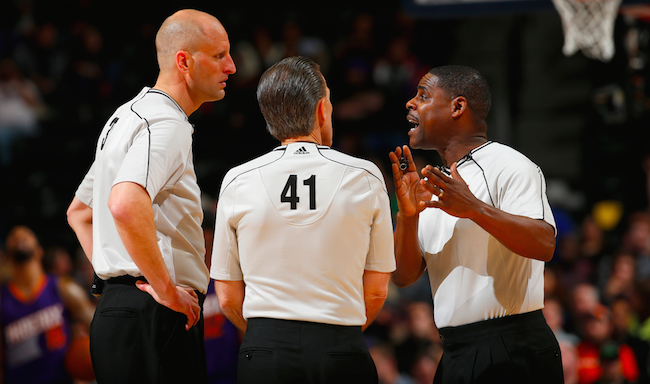 "[Insert your favorite team] gets no calls! The refs suck!"
Well, pretty soon we'll be able to find out if you're right. In an ongoing effort to promote sweeping transparency, the NBA announced today that it will release officiating grades for the last two minutes of close games.
Stipulations of the "Last Two Minutes" report will go into effect March 2 and continue throughout the playoffs. League officials stressed that this initiative would give fans a greater understanding of how difficult it is to referee NBA games.
Below are pertinent details of the the NBA's press release.
Beginning March 2 and continuing throughout the 2015 playoffs, the league will provide play-by-play reports regarding all calls and material non-calls that occur in the last two minutes of close games and during entire overtime periods.  This new initiative creates a more specific protocol for commenting on the most scrutinized calls in NBA games.

[…]

"Our fans are passionate and have an intense interest in understanding how the rules are applied," said Mike Bantom, Executive Vice President of Referee Operations. "NBA referees have the most difficult officiating job in sports, with so many split-second decisions in real time. We trust this consistent disclosure will give fans a greater appreciation of the difficulty of the job and a deeper sense of the correct interpretations of the rules of our game."

The league will release assessments of officiated events in the last two minutes of games decided in regulation that were within five points at the two-minute mark.  Also, the reports will include plays from the last two minutes and overtime of OT games.Each play will be reviewed by a senior referee manager or basketball operations manager who will provide the assessments.Every play on the report will include a video link to that specific play. The reports will be posted on NBA.com/official and Media Central, the NBA's media website (mediacentral.nba.com), by 5 p.m. ET the day after each game.
Pretty cool stuff.
As for credentials of those senior referee and basketball operations managers who compile the reports? They probably still carry a bias against the teams and players for which you root. But at least the league is doing something to curtail such rampant favoritism from its referees, right?
Here's a sample report from a recent game between the Sacramento Kings and Portland Trail Blazers.
https://twitter.com/JeffZillgitt/status/571367701777678337/photo/1
As you can see, only one of the 12 calls in the game's last two minutes was graded as incorrect. Believe it or not, officials make the right call a vast majority of the time – that's why it's so easy to point out when they don't.
Kudos to the league and commissioner Adam Silver for continuing to think outside the box while making improvements to the game we love.