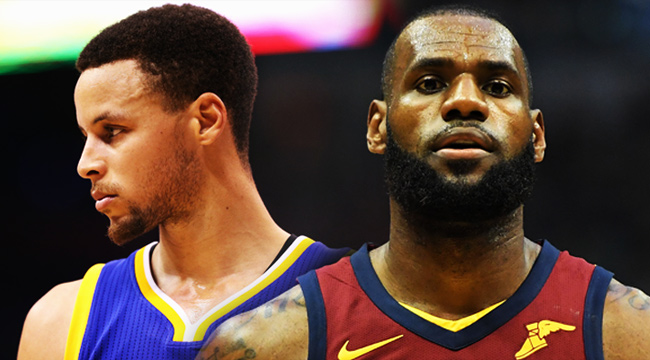 Superstars matter more in the NBA. Not just because the league does a better job marketing its players than any of the other major leagues, or because Twitter seems to have been made specifically for a player like Joel Embiid.
No, superstars matter more in the NBA. They matter so much, writers like Bill Simmons have found it necessary to delineate between superstars and super-duper-stars. But more than that, it informs everything teams do in terms of roster construction. The perpetual search for the great star who can bring a team a shot at the title.
If you don't have one of the 10 best guys in the league, winning a title just isn't on the table.
And that's not just some apocryphal NBA truism that the Warriors have made irrelevant just like so much common basketball wisdom Golden State has rendered irrelevant. In the last 10 years, the title team has had a player in the top-10 in win shares and PER in nine out of 10 seasons, with the 2013 San Antonio Spurs the outlier.
Malcolm Gladwell could write an entire follow-up work on all the ways the Spurs are outliers. If you have the greatest modern coach ever, three Hall of Famers including the best power forward ever and an ascending superstar, you too can win the title without one of the 10 best players in the league.
So far, I haven't said anything you didn't already know, or at least think you knew intuitively. This happens to be a case where the data backs up what we already commonly believed. But here's where we have to take it a step further: paying players like superstars (or super-duper-stars) when they aren't can be just as crippling, if not more, than missing on lottery picks or trading for injury-prone assets.
The NBA created a system with max players that inexorably alters the market for players. It underpays the guys at the very top and raises the earning ceiling for players a tier or two below.
LeBron James should probably make double what he makes, but the CBA limits his earning potential. FiveThirtyEight even created a way to measure this impact, and it's clear the biggest advantage any team can have is an ultra-elite player, not just because he's great, but because his contract is so incredibly unfair to him relative to his value.

That's another way of saying his team gets twice as much productivity as they're paying for. As a result, James can make only slightly more than players like Paul Millsap and Gordon Hayward; solid players who are nowhere near good enough to lead teams to titles.
Here's the thing: in the NBA, a player like Millsap or Hayward might be worth the $30 million a year, it's just than LeBron is likely worth $50 million or more. If you're paying Kyle Lowry to be worth $25 million and he's producing at $25 million, that's great for the team, but for the Warriors, the team with Steph Curry producing $50 million worth of output but getting paid $34 million – even as the highest paid player in the league – Curry is more valuable.
The market inefficiency is having the super-duper-star (thanks Bill) on a max contract because he's better than most of the other players making a similar figure.
Here's the 10 highest paid players in the NBA by base salary for 2017-18:
1. Steph Curry
2. LeBron James
3. Paul Millsap
4. Gordon Hayward
5. Blake Griffin
6. Kyle Lowry
7. Mike Conley
8. Russell Westbrook
9. James Harden
10. DeMar DeRozan
A team like Toronto has two players on that list, and yet no one outside of Canada would argue either Lowry or DeRozan are two of the 10 best guys in the league. We probably could get to the average fan's top 25 before those names even come up. The Raptors now own two enormous contracts on a team that isn't even one of the two best in the Eastern Conference, and probably not one of the six best teams in basketball. They're hamstrung for the foreseeable future.
Masai Ujiri could reasonably reply, "What was I supposed to do?" This Raptors team was close to contending in the East. They were an injury away from being in the Finals, why not go for it and bring this core back? Because now they're locked into this team, stuck on a treadmill just above mediocrity and no chance to win the title for at least five years barring an incredible run of draft picks or a trade involving one of their stars.
That's how the Spurs remained relevant after Duncan and Parker exited their prime: they traded for one of the next great NBA superstars. But again, chasing the success with a Spurs model has proven over and over to be a fool's errand in the NBA.
This seems somewhat obvious: duh, you'd rather have the better player. But the point is much broader than that: a team would much rather have an asset outperforming his cost. It's the same reason Draymond Green represents so much value for the Warriors. He's outperforming his contract by miles.
And more to the point, too many teams pay really good players like they're great. Giving Andrew Wiggins nearly $150 million doesn't get the Wolves closer to contending. Should they just let him walk? No, but unless Minnesota genuinely believes Wiggins can be one of the best players in the league, he's not worth the money.
Making Jrue Holliday a max player –- the 14th highest paid player in the NBA -– gets done to appease Anthony Davis, encouraging him to say, but it doesn't actually make the Pelicans much better. If anything, New Orleans now sits in a less tenable financial situation should Anthony Davis decide he's had enough with the Pelicans and wants out. They're stuck with a huge contract for a player who can't stay healthy, and isn't even an elite player at the position when he's on the court.
Paying Paul George the supermax would have made sense for the Pacers if they'd had to go that route (and PG had been amenable to it, which he clearly wasn't), but the Celtics paying $27 million a year for Al Horford doesn't move the needle enough for the Celtics to make a deal like that worth it.
Horford is and has been an outstanding player in the league. He doesn't make a good team great, and that's what Boston is paying him to be. Making smart trades and swindling the Nets allowed the Celtics to be in a position to both be aggressive in free agency and build for the future through the draft.
Most teams don't have that luxury. Teams understand they need an elite player to win a title, but their spending habits suggest they believe paying a player like a superstar makes him one. This is how bad teams stay bad and good steams stay good.
And the Spurs? They just keep Spursing.