In exactly one week, the NBA regular season will tip off. The day before the regular season starts, though, almost every team around the league will have some business to attend to.
From now until Oct. 21, teams will weigh the risks and rewards of offer their eligible players rookie contract extensions. While players like Pascal Siakam and Buddy Hield seem like near locks to get max contracts from their respective teams either this month or next summer, there are other young players around the league whose value will likely ebb and flow over the course of the season.
Here are the five most interesting players entering a contract season, who may have to prove their worth if they can't work out an extension this coming week.
Malik Beasley
Last season, Beasley was one of 10 players to shoot at least 40 percent from behind the arc on at least five attempts per game. At 22 years old, he was tied with LA Clippers guard Landry Shamet as the youngest player to do so.
This season, Beasley will have the opportunity to show that the efficient three-point shooting he showed in his junior season wasn't a fluke. If he does, he'll have the opportunity to get paid handsomely for it. There are concerns, however, as to whether or not he'll be able to establish himself a starting caliber wing on a Denver Nuggets team that's still trying to sort out their rotation.
The Nuggets have $97 million committed to Gary Harris and Will Barton through 2022 and are in the process of grooming their small forward of the future, Michael Porter Jr. Beasley will undoubtedly get a healthy amount of playing time to start the season, but his role could fluctuate with the development of Porter, the resurgence of Barton, and the steady improvement of Torrey Craig, who was big for the Nuggets in the postseason on the defensive end.
One thing's for sure, though: Beasley has set himself up for a nice payday next summer, and his new agent, Rich Paul of Klutch Sports, will make sure he gets it. According to Bobby Marks of ESPN, Beasley turned down a three-year, $30 million contract extension from Denver in earlier this month.
Jakob Poeltl
Poeltl is one of the most interesting young centers in the NBA. The 24-year-old isn't elite at any one thing, but was one of the most impactful players for the San Antonio Spurs last season, posting the second-highest VORP (+2) behind LaMarcus Aldridge and earning the best defensive rating (106) of anyone that averaged at least 10 minutes per game under Gregg Popovich. He also generated the second-most points off of screen assists on the Spurs last season (487) behind Aldridge — who finished the season ranked No. 5 in the league with 730 screens assist points — and shot an efficient 64.5 percent from the field.
He's good, but is a non-shooting, utility big man worth a long-term, big money investment in today's NBA? That's the question R.C. Buford and 29 other teams will have to answer next summer, when Poeltl is expected to hit restricted free agency. Luckily, the seven-footer will have every opportunity to prove his worth with the Spurs next season, as he's the only true center on the roster.
With less than $70 million committed in guaranteed salary through 2020, it wouldn't be surprising to see Poeltl re-sign a long-term contract with the Spurs out of pure necessity, but if he doesn't, it will be interesting to see which team falls in love with his advanced stats.
Domantas Sabonis
Sabonis spent his first two seasons in Indiana backing up the Pacers' forward tandem of Bojan Bogdanovic and Thaddeus Young, and he did it really, really will. However, with Bogdanovic now in Utah and Young in Chicago, Sabonis has the opportunity to shine in a bigger role, and there's little reason to believe he won't.
Per 36 minutes last season, Sabonis averaged 20.4 points per game on 59 percent shooting from the field to go along with 13.5 rebounds and 4.2 assists. Sabonis was the only player in the NBA with a minimum of 100 minutes played to match those averages Per 36 minutes last season.
Sabonis has been good, he's gotten better and in theory, his fit next to Myles Turner — which has long been the issue with getting both more playing time — should be better with Turner taking and making more three-pointers. Whether or not that's true in practice will likely dictate whether or not the Pacers offer Sabonis a big, long-term contract on top of the four-year, $80 million contract extension they gave Myles Turner last year.
The only problem is the Pacers can't afford to wait it out with Sabonis. The rookie contract extension deadline is on Oct. 21, the day before the NBA regular season starts. If the two sides can't get a deal done before then, Sabonis will enter restricted free agency during a time where there will be few better big men than him available. While the Pacers can match any offer for the 23-year-old Lithuanian, there might be a team willing to pay more than Indiana, who have roughly $70 million in committed salary through 2022, not including the max or near-max contract they'll likely hope to sign Oladipo to next summer.
In other words, the Pacers should be hoping they can get Sabonis to say on a team-friendly deal before next week.
Brandon Ingram
When Ingram entered the league in 2016, he drew comparisons to Kevin Durant because of his long, lanky frame and knack for putting the ball in the basket. Three years into his career, Ingram has looked more like DeMar DeRozan than Durant, and not because of his physique.
While that's not necessarily a bad thing, his style of play makes it hard for a team to build around him. It's also difficult to peg him into the No. 2 role because he prefers to play with the ball in his hands and isn't a prolific three-point shooter.
And yet, there is still the hope that Ingram will fill into that spindly frame and revert back to his old habits at Duke, where he shot 41 percent from three-point territory on 5.4 attempts per game. If he does, it will make it a lot easier for the Pelicans to fit him into their long-term plans with Lonzo Ball and Zion Williamson, two non-shooters.
If he doesn't, some team will still take a chance on him because physical gifts and feel for the game, but he might be forced to take less money elsewhere while he figures it out.
Jaylen Brown
Like Ingram, Brown has all of the physical tools to excel in the NBA, but he hasn't been able to piece it all together consistently and struggle in a clogged wing rotation a year ago.
Last season, Brown took a step back, averaging 13 points per game on 46.5 percent shooting from the field, including 34.4 percent shooting from behind the arc, in 25.9 minutes per game. Compare that to Ingram, who averaged 18.3 points per game on 49.7 percent shooting from the field and 33 percent from 3-point range in 33.8 minutes per game before getting his season cut short because of a blood clot in his right arm.
Ingram had more opportunity with the Lakers last season, but when looking at their player comparison from last year, you can see why both find themselves on this list together.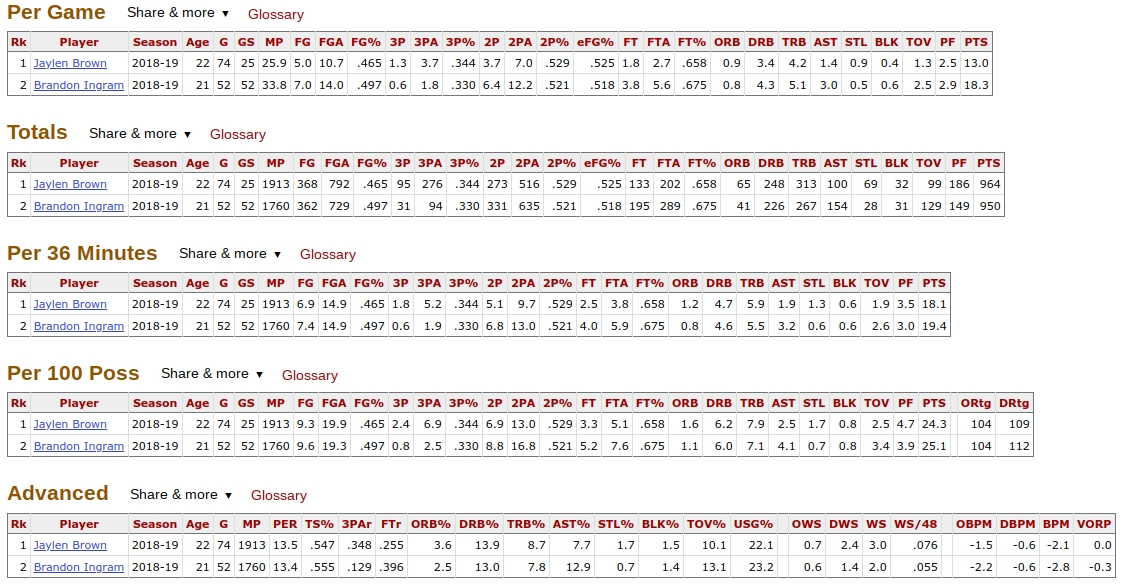 The thing that Brown does have going for him, though, is his postseason success. In his second year with the Celtics, Brown averaged 18 points and 4.8 rebounds through 18 games in the playoffs. Last season, Brown averaged 13.9 points per game, but on a higher effective field goal percentage (58.6 percent).
The flashes were few and far between, but they've been there. Now, Brown will use the season to show he's deserving of a max contract next summer. If Brown doesn't take the leap this season, it will cost him next summer and potentially beyond.