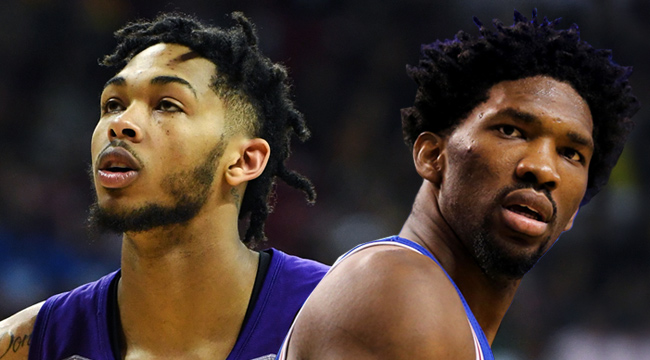 Every year, basketball fans talk about rookies. They want to know who is next, which newcomer to the NBA is going to be the news rookie sensation to take over the league and become the Association's newest young star. Watching rookies is like getting a gift on Christmas — you know it's new, you know it's never been used, and you can't wait to see it get broken in.
But what about the guys who had that shine last year? Being a second-year player in the NBA can be rough, not just because of the dreaded sophomore slump, but because the excitement around your career has slowed down considerably just because you're no longer a rookie. This is despite the fact that, you know, there are rarely completely finished products when a guy is on the verge of entering their second year.
So we decided to give second year players a little love, ranking the 10-best guys heading into the 2017-18 campaign. Also, because it's so hard to actually define what a second-year player is, we're saying that anyone who was eligible for Rookie of the Year last season is now a second-year player. So while Ben Simmons might end up being the best 2016 NBA Draft pick this season, he's defined as a rookie for the purposes of this article, etc.
Honorable mentions: Marquese Chriss, Phoenix; Caris LeVert, Brooklyn; Yogi Ferrell, Dallas; Jaylen Brown, Boston; Thon Maker, Milwaukee
All of these players are either talented but raw (Chriss and Maker) or don't have a firm grip on a starting spot (Brown, Ferrell, LeVert). Chriss, a second-team All-Rookie team selection last year, was easily the hardest omission, and is the closest to breaking into the top-10 of this list. By the end of the year, I'd bet that he is among the best second-year players in the league.

10. Dejounte Murray, San Antonio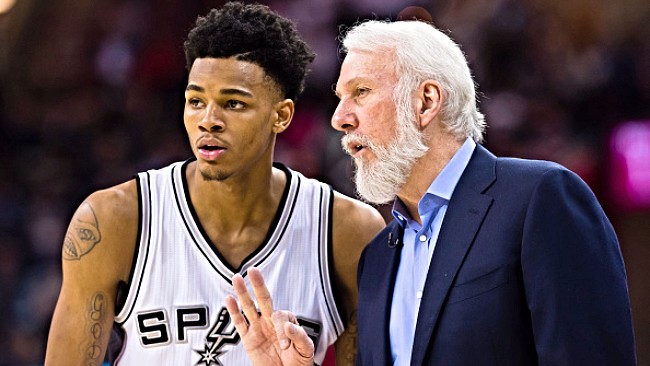 Tony Parker's injury has opened a door for Murray to man the Spurs' backcourt for at least the first half of the season. A talented and savvy guard, Murray is the kind of player who fits perfectly in San Antonio's system — he is a gifted passer who flashed the ability to score and rebound last year. And of course, as a member of the Spurs, he'll be in a system that doesn't put too much pressure on him early on.
9. Taurean Prince, Atlanta
Atlanta might be the worst team in the league this season, but one of the players who can make the franchise's future look bright is Prince. He's a strong small forward whose ability to score and rebound was highlighted as he played more last season. Here were his pre and post All-Star break splits:
PRE: 33 games, 10.7 minutes per game, 3.5 points per game, 37.3 percent shooting, 27.5 percent three point shooting
POST: 26 games, 24.2 MPG, 8.4 PPG, 41.5 percent shooting, 35.5 percent three point shooting
And here's what he did in six postseason games:
31.2 MPG, 11.2 PPG, 5.3 rebounds per game, 55.8 percent shooting, 28.6 percent three point shooting
The only Hawks player who is unquestionably an established top-100 player is Dennis Schroder, meaning there will be plenty of opportunities for someone to stand out. As Prince showed last year, he thrives when he gets more opportunities.
8. Jamal Murray, Denver
This, admittedly, is banking on Murray's talent more than a reflection of his rookie campaign. Averaging 9.9 points on 40.4 percent shooting isn't exactly stellar (even if he did make the All-Rookie second team), but Murray is still a skilled combo guard who can run the point, play off the ball, and score.
For Murray, the big key is finding some kind of rhythm during his second year. He's on a Nuggets team that is full of high IQ guys and big men who are crazy good passers, which makes life easier for a second-year guard whose ability to spot up is his single biggest asset.
Murray had his moments last season — he had a 30-point and a 27-point game during the final month of the year — and has gotten plenty of opportunities this preseason, even starting a game at point guard. Murray can, and will, improve as a scorer and as a playmaker during his second year in the league.

7. Skal Labissiere, Sacramento
I am probably higher on Labissiere than most, but he is as talented a young player as you'll see on this list save for the guy slotted in at No. 1. Formerly the top recruit in college basketball, Labissiere struggled at Kentucky, which was reflected in his draft stock plummeting.
The Kings ended up acquiring him on a draft night trade, and as it turned out, that was a fantastic idea. Labissiere carved out a role after the All-Star break last year and legitimately looked like he was reaching his lofty potential, albeit in limited action. His issue is it might be hard to find consistent minutes in a Kings frontcourt that includes Zach Randolph, Willie Cauley-Stein, and Kosta Koufos, but if he plays as well as he did to end last season, he'll get those minutes.
6. Buddy Hield, Sacramento
Hield is an unreal shooter. When he gets hot, he shoots flames out of his hands. It's awesome.
But beyond that? Well, the jury's still out, and seeing as how Hield is going to turn 24 in a few months, it's possible that he is what he is: An elite shooter and good scorer who is kind of limited in every other aspect of the game. But the thing is Hield is really, really good at the one thing he's unquestionably good at — after joining Sacramento, he averaged 15.1 points on 48 percent shooting and 42.8 percent shooting from three.
If Hield's ceiling is, like, "taller Jason Terry," that's perfectly fine, and he'll be a valuable piece who sticks around for a long time with his ability to take and make shots.
5. Brandon Ingram, Los Angeles
Ingram struggled last year. This does not mean that Ingram is going to struggle this year. In fact, it's not a stretch to say that he might have the opposite of a "sophomore slump" in 2017-18.
A smooth scorer and rebounder, Ingram was as up and down of a rookie as you'll find. At times, he looked like a 19-year-old who was drafted more for his upside than anything. At others, he showed flashes of being a smooth and deadly scorer who is going to be a handful for defenses for years.
Ingram averaged 9.4 points per game on the season but averaged double digits for the final two months of the year. After a 0-point performance against Boston on March 3, Ingram had double-digit scoring in every game he played to end the year but one, where he had eight points in 10 minutes.
He is a naturally gifted scorer, and once he puts it all together, he is going to be among the league's elite. He's hardly the highest guy on the list now, but by the end of this season, he can rocket up this list.
4. Willy Hernangomez, New York
One of the more surprising stories in the NBA last year was Hernangomez. Amid all the chaos that went down in New York, Hernangomez was a steady presence in the middle, averaging a very impressive 8.2 points and 7.0 rebounds in 18.4 minutes per game for the Knicks.
The question is whether he can expand on that and put up better numbers in a bigger role. If he can, the Knicks found something of a diamond in the rough in Hernangomez, a big man who possesses an unreal feel for the game and is willing to do the dirty work while the Knicks' other young standouts — namely Kristaps Porzingis, Tim Hardaway Jr., and Frank Ntilikina — do their thing. If he can't, well, at least he's proven he can get the job done in a limited role.

3. Dario Saric, Philadelphia
With how much young talent there is in Philly, Saric can sometimes be overlooked for the team's other first and second-year players. That is a bit unfair because no rookie had a better second half last season than Saric.
While the sample size in terms of the total number of games was smaller, look at how Saric prospered after the All-Star Game, when his minutes increased and Joel Embiid was ruled out for the remainder of the season.
25 games, 30.4 minutes per game, 17.3 points per game, 7.3 rebounds per game, 3.4 assists per game, 43.2 percent shooting
The Homie thrived as the No. 1 option in Philadelphia, and he showed exactly why he was such an exciting prospect among the Sixers faithful. He could score and rebound, while his court vision was better than what you'd expect for someone who is 6'10. His ability to hit threes is suspect — just a 31.1 percent shooter on the season — but beyond that, he essentially functions as a tall point guard who rebounds. Seeing as how there will be times when he's on the floor with noted almost seven-foot point guard Ben Simmons at times this year, the Sixers will easily be one of the most entertaining teams in the league.
2. Malcolm Brogdon, Milwaukee
The defending Rookie of the Year, Brogdon plays a crucial role in Milwaukee's positionless form of basketball. Listed as a point guard, Brogdon is capable of playing anywhere on the perimeter, as his ability to hit threes, set up teammates, and defend any backcourt player would be an asset to any team.
There are plenty of questions about the soon-to-be 25 year old's upside, but there's no denying that Brogdon is very good right now. He mixes a skill set that doesn't have a single massive weakness with an extremely high basketball IQ. While Brogdon may not be the kind of player who can take a game over and win it on his own, his presence on the floor makes the Bucks a better, smarter basketball team. Even if he gets passed by some younger sophomores this season, Brogdon earned a spot towards the top of this list.
1. Joel Embiid, Philadelphia
Let's get it out of the way right now: Embiid has to stay healthy. If he doesn't, he's not going to be on the top of this list. That is fairly obvious.
However, if he does stay healthy, Embiid has the talent to be the best center in the NBA. The games where he played last season, even in limited minutes, were thrilling. There were nights where he just could not be stopped, as he was an imposing force on both ends of the court. Embiid could score from just about anywhere, crash the glass, and pass a little bit. Then, on the other end of the floor, he was a rim protector who made it scary to enter the paint against Philadelphia.
While Saric, Simmons, and Markelle Fultz give the team hope for the future, Embiid is the piece that brings it all together. It's not hyperbolic to say that he can be the guy who is the difference between the Sixers being a dangerous team in the next 3-5 years and the Sixers being a title contender. He's that good.
He just, you know, has to stay healthy.