Welcome back after a very, very long break, sun seekers! Inevitably, things like the "postseason", the "playoffs", the "Draft", and "Free Agency" get in the way of delivering to you, the more relaxation-minded fan, the thing you and I wait all year for — NBA Summer Vacation Watch.
If you're new here let me illuminate the aim of this column, like those old reflective screens people used to suntan themselves with. NBA SVW, in its glorious 5th season, concerns itself with gathering up like so many precious seashells the offseason activity of your favorite hoopers only as it relates to what they're doing outside of the gym. Preferably on, in, around, or speeding across water. Palm trees? Wonderful. Shorter shorts than usual? Fantastic. Trips to Europe? Si/Oui! Sunglasses? A must. At the end of the season, like the "real" NBA season, a SVW MVP title is awarded to the person who spent the most time strictly enjoying themselves.
So, because of the gap from where the season ended for some, when the Finals wrapped up, and where we're pulling up a beach lounger here, we've got some catching up to do. It's possible that you'll recall some of these getaways from when guys first started to free themselves from the shackles of the grind and instead get themselves into board shorts, back in early June. This is a roundup edition, so if you enjoyed them then you'll enjoy them again and if you haven't seen them, slather on the sunscreen and let's dive in.
Donovan Mitchell
Donovan Mitchell wasted no time whatsoever to get his ass out of Utah and plant it firmly on a beach, and also on a boat. While we are currently looking at a big question mark as to where that same butt is going to be going when a new season dawns, at least we know he made up for the vitamin D deficiency that comes from living in Salt Lake City for a good chunk of the year. You know when someone has packed matching shorts to shirt sets on vacation that they have been thinking about wearing said-set for QUITE SOME TIME.
Rating: Mitchell holding that plastic tube/hose with his eyes closed and actively daydreaming might as well be the Jerry West NBA logo equivalent of this column.
Rudy Gobert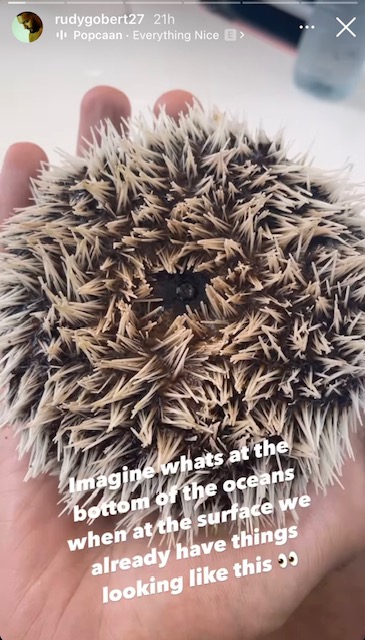 Well, well, well, if it isn't the former coworker of this column's new iconic logo. Say what you will but the truth is Rudy Gobert deserves a vacation, too, so he took one right around the same time as Mitchell to the French West Indies. Once there, he wore highlighter orange shorts and pretended to look into the far distance (a trade was on the horizon) and got up close and personal with the big dead fish his chef brought him. He also waxed poetic about this urchin he presumably stole from the sea.