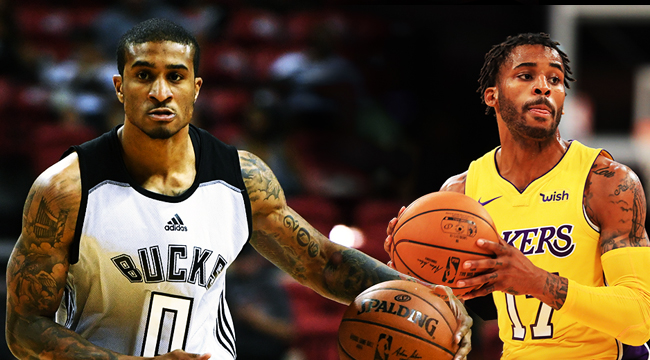 The NBA is an ever-evolving machine, constantly adding new parts to continue its drudge across the top of the professional sports landscape. This season the league has added a fun development toy for teams to tinker with as two-way contracts were rolled out.
These new resources come in the way of two additional roster spots specifically for these contracts. In short, players with three years of NBA experience or less can be signed to these deals and spend a maximum of 45 days with their NBA club during the season. While they are with the NBA club they will earn a prorated salary based on the current minimum which allows fringe players to earn some money and stay stateside rather than head overseas for larger paydays.
Teams are understandably still strategizing on how to use these deals since no one really knows how they will pan out. Some teams opted for young, undrafted rookies while others went for experienced veterans who still met the parameters for these deals.
If players outplay these deals, they can be converted to standard NBA contracts at any time as well, so there's incentive for both the players and teams to continue to develop and improve.
Ultimately, this means there are 60 new positions to be filled in the NBA, and that's exciting for players who are maybe AAAA type guys. They are too good for the G League, but not quite good enough to crack the 15-man rosters in the NBA either.
As you can imagine some teams did better than others in terms of who they signed, and our mission is to show you the most dangerous two-way tandems so far. There are only three two-way spots left (Atlanta, Houston and Minnesota) so 57 of the available 60 are filled.
When considering what "most dangerous" means we took into consideration: NBA readiness, overall skillset, impact on G League team, potential impact on NBA team and previous experience. The listings below are in no particular order and are simply the six most dangerous tandems.

Utah Jazz — Nate Wolters and Eric Griffin
Wolters is a 26-year-old, 6'4 point guard out of South Dakota State who was originally drafted by the Washington Wizards in the second round of the 2013 NBA Draft. After being traded twice in the 48 hours following the draft, Wolters landed with Milwaukee and ended up playing 58 games as a rookie and even started 31 games. He was waived the following season and has been overseas ever since.
The last two seasons he's played in Eurocup and Euroleague, and displayed enough growth for the Utah Jazz to take a shot on him as a two-way player. Wolters is a capable second or third string point guard who has size and the ability to knock down the outside shot. He's not particularly explosive, but could really help any NBA club in terms of depth at the point.
Griffin is a 27-year-old, 6'8 freak athlete and is the lesser known of these two. He's played in Italy, Spain, Venezuela, Puerto Rico, Israel, and the G League during his mission to earn a spot in the NBA. He hasn't played a single minute of NBA basketball, but might have a higher ceiling than the steady Wolters. Griffin's athleticism sets him apart from most prospects and if he can figure out the X's and O's portion of the game, he could really be a force.
Jazz fans should think of a poor man's Andrei Kirilenko or Gerald Wallace for a comparison of Griffin's game. He can hit the 3, he soars above the rim and perhaps most importantly, he uses his athletic gifts just as much on the defensive end. Once he shores up the awareness pieces he lacks sometimes, he could eventually make a 15-man roster in the league.

Milwaukee Bucks — Gary Payton II and Joel Bolomboy
If we were ranking these tandems, this one would likely be at the top of the list. Payton II went undrafted, went to camp with the Houston Rockets, and ended up playing with the RGV Vipers as an affiliate G League player for most of the season. The Bucks signed him late last season, waived him earlier this month, then signed him to a two-way deal. He's an NBA caliber player right now, role player, but has the skills nonetheless.
He's a 6'3 guard with defensive pedigree and athleticism to be a stud on offense as well. His main issue right now is he doesn't have a position because he's not a primary ball handler and his outside shot isn't consistent enough (31 percent on 238 attempts last year) to play the two-guard position. Today's NBA is the most positionless it's ever been so Payton could still fit in, but it has to be the right situation for him to thrive.
Bolomboy was picked in the second round of the 2016 NBA Draft by the Utah Jazz. He's a 6'9 forward who showed a lot of versatility last season, albeit mostly in the G League. The Jazz recently waived Bolomboy and the Bucks wisely snatched him up with their final two-way spot. He's just 23 years old and still raw, but shows signs of a future rotational player.
He played 24 games with the SLC Stars of the G League last year averaging 16.4 points and 13.2 rebounds while shooting 54 percent from the field. Perhaps most impressive is his ability to stretch the floor out to 3-point land where he hit nearly 46 percent (21-of-46) from deep. If he can raise that sample size and stay around 38-40 percent, his NBA chances increase exponentially.
This duo set the Wisconsin Herd up nicely as they will anchor the attack, on both ends, for the expansion G League team.

Phoenix Suns — Mike James and Alec Peters
The Suns have been atrocious over their first three games of the season, but they used their two-way contracts very well during the offseason. First, they lured back stud guard Mike James. This isn't the Mike James who played for seemingly every NBA team in the early 2000s, but a fresh, young, bouncy Mike James who dominated Euroleague for the past three years. James is an explosive talent at 27 years old who has simply not had a chance to shine in the NBA.
The advent of these two-ways allowed the Suns to keep him stateside and he's already showing he can play. Over their first three games this season he's averaged 19 minutes putting up 11.7 points and 2.7 assists on 43 percent shooting. Word is James won't play in the G League this year so after his 45 days are up, the Suns with either have to sign him or let him go. Either way, James is likely in the NBA for good as he, at the very least, looks like a great microwave scoring option off the bench.
Peters was a second round selection in this year's draft for Phoenix. He's a 6'9 forward who was simply one of the best shooters available in the draft. If not for an injury he very likely could have been a late first or earlier second round pick. During his four years at Valparaiso, Peters shot a blistering 41.6 percent from deep on almost 700 attempts – so he can fill it up.
His question marks lie on the defensive end and whether or not he can create offense for himself. Peters has played 14 minutes in two games this season, but with Northern Arizona Suns camp opening Oct. 23 he will likely spend most of his time there.

Sacramento Kings — Jack Cooley and JaKarr Sampson
The young Kings are in full effect right now, but the team took an alternate route for their two-way contract players. While Cooley (26) and Sampson (24) aren't old, they do provide more professional experience than an undrafted free agent who could have taken one or both of these deals.
Cooley is an instant fan favorite no matter where he plays. He's a hard-nosed 6'10 power forward who embodies power forwards of eras past. He's going to gobble up rebounds and make all the right plays night in and night out. At 26, he's already well-traveled playing in Turkey, Spain and Germany as well as the G League with the now defunct Idaho Stampede.
This sequence in Summer League perfectly depicts Cooley's game. He steals the ball from Marquese Chriss, gets showered with "Cooooooooley" from the crowd and finishes a nice pick-and-roll as well. He plays under the rim, but is ultra efficient nonetheless.
Cooley actually owns the single game rebound record in the G League with 29 during a game back in 2015 with the Stampede. He's simply a monster with career averages of 16.2 points and 12.3 rebounds in the G League, so he will immediately help the Reno Bighorns down low this season. If you ever get the chance to meet him, make sure to ask him about dog passports, you won't be disappointed.
Sampson is still just 24, but this is the 6'8 forward's third NBA stop already. He's a child of The Process in Philadelphia where he showed his versatility mainly on the defensive side of the ball. He's a springy forward who has stuck due to that defensive versatility, but hasn't added much offensively, and thus finds himself on a two-way contract.
Sampson brings NBA experience to the Kings and Reno Bighorns and can certainly help change the game in a positive way. Finding ways to stand out, or simply be productive, on offense should be his main focus during this season of development. Sampson won't likely get many minutes in Sacramento due to their young stable of players already on the roster needing time, but he can use his time in Reno wisely and still improve greatly. Last year he played 47 games with the Iowa Energy (now the Iowa Wolves) and averaged 15.1 points per game but shot just 48.8 percent overall and 28.4 percent from three-point range. He's got to be more efficient if he wants another NBA look.

Los Angeles Lakers — Alex Caruso and Vander Blue
This duo proves production in the G League does not always equate to a better player. Blue took home MVP honors last year while playing for the Los Angeles D-Fenders (now the South Bay Lakers), but Caruso looks to be the better NBA player right now.
Caruso is a 6'5 point guard out of Texas A&M who went undrafted last year. He spent his entire rookie season playing in the G League for the Oklahoma City Blue, and if you only searched stats you would think he had a rather pedestrian season. He put up 11.9 points, 5.2 assists, and 2.2 steals per game helping lead his team to a 34-16 record, and was an under the radar prospect all year long.
His defense and playmaking for others are the two aspects of his game which really stand out. He made mistakes (3.1 turnovers per game) just like any other rookie, but his impact far outweighed any shortcomings in his play. He knocked down 40 percent (152 attempts) of his threes for the Blue and he's really blossomed playing for the Lakers. He was a Summer League and preseason standout and though he's only on a two-way contract, many think he's a better option than Tyler Ennis for backup point guard duties.
Blue is a gifted scorer who has improved his outside shooting, but still doesn't provide much in the way of playmaking for others or defense. He's now 25, and after a brief stint overseas during his rookie year, has spent the last four seasons in the NBA G League. He's adept at attacking the rim and using his 6'5 frame to finish around and through contact. He owns the G League record for free throws made and attempted for a season, and practically lives at the free throw line.
He's another tweener in the sense that he's not a point guard and he doesn't shoot the 3 well enough to play the 2 exclusively. Over the last three seasons he's combined to make 36 percent of his threes (690 attempts) which isn't efficient enough for a player whose only real NBA skill is scoring. At this point I'm not sure Blue can change his style of play, but there are always NBA teams who need scoring off the bench, so we'll see if he can make the necessary changes or get a shot regardless of his flaws.

Portland Trail Blazers — C.J. Wilcox and Wade Baldwin IV
Portland is in a different position than every other team on this list, because they do not have their own G League affiliate. Their players will have to use the flex assignment rule and hope the team/s who take them on will give them ample minutes. They have no control over minutes, style of play, terminology used or any of the other advantages which come with having your own minor league club.
Wilcox is a former first round draft pick from 2014 and is on his third NBA club in Portland. He's a 6'5 shooter who hasn't really been able to get minutes during any of his first three years. He will be a deadly scoring option for any G League club willing to take him on for Portland and that will likely be the most important role he plays this year, as he won't likely get much time with the Trail Blazers themselves.
C.J. has to prove he can do other things besides shoot to garner any kind of free agent offer next summer. He cannot take another two-way contract next year as he will have four years of NBA experience, so this is a make or break season for him. The fact he has to play for other NBA affiliate teams might bode well for him, because he will be seen by multiple front offices on a more personal basis.
Baldwin was selected no. 17 overall by the Memphis Grizzlies just last year. He was outplayed by veteran Mario Chalmers and second year man Andrew Harrison and thus let go. He's still just 21 and has explosive talents on the floor, but poor shot selection has really plagued him during his time both with Memphis and in Iowa (G League).
Other concerns have surrounded Baldwin's attitude which is a good way to lose out on future opportunities. Teams don't normally cut loose a near lottery pick just one year after drafting him, so some of these rumors have to be at least partially true. Baldwin needs to show the promise that earned him his high draft position, both on and off the court. He will be sent to multiple G League teams in all likelihood, so how he handles those assignments along with how he plays in uncomfortable settings will be vital for the young man.
Chris Reichert is a G League lead writer and co-founder of 2 Ways & 10 Days. Chris is also an associate editor for FanSided's The Step Back. He has been covering the NBA G League for four years and loves telling stories of the forgotten talents across the world. Follow Chris on Twitter @Chris_Reichert.