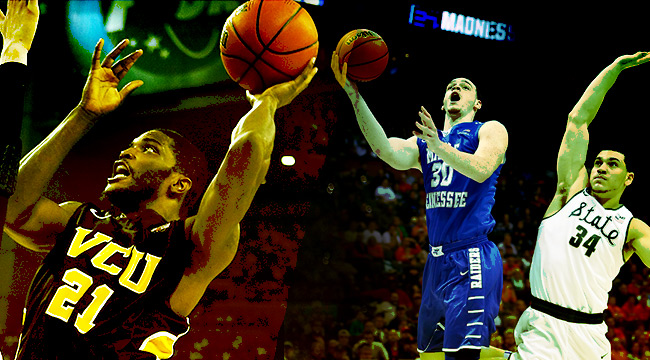 The start of the NCAA Tournament means two things. One is that the best weekend of the year for watching basketball is upon us as for four days there are college hoops games going on from noon ET to past midnight. The other is that up until tip-off on Thursday, you'll be sifting through stats and data and, for the hardcore, even a little film trying to find those sleepers and upsets to lock into your brackets to gain a leg up on the rest of your friends.
Picking up points on the rest of the bracket pool in the first weekend of the NCAA Tournament is crucial to one's success. Picking the right 11, 12, 13, or 14-seed to score a first day upset and (most importantly) avoiding having your bracket busted by seeing a Sweet 16 or Elite Eight team getting knocked out in the opening round are critical to moving to and staying at the top of a bracket pool.
The problem most people run into is how to get enough information about 68 teams — of which, even a college hoops fan that watches games often has probably only seen 40 — to determine advantages in strange cross-conference matchups we've never seen before in a short amount of time. To help answer that question, we talked to an expert in quick preparations for the NCAA Tournament, Turner Sports play-by-play announcer Brian Anderson.
Anderson will be on the call when the NCAA Tournament tips off in earnest on Tuesday night (6:00 p.m. ET, truTV) with the opening two First Four games (16-seeds New Orleans vs. Mount St. Mary's and 11-seeds Wake Forest vs. Kansas State) in Dayton, Ohio. He'll also be in Greenville, calling four games from Friday's opening round action, starting with Arkansas-Seton Hall at 1:20 p.m. ET (TNT), followed by UNC-Texas Southern (TNT), Duke-Troy (7:20 p.m. ET, TBS) and wrapping up with South Carolina-Marquette (TBS).
Like the rest of us, Anderson and the rest of the Turner and CBS broadcast crews learn their assignments on Sunday night following the selection show, and then have just a few days to dive in and learn as much as they can about eight teams in their regional pod (or, in Anderson's case, 12 teams including his First Four games).
After three years doing play-by-play for the tournament, Anderson has his preparation schedule down to a science.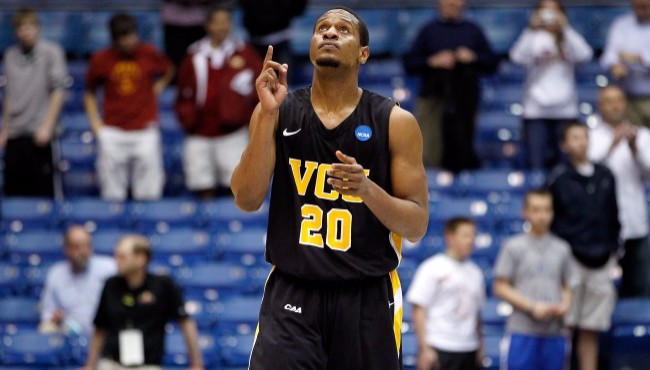 "I don't think we found out until about 8 o'clock Eastern exactly where we were going," Anderson told DIME. "So even with all the teams out there you couldn't dive in because you didn't know exactly where you're going. You didn't know what pod you're going to be. So, once those teams are revealed, I knew I'd be doing Tuesday in Dayton so I started locking in on those four teams, and then a couple hours later, an hour later, we got our locations. And then you get those eight teams and you get your boards done immediately. You get your basic information — team name, conferences, their path through their conference tournaments/conference seasons and then get the names down and try to figure out their rotations. Once I do that, that took a good while until about 1 o'clock in the morning."
Anderson then puts all his time into diving deep into the teams, shallow first, and then deeper as he goes.
"Once I get those names down and get all those boards done," Anderson says, "so there are six boards I wrote out — two teams on each. As the week goes now, I'll just keep adding layers to those names and teams. Once I have the names and foundation on my board, it's easy to start adding pieces. I also watch a lot of video. We have a great web service where we can watch any game from any time during the season and so you download all these games from all the teams you're going to be covering and it's great to be able to scout them and do some video. Find out what kind of style they have and put faces to the names. Then each set-up has their own practice days…and those practice days are invaluable. You have a lot of media guide or statistical book work done then and you're just talking to coaches and players to get those extra nuggets that makes these individuals what they are and figure out what makes them tick so you can share that information with the audience."
He's also learned what to look for from mid-majors and lower seeded teams that can give him an idea if one of his games might feature an upset. For Anderson, there are a few main keys he looks for to find that sleeper team that can become a first-weekend Cinderella story — like 15-seed Middle Tennessee last year upsetting 2-seed Michigan State when Anderson was on the call.
"I would say statistically, turnovers is a big one and efficiency," Anderson says. "So you can check the turnovers, and even with up tempo teams, the turnover story is usually an important one. I always go to the guards and the guard play and who has that dynamic guard. Kenny Smith once said a long time ago that the NCAA Tournament is about the guards, and the team that has the guard or guards that can control the game for these eight-minute windows are usually the team that advances. Every now and then there will be a big man that will take over, but it's rare. As I'm going through these teams and looking through the stats and looking at the personnel, you look at the guard position, is there experience there, assist-to-turnover ratio, how many field goals are assisted — in the stats, that's an important one. Up tempo teams can be an interesting one — up tempo teams and three-point shooting teams can be very interesting in the tournament."
Another thing to look for is three-point shooting teams, so keep an eye out for the offenses with a whole bunch of green categories in KenPom's offensive efficiency rankings.
"I think a lot of upsets that you see from the smaller schools are from the teams that can fill it up from beyond the arc. Like, you think about the VCU team from 2011 that went from the First Four to the Final Four. They had great guard play and great shooting and they had this havoc defense, so it was an unusual look and disruptive. So you look for the anomalies like that. Who has the ability to get hot and be disruptive? That's why Middle Tennessee was such an interesting story last year with Giddy Potts, because he can shoot and he's such a great shooter and he's back this year. OK, so I'm looking at what are the three-point field goal percentages, assist numbers, assist-to-turnovers, and those are all the keys that I look at that tell me this team might have a shot."
A smaller school likely isn't going to have the size to really matchup with a bigger school over 40 minutes in the paint, but if a team has a dynamic guard and shooters they can level the playing field quickly. For those looking for a team this year that can get hot and pull off some big upsets — aside from that Middle Tennessee team, which is back as a 12-seed against 5-seed Minnesota — a look at the three-point percentage leaders may help.
Marquette (43 percent) leads the nation and will be a 6-seed that could cause some havoc if they advance to meet a top seed later. Wichita State, an under-seeded team as a 10-seed, was 4th in the nation this year as a team, shooting 40.8 percent from three. Purdue and SMU both shot 40.6 percent from three-point range this year. Iona (39.7 percent) is a 14-seed playing an Oregon team that, while one of the nation's best all year, lost a key player right before the tournament in Chris Boucher to a torn ACL.

To combine some of the categories Anderson mentioned, 12-seed Princeton turned the ball over the least of any team in the country this year, and shot 38.3 percent from three-point range, while No. 7 St. Mary's (CA) had the 10th fewest turnovers and shot 39.9 percent from three-point range. Sometimes, the upsets come from seemingly nowhere. A small school's team getting hot at the right time will bust brackets, spoil national title hopes and create a new fan favorite (even if only for a weekend) all in one moment.
There are also teams that won't come close to winning, those that get gobbled up by the blue-blood programs in the opening game, but just to play on the biggest stage in college basketball will still be an incredible accomplishment. For Anderson, those are his favorite teams, the ones that provide stories few have heard and are thrilled to have their moment in the spotlight.
"That's what I really enjoy the most," Anderson says. "I think my favorite games are those 16-seeds, First Four games because it means so much to these players and so much to the programs. Diving into those stories, and I treat it with great reverence because it's so important for these players and their program and their fans to have a moment in the spotlight like this, and one of these teams is going to win a game and have their shot at history."
Anderson, like the rest of us, is still waiting for some history that's never happened.
"We've never had a 16-seed beat a one. I believe it's going to happen one day. Who knows when it's going to happen, it never looks like it on paper, but I had a 15-2 upset last year in Middle Tennessee over Michigan State and we're getting closer to that time. So, one of these teams gets that shot. One of these teams gets the slingshot and the rock, and that's just fascinating. The team that wins the game I have will get the number one seed overall, Villanova in Buffalo. So they'll get the 1-1, the overall No. 1, and I love that about sports."
One day it might happen. One day we might see a triumphant 16-seed, and maybe, just maybe, you'll be the one to pick it and have that be the difference in winning your bracket pool.