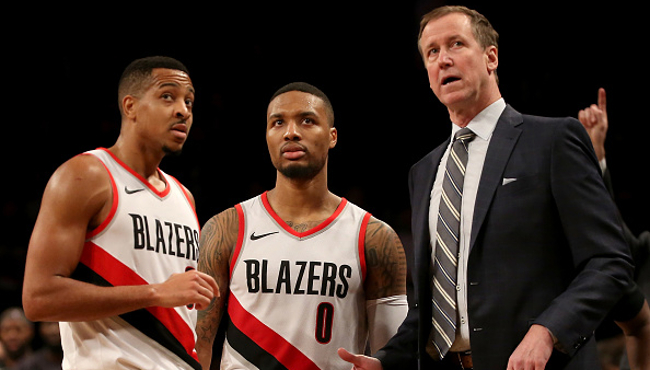 What should've been one of the more remarkable seasons in recent history for the Portland Trail Blazers ended on quite the sour note. Despite 49 wins and an impressive third seed finish in the ultra-competitive West, the Blazers got stunned by the New Orleans Pelicans, who unceremoniously swept them right out of the playoffs in the opening round.
That, of course, unearthed all the old questions buried just below the surface about whether head coach Terry Stotts is still the man for the job and, perhaps more pressing, whether Damian Lillard and C.J. McCollum are a viable long-term pairing.
In response, general manager Neil Olshey doesn't seem to have any new answers. In fact, he appears content to let the team remain on its current course, which consists mostly of spinning its wheels in the muck. He admitted as much in a recent sit-down with Blazers court-side reporter Brooke Olzendam. (Skip to the 16-minute mark for his comments on Jusuf Nurkic's contract and why he wants to keep Dame and CJ together).
"We're keeping the core together, knowing Dame and C.J. have at least three years left on their contracts. And we give that group the best chance to win without impeding our ability long-term in terms of being into a number that's completely non-liquid."
Despite their third-place finish last season, it became excruciatingly clear in the playoffs that the Blazers simply aren't equipped to compete against even the second-tier teams in the West. The question remains as to what level of success the team and its fans are comfortable with.
Most fans are justifiably squeamish another rebuild so soon after the previous one and appear at least somewhat content with being a pretty good team that makes the postseason every year. But Lillard has stated emphatically – in a meeting with owner Paul Allen last season, no less – that that's simply not enough.
Much of the onus, then, is on Olshey to make personnel moves that put them in a better position to truly compete, and his track record has been underwhelming, to put it mildly. Granted, there are salary cap constraints (much of it Olshey's own doing), a competitive marketplace, and the fact that Portland is historically a tough sell for prospective free agents (for whatever reason).
But at some point, there has to be some accountability on Olshey's part. The NBA is the no excuses league, and that applies to everyone across the organization. After yet another dud of an offseason and the same old sell-job from Olshey, it begs the question as to how much longer the Blazers and their fans will be willing to buy it.