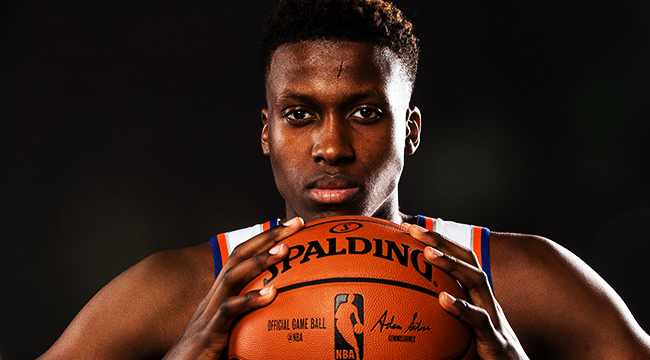 With a timetable for Kristaps Porzingis' return from a torn left ACL still up in the air, the Knicks don't have much reason to be optimistic about the end of what will soon be a six-year playoff drought. But while the 7-foot-3 Latvian is still New York's long-term centerpiece, second-year guard Frank Ntilikina is almost as important to the long-term success of their rebuild.
Ntilikina's up-and-down rookie season was filled with uncertainty about his place within the organization. He was drafted by Phil Jackson less than a week before the Zen Master's controversy-filled tenure as team president came to an end. The post-Jackson Knicks then signed Tim Hardaway, Jr., a ball-dominant guard, to a four-year, $71 million contract. Throughout the season, they added Trey Burke and Emmanuel Mudiay, two more former lottery picks, to compete for minutes in the backcourt.
Ntilikina appeared in 78 games but started just nine, all of which came well after Porzingis' season-ending knee injury dashed any faint hopes they may have had at a postseason run. He averaged a mere 21.9 minutes per game during the year, showing signs of becoming an elite perimeter defender while struggling to find a consistent role on the offensive end.
Ntilikina displayed a defensive acumen uncommon for a 19-year-old rookie. He's capable of guarding four positions and switching in all kinds of different matchups. Defending the pick-and-roll, he was especially lethal, ranking in the 90th percentile league-wide and allowing just 0.649 points per possession, per Synergy. The Knicks were 6.1 points per 100 possessions better defensively when he was on the court, and he was second on the team in steals despite his low minutes. Even if his offense improves, Ntilikina's calling card in the NBA will be his defense. The indicators are there that he can become truly elite at that end.


As promising as Ntilikina was defensively in his rookie season, however, his offense was another story. He shot 36.4 percent from the field, third-worst among qualified rookies, ahead of only Lonzo Ball and Malik Monk. New Knicks coach David Fizdale is already hammering home that he wants Ntilikina to be more aggressive looking for his own shot in his second season. He's shown an ability to make plays for others, and that unselfishness served him well playing alongside Burke and Hardaway. However, by the time the Knicks are contending again, odds are that neither of those two players will still be in town. The chemistry he develops with Porzingis and incoming rookie forward Kevin Knox will be of utmost importance.
Porzingis and Ntilikina proved to be a nice fit when they were allowed to see the court at the same time in the half-season prior to Porzingis' knee injury. The reluctance of the since-fired Jeff Hornacek to play them with each other became the biggest lament of the season among fans. In the 366 minutes Ntilikina and Porzingis played together, the Knicks outscored opponents by 6.7 points per 100 possessions, by far the best net rating for any two-man combination on the team that played outside of garbage time. Porzingis' length and shooting ability gave Ntilikina a reliable target for his passes, and his rim protection complemented the rookie's lockdown perimeter defense. Assuming Porzingis makes a full recovery from his knee injury, there's a lot to be excited about in that pairing.
Ntilikina and Knox didn't get much time together in Summer League, with Ntilikina limited to just two games after suffering a groin injury. But Knox turned plenty of heads on his own in Las Vegas, showing versatility as a playmaking wing with the ability to play either forward position. Pairing with Ntilikina could allow the two to cover up each other's weaknesses at respective ends of the floor. They have the size and length for Fizdale to experiment playing either one on or off the ball, maximizing each other's strengths and developing chemistry together while the Knicks, and the NBA, wait for Porzingis to get healthy.
With one max salary slot next summer and the potential to create a second, the Knicks are already making noise about going big-game hunting in a free-agent class that could include Kawhi Leonard, Kevin Durant, Jimmy Butler, Kyrie Irving and Klay Thompson, among others. Knicks fans have seen that movie before, as anyone who remembers the original Summer of LeBron in 2010 can tell you.
This time, however, New York is much better equipped to regroup if they strike out on blue-chip free agents. After the 2019-20 season, Joakim Noah's onerous contract comes off the books, and while Porzingis will likely have re-upped on a long-term max deal by then, Knox and Ntilikina will still be on cheap rookie contracts. Add to that intriguing second-round center prospect Mitchell Robinson (one of the surprises of Summer League) and what is sure to be another high lottery pick next June, and the Knicks will be well-set up with young talent under a coach in Fizdale with a stellar reputation for player development.
A long-term core of Porzingis, Knox, and Ntilikina gives the Knicks something they haven't had in a long time: a promising future. Just how promising it is depends on how Ntilikina progresses. Right now he appears on the path to being a point-guard version of Andre Roberson, a role player whose defense is so good it makes up for his liability as a scorer. But if that scoring ever catches up to the defense, Ntilikina, and the young Knicks, can be so much more.