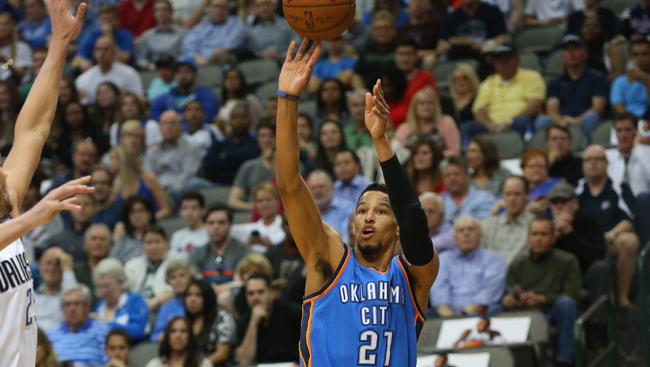 Welcome to "Basketball, Neat." This is an intermittent column throughout the 2015-16 NBA season where DIME will discuss some basketball play or trend without extraneous information.
If you're a fan of single-malt Scotch, you should be familiar with ordering a drink, neat. That's what this is, but with basketball. So there will be none of the usual contextual or superficial noise you might hear on Twitter or even in our pieces at DIME. This isn't some referendum on basketball coverage or anything quite so lofty; it's just a tiny place to talk exclusively about hoops. We'd like to nerd out about basketball for a little bit before we go back to the overarching culture of basketball and the NBA we normally cover. We hope you like it, but it's primarily just a selfish way to publish what we're already talking about with each other.
The Oklahoma City Thunder are something close to a juggernaut. Kevin Durant and Russell Westbrook are MVP candidates, Serge Ibaka could win Defensive Player of the Year, and the stable of players surrounding them all fill specific roles. But that doesn't mean Oklahoma City is without its flaws, and there's a two-headed one that not even Billy Donovan's rare strategic prowess can mitigate completely: The lack of a two-way threat at shooting guard.
Andre Roberson is the Thunder's fifth starter, and it's easy to see why. As this team's best and most versatile perimeter defender, his presence allows Durant and Westbrook to focus their attention on the other side of the ball. Roberson's complete inability to space the floor, though, compromises the collective offensive heft presented by Oklahoma City's Big Three.
http://giant.gfycat.com/FlickeringFailingJunco.gif
Wasted possessions like that one won't work in the postseason and reared their ugly head in the Thunder's loss to the Houston Rockets on Monday night and their loss to Chicago on Thursday. But just as problematic for Donovan is that his bench doesn't boast a player whose all-encompassing influence stands above Roberson's.
Do you want Durant, Westbrook, or Kyle Singler guarding a player of James Harden's caliber in crunch-time? Of course not. But that's exactly what Oklahoma City did in its loss to the Rockets, solely due to the sweeping negative impact of Roberson on the other end.
Jack: First thing's first: Roberson also opted against a wide open corner three in favor of a swing pass to Durant against the Denver Nuggets last week. Just how much confidence could a player, his teammates, or his coaches possess in his jump shot if something like this becomes routine?
Either way, it won't really matter during the regular season. The Thunder will win just less or a bit more than 60 games in 2015-16, and do so in large part because of their rare prowess on both sides of the ball. While Roberson is a key cog in Oklahoma City's defense, though, he's nearly as big a detriment to its offensive merit.
But that problem isn't fixed by simply replacing him with a superior offensive player when the going gets tough. Why? For the quick-twitch shooting prowess of Anthony Morrow, natural playmaking verve of Dion Waiters, and even measured overall game of Singler, none of them come close to matching what Roberson brings to the table defensively. And because the defensive gap between he and that perimeter triumvirate is so vast, an onus falls on the Thunder's stars to pick up the slack when he goes to the bench – and they aren't quite equipped to do so.
Roberson, basically, could be basketball's sharpest double-edged sword, a possibility that was on full display throughout Oklahoma City's hard-fought loss to the Rockets.
Look how little attention the Rockets pay to Roberson – a shooting guard, remember – on this pair of first-half possessions.
Remember when the Golden State Warriors defended Tony Allen with Andrew Bogut in last year's Western Conference Semifinals? That's essentially what Houston is doing here, but simply using a defensively-challenged perimeter player, Marcus Thornton, instead of a big man to play free safety and crowd the strong side of the court.
Here's the question for Donovan: Is playing a brand of 4-on-5 offensively worth the defensive trade-off? It speaks of the Thunder's incredible talent level that it's a question at all. The answer is an obvious one for the vast majority of teams, but it's likely context-dependent for Oklahoma City – something title-contending squads like the Golden State Warriors, Cleveland Cavaliers, and San Antonio Spurs, though, aren't forced to consider.
Could Roberson doom the Thunder? What are the chances his stroke improves? Maybe Waiters curbs his shot-happy tendencies and becomes consistently engaged on defense? What about Sam Presti swinging a mid-season trade? Am I overreacting?
Do tell, please.
Spencer: I'm writing this portion on Nov. 6, so everyone's overreacting anytime they're trying to perform in-depth analysis (plus, Twitter, lol). But Roberson really is a problem. Less of a problem than if he wasn't an elite defender, but still a problem. Only a select few perimeter players can mirror their offensive counterparts as doggedly as Roberson does for the Thunder, and that's a combination of motor and God-given natural talent. It's just really hard, even if NBA audiences chalk up overt defensive lapses to effort. That's not always true. The only real comparison Roberson has on the defensive end is someone like Kawhi Leonard, and he's just the reigning Defensive Player of the Year.
It's a testament to his defense that he even gets to start, and that says as much about his defense as it does about how dreadful he shoots the ball. Take it from someone who is basically Rajon Rondo incarnate (except minus the intelligence, big hands or really anything except a shitty jumper), Roberson is a huge negative on that side of the floor. Even his makes show off just how little respect his shot gets from opponents.
Jack mentioned it above, but the Rockets just double Westbrook and let Roberson drift to the far corner. It's obvious Westbrook doesn't even want to pass him the ball, but he eventually does when any sort of penetration becomes untenable.
http://giant.gfycat.com/AgonizingGiddyDunnart.gif
Almost the exact same play happened on Thursday night against the Bulls, and again Roberson ripped the nylon with the ensuing shot. You see how Doug McDermott just stays on the near side to make Russ think twice about a drive:
Westbrook eventually gets around to making the correct pass; although, it was again obvious to circumspect fans that he would have made that pass one or two seconds earlier if it was anyone but Roberson in that far corner.
http://giant.gfycat.com/DeafeningRepulsiveInexpectatumpleco.gif
And the above was a similar play to one from the first quarter that led to a Roberson miss. This is probably the one that stuck in the back of Westbrook's mind and led to the hesitance on the same choice in the second half.
On this play, Doug masks his help better, but he's pinching in on the high screen so early the correct pass is impossible to miss. McBuckets and Pau Gasol actually form a wall near the free throw line, one that Westbrook has no choice but to pass away from.
http://giant.gfycat.com/GlossyBlankDarklingbeetle.gif
Roberson misses, which — as we know, since Jack drilled it into your head — isn't out of character for him.
That is a huge problem. Space is at a premium when you play with players like Westbrook and Durant. They cause so much confusion for defenses, you need good spot-up shooters around them or else it eliminates one of their biggest advantages. Russ and KD are designed to bend the defense like this, and Roberson is supposed to knock down a wide open look from the corner.
Roberson is 4-of-10 on three-pointers so far this season and 40 percent is an elite three-point shooter (that should plummet as he gets more opportunities), but he's just not taking as many open looks as he's getting, which puts extra pressure on Russ and KD to score the basketball. It's also why you'll sometimes catch one or both of OKC's stars taking on a double team. You can't really blame them, can you? They're so confident, they believe one of their contested jumpers has a better chance of going in than a wide-open three-pointer from their offensively-challenged shooting guard. And they're usually right.
I don't know how you solve this problem. I just know it's an issue OKC has to fix if they really want to compete for a title. Maybe Jack has the solution. (here's a hint for people who don't know Jack: he almost always does.)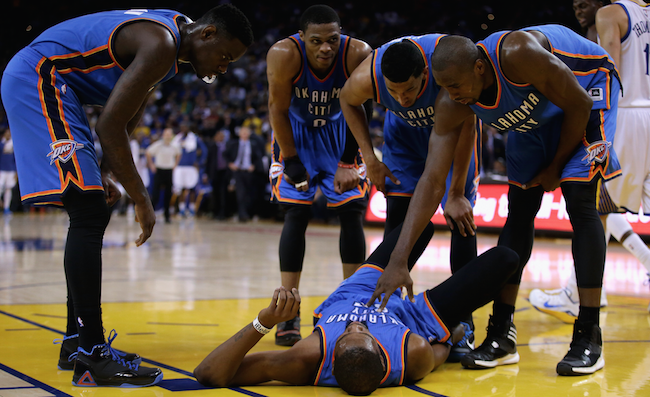 Jack: Barring a drastic improvement from beyond the arc that gives Roberson far more confidence, prompts his teammates to trust him, and goads real, sustained attention from defenses, there really isn't an easy answer here. This is slight exaggeration, but think of the pressure Stephen Curry's imminent shooting threat puts on the opposition and the sweepingly positive effect it has on his teammates. That's the opposite of what Roberson brings to the Thunder.
And as we previously discussed, the solution's not so simple as replacing him with a bench player. Morrow is a clear defensive liability; Waiters can't be trusted on either end of the floor; and Singler's skill-set is limited. If Oklahoma City needs Roberson in the lineup to defend an elite playmaker in crunch-time, Donovan's best bet to alleviate the influence of a non-shooter is likely going small with Durant and Ibaka in the frontcourt – which presents an entirely new set of worries.
No team is perfect; even the Warriors possess concerns. But the Thunder have one that's more obvious and debilitating than those of their elite-level peers, which has become abundantly clear less than a full week into the 2015-16 season. So when the stakes rise, intensity amplifies, and deficiencies magnify come playoff time, just imagine how much bigger a problem Roberson's lack of shooting ability could pose to Oklahoma City's title hopes.