The basketball world has lost a legend. Following a five-year fight with early-onset dementia, former University of Tennessee women's coach Pat Summitt passed away on Tuesday. She was 64.
A 22-year-old Summitt began her four-decade coaching career in 1974 as a graduate assistant with the Lady Volunteers, but was promoted to head coach shortly thereafter following the sudden resignation of her predecessor. Summitt's first full season in the big chair coincided with her earning a Master's Degree in Physical Education and preparing for the 1976 Summer Olympics as a co-captain of the women's national team. She coached the U.S. Women's Olympic Team eight years later, becoming the first American to medal as both a player and coach in basketball.
Summitt began establishing Tennessee as the premier women's program in college basketball during the 1980s. The Lady Vols made it to the Final Four of the inaugural NCAA Women's Basketball Tournament in 1982 and advanced to the championship game two years later, a season that coincided with Summitt's first of seven National Coach of the Year awards. Tennessee won its first ever NCAA championship in 1987.
On February 5, 2009, after leading the Volunteers to eight national titles, Summitt became the first coach in NCAA history – male or female – to record 1,000 victories. She was named the Naismith Coach of the Century and enshrined to the Naismith Memorial Basketball Hall of Fame in 2000, and guided Tennessee to back-to-back NCAA championships in 2007 and 2008.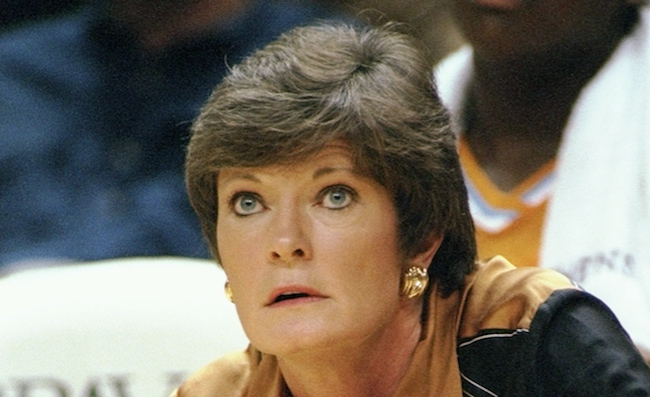 Summitt announced that she was diagnosed with early-onset Alzheimer's on August 23, 2011. After being advised by doctors to immediately retire, the 59-year-old said, "Do you have any idea who you're dealing with?" She went on to coach the following campaign in a reduced role before retiring at season's end as the winningest basketball coach in NCAA history.
President Barack Obama awarded Summitt the Medal of Freedom shortly thereafter, and she received the Arthur Ashe Courage Award at the 2012 ESPYs. She was inducted to the FIBA Hall of Fame in 2013.