The NBA Draft lottery is less than a week away, which means it's time to revel in who each team thinks is lucky to bring to the lottery stage.
The lottery traditionally brings out the weirdest superstitions among NBA teams, something that Zach Lowe has chronicled better than anyone else over the years. Arguably the most impactful decision is who represents the team on the dais, as that person becomes the face of the team's lottery success or failure.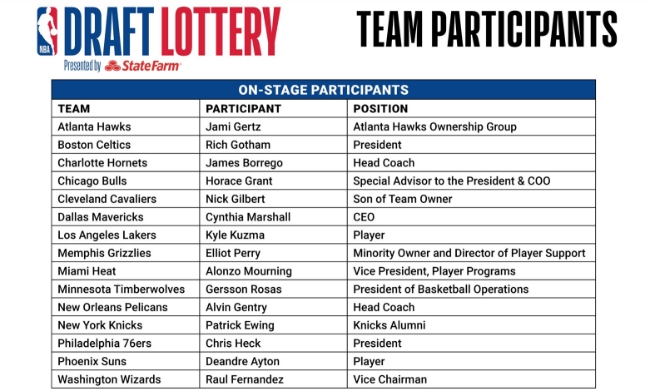 The league released its list of team representatives for the lottery stage, and there are some fun ones as always, starting with the Knicks sending Patrick Ewing. Making a Hall of Fame inductee sit on stage for half an hour as deputy commissioner Mark Tatum opens envelopes is quite the power move, particularly since the current Georgetown head coach would likely rather be representing New York as its head coach. Either way, it's fairly transparent that the Knicks are trying to recreate the good karma of 1985 when, as any NBA conspiracy theorist will tell you, a "frozen envelope" secured them the No. 1 pick and the rights to Ewing.
It's always fun when a team sends its young players as its lottery representatives, if only because the process could end up with them being replaced. The Suns are sending Deandre Ayton, while the Lakers are sending Kyle Kuzma. Considering the Lakers' front office situation, with Rob Pelinka in the official lottery room, there's really no one else left for the stage.
Nick Gilbert returns as the good-luck charm, presumably with his bowtie, for the Cleveland Cavaliers. After the Cavaliers failed to move up in the first round last year with Brooklyn's pick, Cleveland is clearly hoping for a situation more like 2011 (or 2013, or 2014) when earning the top pick helped the team jumpstart its post-LeBron rebuild. And as for why a pair of conference semifinalists are there, Boston and Philadelphia will share a table again because of their co-ownership of Sacramento's first-round pick. It heads to Philly if it's No. 1, and otherwise, it's going to Beantown.