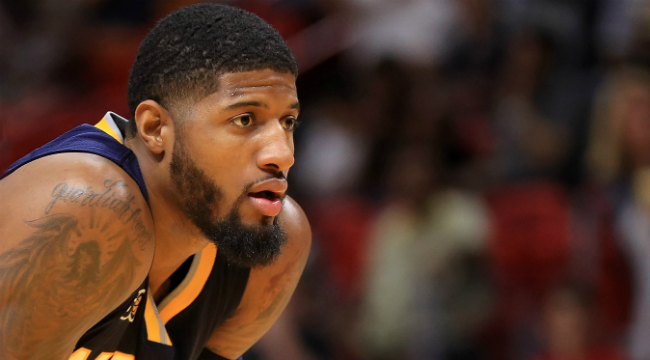 The Indiana Pacers are a strange team, blessed with one of the very best players in the game in Paul George, one of the league's best second-year players in Myles Turner, a competent point guard in Jeff Teague, and very little else of value. For a basketball-crazed state like Indiana, that can be maddening, which is why they showered the Pacers with boos when they went down big to the mediocre New York Knicks in the fourth quarter of Tuesday's game — something which got on the nerves of George.
"They pay their money, their hard-earned money to watch us play. They got the right to do whatever they want," George told the Indianapolis Star after practice Tuesday. "It doesn't hurt me. It doesn't hurt my feelings. Just know we work harder off of cheers than boos."
[…]
"It doesn't help — booing us. We want to come out and play hard. We want to play hard for them. It's not like we're just out there to be there. I get it, though. They expect us to be at a high level. I get it. I don't think booing is the solution."
George hits it right on the head — booing is a common fan reaction to frustration, and Pacers fans have a right to be frustrated. But those are humans on the court who hear the boos, and it can be hard not to feel like your fans don't support you. Of course, George's assertion that the boos don't help wasn't done any favors by his team mounting a comeback to tie the game later in the fourth, only to fall short and lose 109-103. It's a tough spot for both the fans and players.
(Via Indianapolis Star)