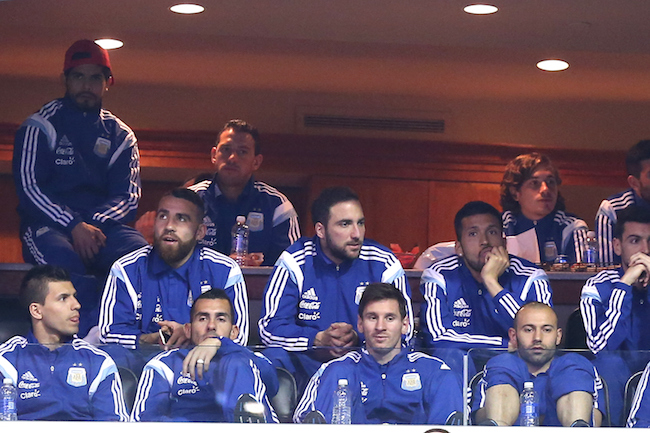 Visiting for a friendly versus El Salvador, the Argentinian national team was treated to a fantastic NBA game in Washington, D.C. on Wednesday night. And after the Indiana Pacers defeated the Washington Wizards on George Hill's buzzer-beating layup, Lionel Messi and company made friends with the winning team, too.
But it was Hill, Paul George, countryman Luis Scola, and the rest who appeared most star-struck.
The Albicelestes ("Blue and White") seemed a bit conflicted when Scola erred on a pair of free throws with the game in the balance, though. Fans who attend games at the Wizards' Verizon Center are entitled to a free Chick-fil-a sandwich if an opposing player misses consecutive freebies, a promotion that always leads to widespread crowd engagement when the possibility for it arises.
Look how excited Argentina becomes when Scola misfires for a second time.
https://twitter.com/AnAbnos/status/580900442709868544/photo/1
Evidently, free chicken supersedes allegiance to country.
Argentina meets El Salvador at FedEx Field on Saturday. While the Pacers will be back in Indy by then, it's safe to say George, Hill, and their teammates will be watching their new favorite team in action from home.
[Video via csnwashington]