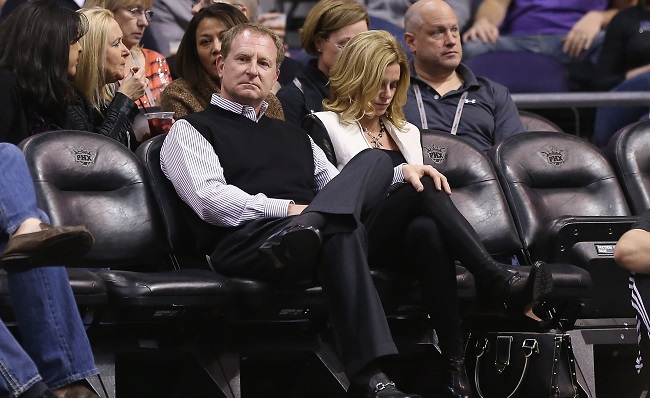 Will the Suns be in Phoenix forever? Potentially no. Team owner Robert Sarver is looking to upgrade Talking Stick Resort Arena, but he doesn't appear to have the votes to get the approval for the $150 million renovations being asked for. Most team owners would respond to this by doing some groundwork, talking to council members, and selling a city on why they need to upgrade the arena. It's something that a good team owner does.
Sarver is not a good team owner. His response is to try and strong arm Phoenix into voting for renovations with no basis for his threats. When it became apparent that Sarver wasn't going to get the votes he needed, he reportedly started calling as many people as possible to try and convince them of the deal. He also threatened to move the team to Seattle or Las Vegas, two very popular locations owners like to use as a bargaining chip in arena deals, via Laurie Roberts of the Arizona Republic.
Sources tell me City Manager Ed Zuercher is hoping the City Council will agree to postpone the vote, rather than potentially suffering a lopsided defeat that could kill future prospects for a deal.

Meanwhile, Sarver is telling city officials that he may take the team to Seattle or Las Vegas, one source told me.

This isn't exactly surprising to see from Sarver. He's consistently considered one of the worst owners in the NBA and the expectations he has for his own franchise varies wildly from reality. He was largely seen as the one responsible for Phoenix firing its GM Ryan McDonough right before the season began after allowing him to spend an entire offseason building the roster.
His threat of moving the team also lacks weight. The NBA would need to not only approve the move, but Sarver would have to get approval from the cities themselves. There have been no reports stating that Sarver has laid out any of the groundwork to move the team. He's just trying to use Seattle and Las Vegas as a threat to get what he wants. Sometimes that works, but you need an actual basis to make the threat on. He has none. As such, it's hard to imagine the Suns will actually be moving anytime soon. All this does is further damage his reputation with the Suns fans.
A reputation that has been well earned when you consider what the franchise has become since he took over as owner in 2004. This isn't some random franchise that has just kind of existed. The Suns are historic. They have been in the NBA since the late 60's. They made their first NBA Finals in their eighth year of existence as a franchise. Jerry Colangelo is in the Hall of Fame because he made them into one of the winningest franchises in NBA history. This is a team that matters. Charles Barkley, Kevin Jones, Paul Westphal, and Connie Hawkins all played for the Suns.
Sarver, on the other hand, lucked into Steve Nash and managed to meddle just enough so he would never play in the NBA Finals. Sarver has taken a franchise that was once known for success and has managed to miss the playoffs for eight years in a row, almost assuredly extending to nine this year. The Suns have become an NBA doormat where players look miserable to even be there. Devin Booker isn't anywhere closer to a winning season now than he was when he was first drafted. Sarver meddles. He breaks things. Then he fires people and does it all over again.
Phoenix doesn't deserve to lose the Suns, but it deserves to be rid of Robert Sarver. If he moves the team the franchise will continue to fail. It will just be associated with a new city. The Suns issues aren't a Phoenix problem, but a Sarver one.