Five years ago, the Phoenix Suns started a rebuild with an interesting experiment: could the Suns run a functional offense with two full-time point guards, Eric Bledsoe and Goran Dragic? On a team bereft of real perimeter talent, it made sense to play Phoenix's two best players as much as possible to evaluate them for the future.
Incredibly, the Suns won 48 games, missed the playoffs by one loss, and then all hell broke loose. They doubled down on their anomalous two point-guard lineup and set in motion the most ludicrous series of transactions that haunts the team to this day.
Phoenix waived Isaiah Canaan today, after Canaan had started 15 of 20 games at point guard this year. Since the start of the 2014-15 season, Canaan is the 19th point guard the Suns have employed according to Basketball-Reference. That doesn't even include several nominal shooting guards who handled the point for Phoenix, including Dragic, Brandon Knight, Archie Goodwin, and Jamal Crawford.
Nineteen point guards in five years!
How did a team with two borderline All-Star talents at the one run through more than a full roster of point guards in four years?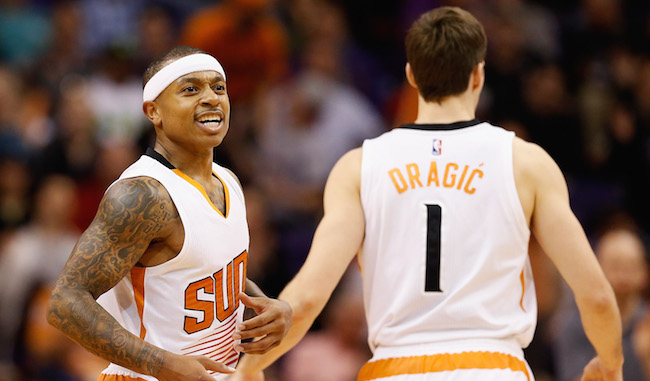 It all starts with Isaiah Thomas. The Suns signed Thomas in the 2014 offseason to back up both Bledsoe and Dragic, and occasionally play in three-guard lineups. It didn't work, and Thomas was shipped out at the trade deadline for Marcus Thornton and a 2016 first-round pick. Phoenix eventually packaged that pick, which was used to select Skal Labissiere, to move up in the draft for Dragan Bender. We're just getting started.
The Suns should have been fine retaining Bledsoe and Dragic for the remainder of the season and running back their 2013-14 success, but the Thomas experiment didn't sit well with Dragic, who was up for free agency and asked out. Forced to deal a third-team all-NBA member who had just won Most Improved Player, Phoenix actually acquitted itself fairly well, getting two unprotected first-rounders in the process.
At that moment, the Suns could have accepted a lost year and potentially reverted to playing one point guard at a time, but they were so committed to the gambit that they surrendered their greatest asset, a lightly-protected first-round pick from the free-falling Los Angeles Lakers, to acquire Brandon Knight. That the Milwaukee Bucks gave up this pick for Michael Carter-Williams only underlines the stink of poor decision-making Phoenix was spreading across the league — ironically, that pick was used to take Mikal Bridges, who was dealt on draft night to the Suns and is now one of the few bright spots for Phoenix. The team didn't get much better, missed the playoffs again, but got Devin Booker in the draft.
With Bledsoe, Knight, and Booker in tow, the Suns were seemingly set at backcourt, and making John Calipari really happy in the process. Unfortunately, the rest of the team was in shambles. Phoenix had signed Tyson Chandler in the offseason in a weird ploy to seduce LaMarcus Aldridge. As part of that effort, the team traded Marcus Morris to clear cap space, angering his twin Markieff in the process. Bledsoe got injured in December and Knight missed seven weeks with an adductor strain, resulting in the incredible sight of Goodwin, Ronnie Price, Phil Pressey, Jordan McRae, and Bryce Cotton playing meaningful minutes for the Suns. Only McRae is still in the NBA, on a two-way contract with the Wizards.
Never fear. Phoenix had another high draft pick, Bledsoe and Knight would come back from injury, and Booker figured to improve in his sophomore season. Except the Suns were terrible yet again, choosing to bench Knight and bring in Tyler Ulis and Shaquille Harrison for reinforcements, along with a second tour for Ronnie Price. If nothing else, Phoenix had finally figured out how to tank properly.
In the 2017 draft, the Suns had a chance to add to their point guard depth by selecting De'Aaron Fox out of, you guessed it, Kentucky. Instead, Phoenix picked this time to pivot to the new NBA trend of acquiring long, athletic wings, and selected Josh Jackson out of Kansas, who has yet to find his footing on a consistent basis. Knight tore his ACL the next month, and it took three games of losing by a combined 92 points for Bledsoe to send his now infamous tweet asking out of Phoenix.
https://twitter.com/ebled2/status/922201984211369984
Head coach Earl Watson was fired later that day. Bledsoe was traded within a few weeks to Milwaukee, and the Suns played out the next 79 games with a combination of two-ways and ten-days, including Mike James, Josh Gray, Harrison, Canaan, and Ulis. Only Canaan made it to the start of this season. Harrison was in training camp, but he was waived and ended up on the Chicago Bulls, a team which might warrant its own deep dive into its point guard situation at some date in the near future.
Of course, Canaan has also caught the axe, as Phoenix is seemingly content to move forward with De'Anthony Melton and Elie Okobo, two rookies, as well as point-Booker for the foreseeable future. This will be another lost year for the Suns. Knight was traded in the offseason, along with 2016 first-rounder Marquese Chriss. Bender's fourth-year option was declined. After all these years of turnover at the lead guard spot, there is little left for Phoenix to work with.
Now, the Suns are clearly the worst team in the Western Conference, the lone holdout in a 14-team playoff race. They don't even have the outline of a competitive team beyond hopeful building blocks in Booker and Deandre Ayton, but one can't help but wonder how much a competent point guard could help.