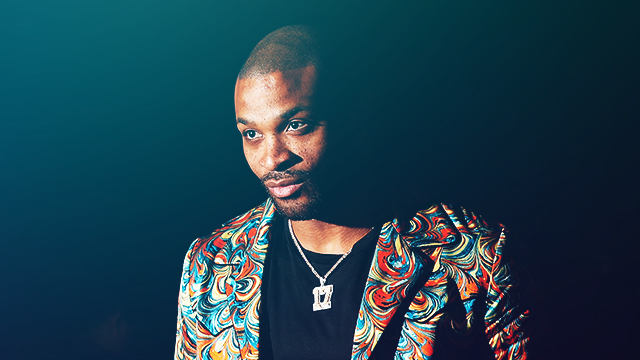 CHARLOTTE — There's something special about getting a pair of sneakers you covet. For whatever reason, dropping some serious coin on a pair of kicks is a fulfilling experience, something that few people on earth know as well as Houston Rockets forward P.J. Tucker and sneaker design icon Kickstradomis.
The league's undisputed king of kicks, Tucker is revered for his eclectic collection of sneakers, one that has become as defining a characteristic of the well-traveled veteran as his gritty, hard-nosed style of play. The league's undisputed king of designing kicks, Kickstradomis' ability to turn the blank canvas that is a sneaker into a work of art is unparalleled.
All of this made the pair the perfect people to partner with eBay during NBA All-Star Weekend. The company will get into the spirit of the weekend — one in which dudes around the league quite literally put their best foot forward — by dropping 23 special kicks on Saturday at 1 p.m. EST, with releases from adidas, Nike, Jordan, and Supreme.
To get ready for the sneaker drop, Dime sat down with both dudes to talk about all things kicks.

KICKSTRADOMIS
What's that first pair of sneakers that you saw and you were like, "I need to get those" and it just sparked that love in you?
I probably was 13 years old, I never had Nikes or anything like that before. It was the first of Scottie Pippens that my aunt got me. Just because I never had a valuable shoe or anything like that. So, putting on my first pair of Nike's it was kind of like a big deal to me. You know what I mean, I would sleep in them.
Like you actually physically fell asleep in them?
Yeah.
And kind of from there was it, every time you had a little allowance money you're hitting up the Foot Locker, you're hitting up the Champs picking up sneakers?
No, actually I didn't even start collecting shoes until I was probably 25 when I started painting shoes. I went through some ups and downs. Didn't have the money to afford that. I liked shoes, just couldn't afford to collect them right there. But it's kinda cool to get to do that.
When you're designing a shoe do you go with … Is your inspiration based on the player, or is it based on the shoe, is it just based on what's in you at that moment?
It's really based off whatever they're looking for. I'm able to kind of speak for the players through these shoes. So, whatever they have in their mind, whatever they're feeling, whatever their hobbies are, I'm able to apply that to these shoes.
Is there one shoe that you love most as that blank canvas that you get to work on, or is it whatever shoe gets handed to you, that's the one?
Man, it's became that. Where it doesn't matter what the shoe is, but it used to be just like a blank Air Force One or an Air Jordan One, because it's just a blank canvas for me.
Who is the first dude that when they came to you, you were like "Yo I have a talent and I'm gonna do this"?
Karl-Anthony Towns. Everyday, I'll say that everyday, yeah. He's the reason I'm where I'm at today.
Really?
Yeah, he's become one of my best friends in the league.
https://www.instagram.com/p/BrnyewghTQd/
What's your favorite story with KAT based around shoes?
It would have to be the Halloween pair I did for him in 2017 because that's the pair that allowed me to quit my full time job and pursue this full time.
Nice, and what is your favorite individual shoe that you worked on, not in terms of a player but just a design that you've got to throw together?
My favorite pair?
Yeah. That you've designed.
It would probably have to be my Rick and Morty pair and my Pickle Rick pair for KAT. Rick and Morty's my favorite, that's my jam man. When I was able to do that it was big for me.
Right now I got a pair of Three's on. Just looking at these, what do you think would be a fun way to approach these and design them, just looking at the shoes and canvas.
I mean, it's a lot of white on their so the skies the limit really, on that shoe. I mean its endless possibilities.
When you're watching basketball are you watching the game or are you looking at every dude's shoes? Can you not help but do that or you put that aside when you're actually watching games?
I used to look at everybody's shoes. Now I just kind of … I mean I'm around shoes all the time so I just try to vibe out now.
So who is outside of, I mean P.J is the legend, but who are your favorite sneaker-heads in the game right now?
Montrezl Harrell is definitely out there too, P.J, there's so many guys who collect shoes out there, but, I mean, there's nobody that touches P.J.
Is there one shoe that you've always wanted to work on you've just never gotten the opportunity to do that?
I wanna work on some Air Max, man. I just wanna go off.
What is it about those?
It's just how iconic that shoe is, how much it's worth and the kind of canvas it has and what you're able to do with that is endless possibilities.
What is your favorite shoe, just in general? What is your favorite shoe, whether it's a shoe that has like some personal meaning to it or something else.
Currently my favorite shoe is my Kyrie's, my Lucky Charm Kyrie's. I love Lucky Charms so much I just love the color wave and how it pops. Just overall the way that they put that theme together was like something that I probably would came up myself.
Kyrie, the reason I love his sneakers is he's the dude that kind of embraces that creativity the most … Is he your favorite signature shoe right now?
If I had to pick one he'd probably be my favorite signature because of how crazy the PEs game has gotten for him and how crazy it has changed.

P.J. TUCKER
Happy to be down here in Charlotte?
Yeah, man. I'm super excited about being here.
You get a chance to go around and check out the sneakers scene around here all day.
Yep, yep, yep. It's all good. A lot of good shoes here. A lot of good people here.
So when did the love of sneakers start for P.J. Tucker?
When I was a kid, man, I used to always love shoes. It started from playing, always playing in all the shoes. Watching all the guys like [Michael] Jordan, Larry Johnson was one of my favorites. Grandmama Converse. Seeing these guys play in those shoes and then wanting them and then the rest of them wanting to play in them.
So what was it about shoes that drew you to them?
I don't know, it's just a part of the culture of basketball. Shoes are such a big part of basketball culture. I think it's unlike any other sport. Football cleats, you can't wear cleats, baseball cleats, you can't do it. Basketball is one of those things that … basketball shoes are so universal, you can do everything in them.
So what was that first pair…the one that you got your hands on them and were you were like, "I just love this."
The first pair I fell in love with, it's hard to go against the Jordan Concord 11. That era, those were the most hyped shoes ever those tuxedos came out and that was huge. I just remember the lines and everything. Literally you had to wait in line at 5:00 in the morning and all that, so probably those.
Were you able to get a pair when they first dropped?
Yeah, I waited in line the same day. I was late getting to school that day.
Did you wear them to school that day?
Yeah, you wanted to get them that first day and wear them to school, that was big.
https://www.instagram.com/p/BqYAJF9HdI9/
So when kind of along the line did you start going, "Those are going to be one of those things that I like and I'm going to spend my money on, that extra cash I'm going to drop on the sneakers"?
I didn't ever think about it, it was just natural you know. I need these shoes for my outfit, I need these shoes for my life, I need these shoes to play basketball in. It wasn't ever a thought were I said, "I'm going to start spending money on shoes." I got some money I'm going to spend it on shoes.
You're one of those unique players, you spent some time overseas before you came back to the NBA. How is the sneaker scene in Europe?
Same, man, same thing man. They love shoes in Europe. They're huge, they do the same thing — wait in line, wait for them, the whole nine. Basketball is such a huge sport, people love it, especially in Europe.
What's the one pair that you own that you will never, ever take them out the box?
I don't have a pair, there is no pair, there is no pair. I've said that before that there is no pair. Every sneaker is meant to be worn, every sneaker is meant to be hooped in, meant to wear. These shoes are made to wear and I wear them all.
Is there still that one shoe though that you just hold in that rarified air above them all? Is it the Concord?
No man, there really isn't. I'm still figuring out a pair that I just wouldn't do anything in but nah, everything I have I wear; maybe haven't worn yet but I will.
How are sneakers a way that basketball players bond and all that, if there is anything, where you will sit in the locker rooms with dudes or you'll be texting dudes about your mutual love of sneakers?
Not really. Some guys aren't as big into shoes, honestly. Some guys just don't care, they find one pair and they just wear them. Some guys like wearing the same shoes over and over and over, the more worn, the better. Everybody's different, you know everybody's not into shoes like I am.
Right now what's your favorite sneaker to hoop in?
My favorite sneaker has and always will be the Kobe 4. So happy they're coming back right now, they're doing a new drop … the Kobe 4, no matter what.
In the Rockets locker room, who is the best sneakerhead outside of you and who just has the lamest kick game.
James has a good sneaker collection and so does Chris Paul. Chris Paul's insane, man. Which is, obviously…
You've come to expect that…
You with Jordan Brand for so long, of course he does. Chris loves shoes, too, so probably, Chris Paul.
And the one you guys rag on for his sneaker game?
Oh my gosh … who do we rag on? I'm trying to think, I don't think anybody's that bad, honestly. We don't have anybody bad.