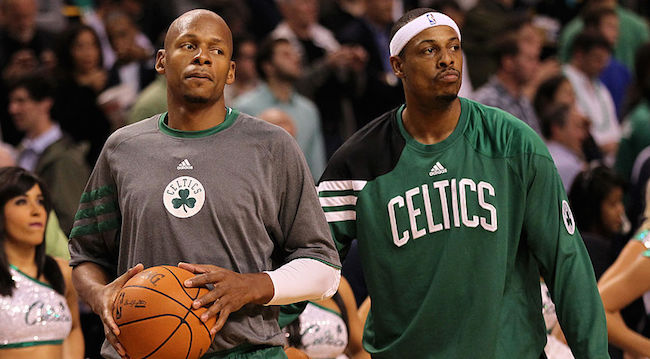 Kevin Garnett hosted a 2008 Celtics reunion on Monday night in "Area 21" on TNT, as he was joined by Rajon Rondo, Paul Pierce, Kendrick Perkins, Glen "Big Baby" Davis, and even had Doc Rivers hop on a video call. It provided some great television, but the elephant in the room was the exclusion of Ray Allen.
Allen, once part of Boston's original Big Three, left in 2013 to go to Miami and join LeBron James, Chris Bosh, and Dwyane Wade with the Heat, who were the Celtics' chief rivals at the time. That led to Allen being ostracized by the rest of the group, as they felt he abandoned them and pulled a traitorous move in joining the Heat.
The move worked out for Allen, who collected a pair of rings with the Heat, but four years later, the relationship he has with his former Celtics teammates hasn't been repaired. On Monday night, Paul Pierce suggested they call up Allen to try and "settle" their beef, but that didn't happen. However, later in the night, they did have an open discussion about Ray and why they felt so betrayed by him.
Everyone except for Rondo — who famously clashed with Allen — spoke on the issue and explained why they felt the way they felt.
Some, like Pierce, seem ready to bury the hatchet, but it's clear that the entire group isn't there yet.
Allen wasn't heard from on Monday night, but he took to Facebook on Tuesday morning with a, well, curious Facebook post with a picture of him playing with the Heat and going one-on-one with Rondo, with the caption, "The power to push limits."

Yeah, this doesn't seem like the hurt feelings have really faded much at all on either side, at least between Allen and Rondo. For all the good vibes felt on Monday night's reunion, it doesn't seem as though anyone is ready to just let bygones be bygones and come back together.
Maybe they can figure this out before the 10-year reunion next year, but that seems like a bit of a pipe dream. For now, the pettiness continues.