The Pistons snapped a 10-game losing streak with a 105-95 win over a Grizzlies team hemorrhaging their lead for the 2-seed in the West (8-7 since the All-Star break). In a season that's "felt like about 10 years," to Pistons coach Stan Van Gundy, Reggie Jackson led the way last night with 23 points, and a career-high 20 assists.
It was clear Jackson was unaware he had dished 20 dimes when he was being interviewed after the game.
Reggie Jackson apparently didn't know he had 20 dimes, look at his face when dude tells him https://t.co/eubuGZAr02

— Tweetgood Mac (@SnottieDrippen) March 18, 2015
Back in January, another Pistons point guard, Brandon Jennings, dished a career-high 21 assists before rupturing his Achilles' tendon.
Jennings, and now Jackson, are the only two players since Rajon Rondo in Nov. of 2012 to pass for 20 assists or more in a single game (it used to happen with a lot more frequency before then).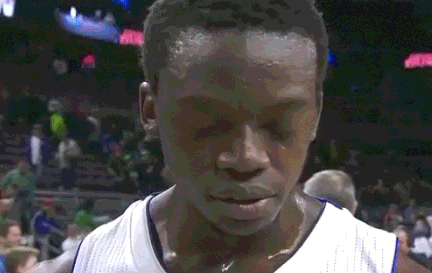 Stan Van Gundy must have some elixir that turns point guards into pass-first demons.
(Video via FreeDawkins)