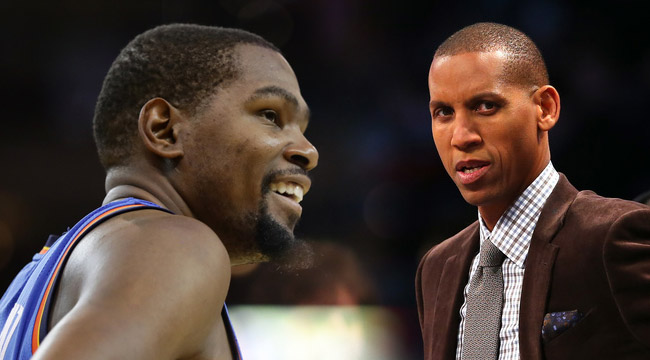 When Kevin Durant left the Oklahoma City Thunder to join Steph Curry and the Golden State Warriors, you knew the hot takes would come out in full force. Charles Barkley stuck his foot in his mouth and said Durant was trying to "cheat his way to a championship," even though he did something similar near the end of his career with the Houston Rockets. Now, fellow ring-less former NBA player Reggie Miller weighed in at Bleacher Report, and his take is equally dumb:
To me, it's about legacy versus rings.

Durant would have been a god if he stayed in Oklahoma City. People always say to me, "I'm so glad you stayed with us"—that I stayed for 18 years with a small-market (Pacers) team in Indiana.

[…]

That's what Durant gave up by leaving the Thunder. And that matters. Had he stayed in Oklahoma City, people would have said, "He spurned all the other offers and continued to fight the giant."

Even if Durant didn't win a championship like me, John Stockton or players who briefly spent time elsewhere like Ewing, Karl Malone, etc. the rest of the world would have looked at him in a different light because he fought, rather than joined, the giants—LeBron, Stephen Curry, Draymond Green, Chris Paul, etc. And to me, that's a true legacy.
Listen, it's not up to Reggie Miller or any individual to determine how Kevin Durant's legacy will look when all is said and done. Reggie's NBA experience does not give him any unique insight into players' legacies, especially because he completely misunderstands his own and that of the championship-less players he names.
Stockton, Malone, Ewing, Miller, etc., are diminished in history's view because they failed to win a title. If Kobe Bryant had never won without Shaq, you know he'd still hear about it. LeBron's exit for Miami mattered less the second he won a championship, and it doesn't matter at all now that he won a ring with Cleveland. Inasmuch as legacies, subjective as they are, count for anything, the ones that include rings will be better remembered — and no braying from bitter former players will change that.
(Via Bleacher Report)