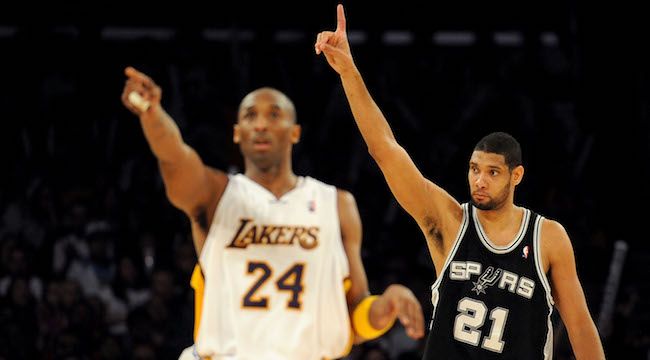 One of the great head-to-head player debates of the modern NBA is Kobe Bryant versus Tim Duncan. The two future Hall of Famers racked up numerous rings while leading the Los Angeles Lakers and San Antonio Spurs over (very) similar time periods, and as a result, Bryant and Duncan even faced off several times in the postseason.
This week, NBA champion Richard Jefferson, who happens to be a former teammate of Duncan in San Antonio, joined Barstool Sports' Pardon My Take podcast and took sides on the debate.
Hilariously, Jefferson's stated allegiance to Duncan actually came out of a line of questioning about the Lakers and ranking all-time greats, but Jefferson wasn't ready to back down, placing Duncan in his historical top five (h/t Lakers Nation).
"I'm going to go MJ one. LeBron two. Still counting though, still counting…. He's got more years to get to that number one spot. At three I would go Kareem. Four I would go probably Tim, then five I would go Magic. Magic and Kobe are really, really close."
Frankly, it says a lot about a person's basketball fandom and thinking about the game when prompted with this question. If you are a fundamental stickler who enjoys a player that purposely flies under the radar with incredible consistency, you probably favor Duncan. If you are focused on scoring (sometimes at the expense of other things) and the flashier side of the NBA game, you probably favor Bryant.
No matter where you fall, everyone can agree that both players were tremendous, and Jefferson said as much. Still, he didn't mince words in declaring Duncan to be the better player, regardless of his obvious bias having played alongside the guy many believe is the best power forward to ever live.