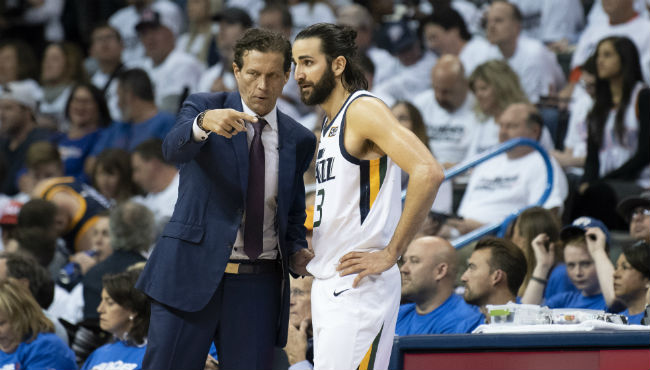 The Utah Jazz were in a mood to celebrate on Friday night, as the team upended the Oklahoma City Thunder, 96-91, to clinch their first round series and punch their ticket to the Western Conference Semifinals. But due to an injury early on in the game, the Jazz won't go into their series against the top-seeded Utah Jazz at full strength.
Ricky Rubio went down early in the game with a hamstring injury and was unable to return to the game. He saw seven minutes of action before heading to the back, which was a huge blow for Utah, as Rubio has been playing some fantastic basketball lately.
As it turns out, Rubio's injury could cost him more than one basketball game. The Utah floor general is going to be sidelined for an unknown amount of time — Adrian Wojnarowski of ESPN tweeted that he could be out for 10 days, while Tony Jones of the Salt Lake Tribune tweeted it could be a few weeks.

Wojnarowski also tweeted that Rubio underwent an MRI on Saturday to determine the severity of the injury.
Rubio has been quite the addition for the Jazz, as he's given the team a calming presence at the point and a fun compliment to Donovan Mitchell. The Rookie of the Year hopeful tweeted his support for his backcourt mate after reports of the injury surfaced.
This postseason, Rubio has averaged 14 points, 7.3 rebounds, and seven assists in 30.2 minutes per game.