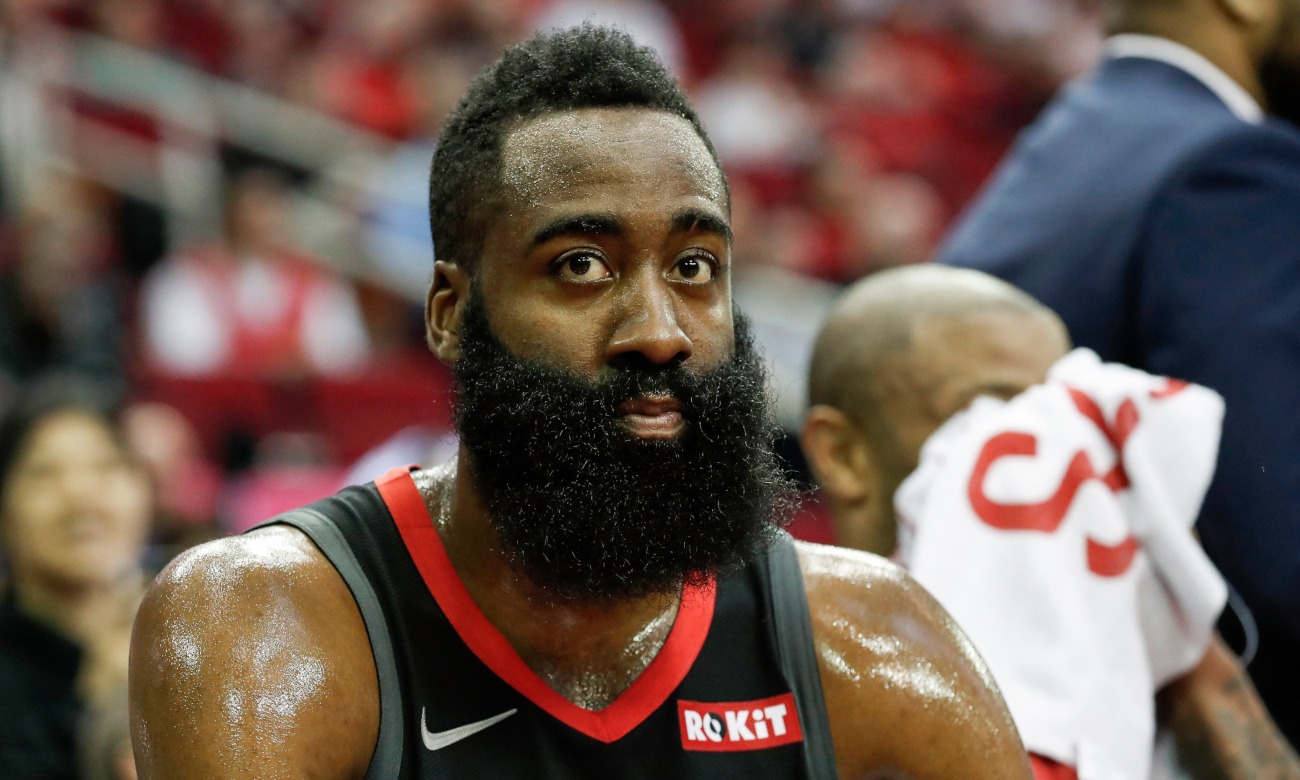 The Rockets dominated the Jazz in Game 1 of their first round series, as Houston's offense lit up Utah in a 122-90 win. The 32-point margin of victory was indicative of how dominant the Rockets were in the game, namely James Harden, who was unfazed by the Jazz adopting Milwaukee's approach of aggressively shading him right and not allowing him to get to his favorite stepback.
It's a strategy the Bucks used to beat the Rockets twice and it's based in sound ideas, but requires a ridiculous level of execution to make work — something the Jazz failed to do on Sunday night. Harden had 29 points, 10 assists, and eight rebounds in the win, orchestrating the offense and happily passing to wide open shooters and rim-runners whenever Utah sent help as he entered the paint.
Utah got part of the Milwaukee strategy right, limiting his ability to get to his stepback, but they struggled to provide the proper support around that, allowing far too many passes to open shooters in the corners or to Clint Capela at the rim for lobs. It's clear the Jazz have to go back to the drawing board between now and Game 2, but don't expect them to abandon this strategy. Ricky Rubio explained on Monday morning why Utah was committed to the aggressive shading of Harden to prevent his stepback and how, while they certainly need to make improvements, they won't be throwing it all out the window.

Not wanting Harden to torch you from three-point range is understandable, and the overall idea is sound. That said, they have to figure out how to better stick with shooters in the corners to force passes to go above the break where they're less likely to result in good catch-and-shoot looks. They also have to figure out how to get Rudy Gobert comfortable in the system to where he doesn't get caught in between Harden and Capela in no-man's land, wanting to both contest a layup or floater and prevent a lob.
All of this is to say, defending Harden and the Rockets is a nearly impossible task and what you really want to do is get the ball out of Harden's hands and force someone else to be a creator. Harden famously does very little damage off assisted shots, so when he moves the ball, it rarely comes back for an immediate shot from him. However, getting the ball out of his hands isn't a great strategy when it's going to Capela on lobs or to wide open shooters in the corners.
The Bucks' system works because they have a highly underrated rim protector in Brook Lopez, a physical point guard in Bledsoe who can force Harden to the positions on the floor they want him in more often than not, and Giannis Antetokounmpo able to disrupt passing lanes and close out on shooters. Utah has the rim protector in Gobert but not necessarily the rest of those components, so while Milwaukee looks like a blueprint, they're going to have to figure out their own ways of getting similar results from this strategy in those other areas.