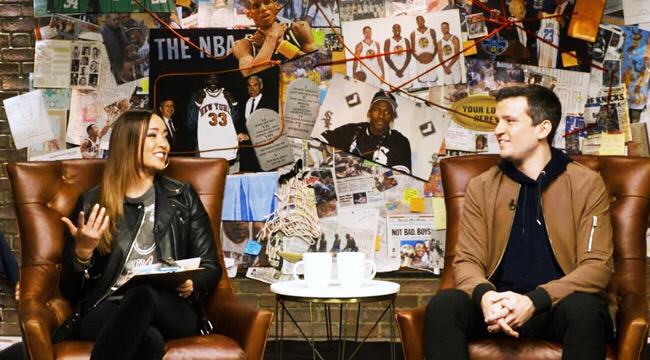 Just a little over eight years ago, one of the founding fathers behind NBA Twitter and its popularity, Rob Perez, was skimming through a New Orleans phonebook selling tickets for the then-New Orleans Hornets. After graduating college from University of North Carolina, Perez was working a job in the NBA and at the time, that was all he wanted in life.
"I loved it," Perez told DIME. "I loved talking to people, and I wanted to work in the NBA."
He was going to games, entertaining clients and enjoying it. However, after a couple years, Perez decided to leave the gig when he realized how much the ticket brokers who were buying tickets from him were making. He opted to quit his ticket sales role with the team to start his own outside company as a ticket broker. His new enterprise grew to the point where he could eventually sell it and pursue what he really wanted to do: create content focused on the NBA.
Perez was still employed, but he finally found himself with free time to spend on the internet. This was in the early days of the budding community now known as NBA Twitter, when watching sports and having Twitter up on a second screen wasn't second nature. As Twitter grew in popularity, Rob, also known as @World_Wide_Wob (or some configuration of that name, mixed with the latest player involved in some petty action or other), found a niche and grew, too.
Tweeting videos and thoughts about the NBA constantly, Rob was entrenched in the culture. This was when "Late Night With Wob" was born. Rob would record himself discussing random topics around the league while eating Pizza Bites, which became somewhat of a phenomenon in the laser-focused online community. His following on social media grew, as did his tweets of bench mobs, pettiness, and other topics that were about basketball, but far from the Xs and Os.

After working for a variety of different media companies, Cycle, a media company owned by Wasserman's Cycle Media, came calling. Cycle had a vision to create an all-inclusive Twitter-centric show, discussing the topics that both diehard hoopheads and non-basketball fans could appreciate. They called the show Buckets and brought a unique perspective to the concept of what an NBA show should be — made for NBA Twitter by one of NBA Twitter's most popular entities.
The show manages to be entertaining for basketball junkies and casual fans alike, coupling off-court hilarity and pettiness with actual talking points around the league. After season one of the show proved to be a big hit, which led to discussions about what season two would add.
In the time between season's one and two, Cycle would announce a partnership with ESPN, giving the show an opportunity to add a co-host.
"Once the deal between ESPN and Cycle happened, the opportunity to work with Cassidy [Hubbarth] arose," Perez told us. "In terms of basketball, Cassidy and I just kind of get it. We both just view basketball in the same way.
"She's just very entrenched in basketball culture, and I can talk to her about things that I really can't talk to many people in this industry about. That's kind-of what Buckets is about. It's about trying to see basketball through a different lens. Like, we're more so looking at basketball culture and not what's a flex-cut screen play. We all know what those things mean because basketball has such a smart audience, it's just that she get's it from the basketball culture side as well."
Hubbarth, also an NBA sideline reporter and studio host, has worked with ESPN for eight years. Her knowledge around the NBA along with her experience on the sidelines, gives her a unique set of eyes and an understanding for basketball unlike many others. In her own inimitable style, she compared her career arc to that of Kyle Lowry.
"This is my eighth year at ESPN and I'm just starting to get my legs under me," Hubbarth said. "So in that regard, I'm a bit of a late bloomer. I mean, I just hope I can deliver in the playoffs a little better but I'm tag teaming with my good friend Rob DeRozan, getting buckets and trying to get people to notice us."

The first season of Buckets was well-received and entertaining, but the second has already stepped it up a notch. Segments analyzing Trevor Ariza and Chewbacca, ranking bench mob celebrations, and similar outlandish bits, combined with the addition of Cassidy and Rob's banter, make it enjoyable for more than just NBA Twitter.
"Our goal is to create segments where the lead topics are around basketball culture," Perez added. "We'll find a way to make Jen Seltzer and Kristaps Porzingis stuff the main talking point while adding in the times that Larry Nance Jr. dunks on Kevin Durant three times. Ultimately, we're looking for current events that segway into a more broader basketball culture. For instance, if an ejection happens in a game, we'll use that and come up with what constitutes the ways that one can get ejected."
As a relatively new, unique and outside-of-the-box approach, Rob and Cassidy alongside Cycle and ESPN are creating a new-wave of digesting your news and content. Interactive streams where people can chime in, discuss, talk and learn about the culture and game of basketball without watching the highlights and the same repeated stories over-and-over.
Whether it's about Jarrett Jack air-balling a 70-foot shot or guys passing the ball to rookies right before the game is over, Buckets hits on topics that are unique, just like its hosts Cassidy and Rob.
"Ball truly is life for me and Rob and for so many hoop heads out there," Cassidy said. "While the personality of the NBA continues to grow through social media and mass distribution, we hope to not only capture the culture in and around the game, but to help grow interest in the NBA fan lifestyle as well."
ESPN has been doing a lot of experimenting with projects, ideas and features, but this may be one of the best business decisions it's made. Locking up a partnership with a dynamic media company like Cycle and creating a show that anyone can consume, understand and enjoy through new channels of distribution, shows they're building for the future. It's a refreshing, honest approach to creating a new blueprint for their future success.
Maybe you've had a friend in the past who's asked what NBA Twitter is, or how you can describe it. Quite frankly, the best answer may be "watch Buckets" to understand what it's all about.