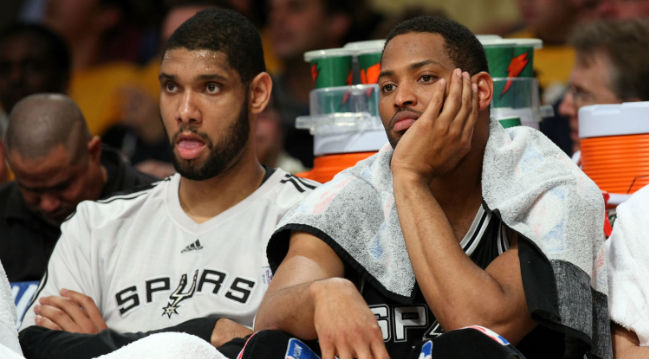 Robert Horry is probably the perfect person to weigh in on a debate about whether he'd rather be teammates with Kobe Bryant or Tim Duncan. From 1997-03, Horry and Bryant were teammates with the Los Angeles Lakers, where the duo won three championships. Horry then went to San Antonio, where he played with Duncan from 2003-08 and won two more rings. Basically, there is no one who knows what it's like to be around arguably the two greatest basketball players of the '00s better than Horry.
So when Horry was asked which guy he'd rather have on his team, he gave a more well-informed answer than anyone could possibly give. It was interesting, as he basically chalked it up to what a front office finds more important: winning or ticket sales.
While Horry didn't explicitly say which guy is which, it's probably safe to assume that "win a championship" means Duncan while "fill seats" means Bryant. This probably isn't the fairest comparison on earth – Bryant has, of course, won a number of titles while plenty of people love to go watch Duncan and his teammates methodically beat down opponents – but for the most part you can see what Horry's trying to say.

This wasn't the only time that Horry gave love to a Spur over a Laker. When asked whether he wanted to play for Gregg Popovich or Phil Jackson, Horry picked Pop.
Two of the NBA's bigger "legacy" debates regarding guys from the last 20 years are Kobe vs. Duncan and Phil Jackson vs. Gregg Popovich. People will probably debate this for years to come, but in the eyes of someone who knows what it's like to be around all four dudes, it sounds like the better coach and player are based out of San Antonio.