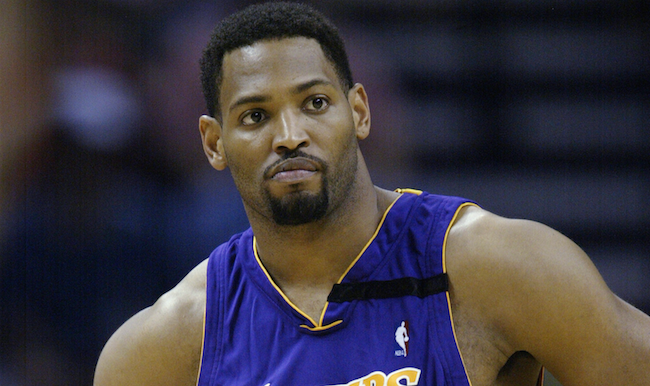 Robert Horry will always be known for his clutch shot-making. The 7-time NBA champion grew his legacy by hitting timely bucket after timely bucket for the Rockets, Lakers and Spurs. But there was a time when Horry was a hesitant shooter and nearly became a wandering journeyman in the league. He published an article in the Players' Tribune documenting the major pivot points of his career along with some unique viewpoints on legendary coaches.
In 1994, Horry was a young player on a blistering hot Houston Rockets team. Horry didn't shoot much because he preferred feeding Hakeem Olajuwon in the post. Passing the ball to The Dream is never a bad idea for a young player, but the Rockets wanted more shooting for the stretch run. Subsequently, the Rockets traded Horry to the Pistons for Sean Elliot, but a complication with Elliot's kidney nullified the trade. The nullified trade morphed Horry's approach for the rest of his career.
Me and Matt jumped in that car and drove to the airport so fast that I don't even think we hit the brakes when we pulled into the parking lot. We did a ninja-roll out of the car and onto that plane. That car might still be rolling somewhere in the midwest. After that day, my mentality was, Fuck it. I'm shooting. I'm playing Robert Horry ball.
Horry was lucky enough to play for Phil Jackson and Gregg Popovich during his career, two of the greatest coaches of all-time. However, Horry cherished his time with Rudy Tomjanovich more than any other coach.
The polar opposite of that was my relationship with Rudy T. He understood that even though he was the coach, we could see things that he couldn't see from the bench. We could hear things and feel things on the court that he couldn't see. First thing T would say was, "What's going on out there?" He would ask us the plays we would want to run sometimes and get a feel for what we were comfortable with.

If we ran a play and it worked, T would tell us to run it again. Phil not so much. Same with Pop. They are both great in their own right, but based on personal experience, T was the greatest NBA coach. I know he doesn't have nearly as many championships, but sometimes we give one person too much credit for titles.
Horry aired out his grievances with the Lakers organization. The sides couldn't come to an agreement on a contract extension after the 2003 season and Horry wanted to pursue free agency. This is where Horry learned the true ruthless nature of business in the NBA.
I said, "I know I make too much money and I know you've got a hard-on for Karl Malone." They had been wanting him for five years, ever since Phil got there. I'm a realist. Tell me like it is and I will respect you more, just don't go behind my back. I told them I'd stay for $2 million, but they weren't interested. All I asked them was to allow me to find a team before the money dried up and not to wait until the last day to release me. They told me, "We won't do you like that."

Well, they didn't do me like that. They waited until the next to last day to release me.
All things considered, the Lakers' ordeal benefited Horry in the best possible way. He went on to win two more titles with the Spurs and add to the mythos of Big Shot Bob.