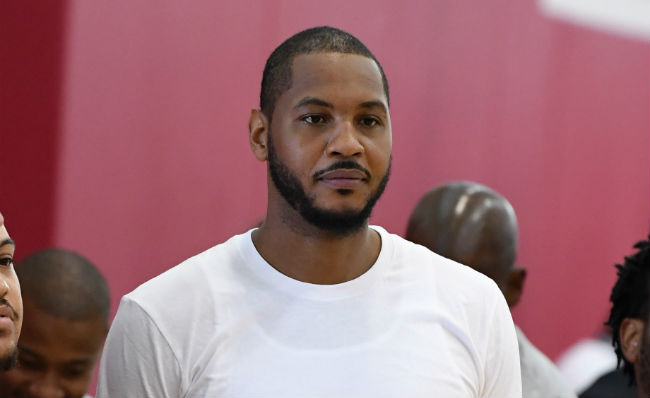 The Houston Rockets ended last season as the preeminent challenger to the Golden State throne, but it's been a downhill ride in the five months since.
General Manager Daryl Morey decided to test a theory that James Harden and Chris Paul could turn anyone into a viable 3-and-D wing, opting to let Trevor Ariza and Luc Mbah a Moute leave the team in the offseason despite both having a sizable impact on Houston's much-improved defense. Ariza's departure screamed luxury tax savings, but Mbah a Moute could have been had for much cheaper. Evidently, Houston was operating under the presumption that both wings could be replaced, or at least that the Rockets could find reasonable facsimiles for the pair in the minimum market.
Enter James Ennis III, Carmelo Anthony, and Michael Carter-Williams — yes, that same Carter-Williams who won Rookie of the Year as a point guard for the early-Process Philadelphia 76ers. So far, the early returns on that group have not exactly been promising.
All three of the aforementioned Rockets are currently shooting below 40 percent from the field, led by Anthony's 39.8 percent clip. However, the Houston offense dictates that its wings shoot primarily three-pointers, so that will naturally depress field-goal percentages. Nevertheless, Anthony has made six of his 23 attempts from beyond the arc, while Carter-Williams is 2-for-7, so that isn't the problem. The two of them aren't showing much on the defensive end either, as Anthony has a net rating of -6.6 thus far and Carter Williams checks in at -20.6 (per NBA.com). Ennis, despite playing the bulk of his minutes with the starters, is also at -2.0.
The Rockets have played half their games without Chris Paul, and therefore have had stretches without a primary creator on the floor; their backup point guard, Brandon Knight, still isn't ready to play after missing all of last season with a torn ACL. Theoretically, this would benefit Anthony, allowing him more free reign, but we may be the past the point of hoping that he is capable of leading a good NBA offense, even for limited periods of time. Against the Clippers on Sunday, Anthony looked sluggish, unable to create separation against the likes of Tobias Harris and Mike Scott, not exactly world-beaters of their own. His continued insistence on shooting long twos, though lighthearted in the preseason, is maddening when the games actually count. As for his contributions on the defensive end, well, the less said, the better.


Unlike Anthony, Carter-Williams doesn't have the track record that could lead someone to believe that he can provide depth on the wing. Not only did he come into the league as a pass-first and shooting-averse point guard from Syracuse, but Carter-Williams hasn't shot above 40 percent from the field since 2016 in Milwaukee and he's never cracked the 30 percent barrier from three. His season has been a compilation of airmailed passes, misses from floater range, and an inability to create off the dribble, even after Harden has already bent the defense away from him. Plays like these are likely why head coach Mike D'Antoni benched him after one half of playing with the starters against Utah.
If the Rockets acquired Carter-Williams on the hopes that he could turn into a decent defender, given his 6-foot-7 wingspan, they didn't account for his lack of feel for the game.
Ennis is the offseason acquisition that made the most sense. He follows a very Rocket-friendly shot distribution, preferring shots near the basket or beyond the arc; Ennis just hasn't been able to convert those at a high rate just yet. That could change in Houston, where he's already hit six of his first 14 threes, but he doesn't yet threaten the defense enough to draw defenders away from Harden or Eric Gordon at the rim, leading to a crowd in the paint awaiting the driving Rockets. His individual defense has been good so far, but it's unclear if that will continue.
The major flaw with Ennis is that he is hurt, exposing the lack of depth for a team that routinely ran nine deep last year. Without Ennis, the Rockets were forced to start Carter-Williams alongside Gordon on the wing against the Jazz, requiring one of them to guard Donovan Mitchell. It should come as no surprise that Utah's standout sophomore broke out of his funk in this game. Carter-Williams is notoriously brittle as well, and should Paul miss the 15-20 games he seems to miss annually, it's not hard to see where problems would pop up in their rotation.
Harden is still his usual MVP-winning self, and when Clint Capela or P.J. Tucker set screens for him or Paul, Houston is as dangerous as ever on the offensive end. But for the Rockets to reach their potential as a true contender, they'll need to be their wing-heavy, switch-happy destroyers from a year ago. As of yet, it doesn't appear that the current roster has that ability.