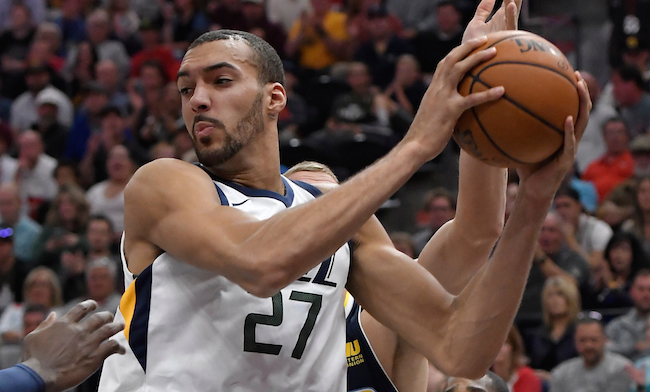 When Gordon Hayward left Utah for Boston, the Jazz became a team anchored by star center Rudy Gobert and his presence as one of the NBA's premier defenders and rim protectors.
The Jazz have stumbled out of the gate a bit without Hayward, as could have been expected, at 6-7, but their quest for a playoff berth in the ultra-competitive Western Conference just got significantly more difficult. On Sunday, reports came out that Gobert, who took a hit to the knee on Friday when Dion Waiters dove to the ground on a loose ball, would miss 4-to-6 weeks with a bone bruise on his knee.

The official update from the Jazz was that he suffered a right tibia contusion and would be out four weeks, when he would be reevaluated further.
Gobert was examined Saturday by the Utah Jazz medical staff and underwent magnetic resonance imaging (MRI) testing. The MRI revealed a right tibia contusion and the 7-1 center will be reevaluated in four weeks. Further updates will be provided when appropriate.
Gobert voiced his displeasure with Waiters after the game on Friday, calling it a dirty play and asserting that Waiters purposefully dove into his knee. Unfortunately for the Jazz and Gobert, it appears as though the big man will indeed miss significant time due to that play. The Jazz have, surprisingly, been better this season with Gobert off the court (106.2 ORtg, 97.8 DRtg) compared to when he's on the court (94.4 ORtg, 101.5 DRtg), but that will be put to the test in his absence.
Derrick Favors figures to slide into the starting center position for the Jazz, with Ekpe Udoh also likely seeing a significant uptick in minutes per game (currently 13.4 mpg in 13 games). Utah's success with Gobert off the court this season will give them reason for some optimism that they can avoid a disastrous run in his absence, but their frontcourt depth certainly takes a hit and they will hope to get him back on the shorter end of that timetable than longer if they are to make the playoffs.