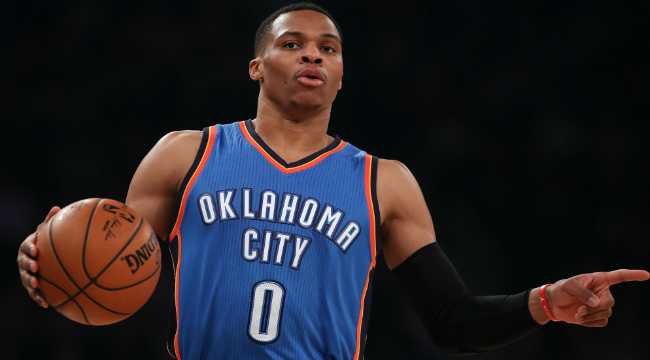 When Kevin Durant bolted for the Golden State Warriors, all eyes immediately turned to Russell Westbrook to see how he would respond. When he doubled down on his commitment to the Oklahoma City Thunder rather than look to follow KD out the door, we had a feeling we would witness something special. As the only superstar on his team, Russell would be free to unleash the full breadth of his powers — and lo, it has come to pass.
Through 19 games of the season, Westbrook is averaging 30.9 points, 10.3 rebounds and 11.3 assists. No one has averaged a triple-double since Oscar Robertson in the 1961-62 season, who is still the only player in NBA history to finish a season with that feat. When Oscar did it, teams averaged roughly 25 more possessions per game, which means 25 more chances to rack up numbers. That makes Westbrook's versatile dominance all the more impressive — to everyone but the man himself.
"I don't really care, honestly, man," Westbrook told ESPN. "I just like to win and compete at a high level, play the same way every night. I've been playing the same way since I got in the league, so I just do the same thing, and [I'm] grateful to be blessed and play the game I love."
That disdain for the popular narratives surrounding the sport is just part of Westbrook's singular defiant attitude — the same one that, when he saw Durant joining a team that was already dominant, made Westbrook scoff. It's exactly the attitude we hoped would drive Westbrook to greater heights this year, and happily, it's also driven the Thunder to wins. More than the triple-double average, which will take a Herculean effort to sustain, wins are how Russ wants to avenge the loss of his superstar teammate.
"Winning is sustainable," Westbrook said of averaging a triple-double for the season. "My job is to go out and find the best way to win games. Right now, we won three straight, and that is the most important to me."
Of course, if you want to talk about Herculean effort, look no further than Westbrook's dominance over the Knicks on Monday night, when his 27 points, 18(!) rebounds and 14 assists took his season averages into Oscar Robertson territory.
To take a page from Westbrook's book, who cares what the individual numbers say at the end of the year. 82-plus games of this version of Russ is its own reward.
(Via ESPN)