Russell Westbrook let out a giggle when KD was asked about Curry's defense. pic.twitter.com/1rfqBz7jRl

— NBA On Def Pen (@NBAOnDefPen) May 27, 2016
We're already annoyed at the reactions to the reaction of the above.
After Golden State won Game 5 at home, Kevin Durant and Russell Westbrook were on the podium answering questions like they always do after the game. Here's what one reporter asked:
"Curry's shooting better, but he also came up with a big steal in the fourth. Do you think his defense is underrated?"
There's an audible guffaw off camera as she finishes the question, and Russ had his face buried in his hands in an attempt to cover up his laughter. So now this is a thing.
Here's how KD answered as Russ tried to compose himself and hide his obvious disdain for the question:
"Getting steals, I don't know. That's a part of playing defense. He's pretty good, but he doesn't guard the best point guards. They do a good job of putting a couple guys on Russell, from [Klay] Thompson to [Andre] Iguodala and Steph, they throw him in there sometimes. He moves his feet pretty well. He's good with his hands. But, you know, I like our matchup with him guarding Russ."
The whole time Russ is either smiling, or his face is buried in his hands, presumably to stifle more laughter.
Durant is sticking up for his teammate here, but according to ESPN Stats and Info, Curry's done a pretty good job on those instances when he is marking Russ on his own. Westbrook is shooting just 32 percent (8-of-25) against Curry, including 0-for-3 in Game 5, but 44 percent (37-of-84) against everyone else. Russ is also scoring 0.70 points per play against Curry, and 0.97 against everyone else.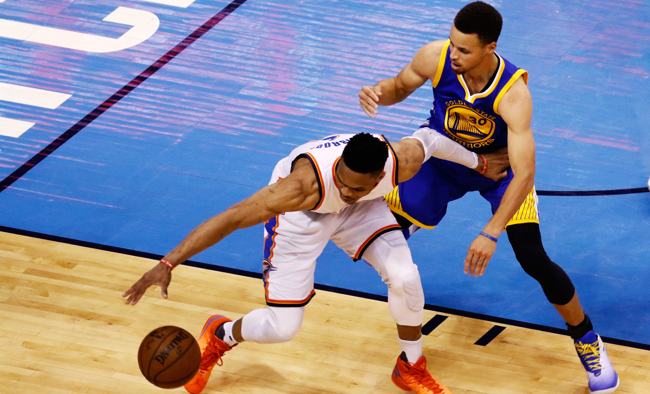 Here's what Curry said about why Klay will often guard the superior of the two opposing guards, via ESPN's Royce Young:
"I've got a great teammate that's obviously a better defender on the perimeter. I like the challenge, and I'll do my job the best I can. That's what I'm out there to do. In those situations, I don't get too caught up in a one-on-one matchup. My job is to follow the game plan. I've done that the last four years of my career, trying to elevate my defensive presence. I do my job."
Hopefully Westbrook's snicker at the question doesn't get blown out of proportion. When asked about Steph before Game 1 of this series, Russell said: "He's a shooter. He's not nothing I haven't seen before." Double negative aside, Westbrook should believe he can outplay anyone else opposing him on an NBA hardwood — even the reigning MVP. That's what makes him truly magnificent and one of the best players in the game today. His blustery play acts as one of the biggest reasons why the Thunder are closing in on the best stretch of playoff basketball, in NBA history.
But Curry has done a solid job limiting Russell's effectiveness when given the opportunity. Now let's shut the hell up about this silliness and get ready for Saturday night.
(ESPN)