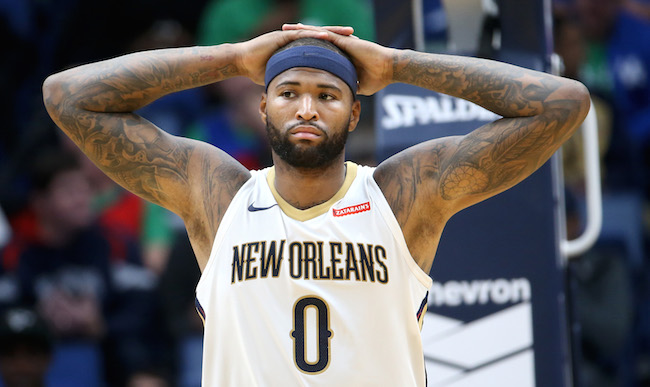 DeMarcus Cousins has something of a bad reputation with NBA referees. His status as the NBA's current king of technical fouls has been earned by his behavior, but he certainly finds himself with a shorter leash than most players when it comes to getting hit with a T or a flagrant.
On Monday night against the Thunder, Cousins got tossed after he caught Russell Westbrook in the face with an elbow after securing a rebound, sending the reigning MVP to the floor. Cousins wasn't pleased with the decision by the refs to assess a Flagrant 2 violation, and neither were his teammates after the game.

Tony Allen voiced his displeasure with the ejection noting, like Cousins did on the court, that he felt Westbrook flopped to sell the call.
It's interesting to see Allen note that he thought Westbrook "took advantage of Cousins' history" by selling the clear out elbow and going to the ground hard. It wouldn't be the first time a player baited an opponent into a technical foul or a flagrant, but at the same token, Cousins did swing his elbows around and made contact up high with Westbrook. As we've seen this year, any solid contact made to the head can result in an ejection, no matter the circumstance, as Westbrook's teammate Carmelo Anthony can attest after he was ejected on a layup attempt in Portland.
The league did not rescind that Flagrant 2 call and it'd be surprising to see them roll back Cousins' violation either upon review, whether he, Tony Allen, or Pelicans fans feel Westbrook sold it or not.