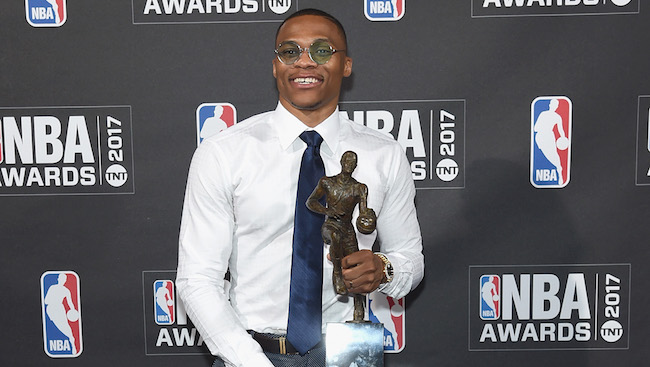 Russell Westbrook took home the NBA MVP award on Monday night after months of people debating whether his averaging a triple-double was worthy of the award in the face of other incredible individual seasons from James Harden and Kawhi Leonard that also had greater team success.
Monday night's answer was a resounding yes as Westbrook had earned 69 of the possible 101 first-place votes to earn a fairly convincing win over Harden. Westbrook finished with 888 total voting point, clearing Harden in second (753) by 135 points and Kawhi Leonard in third place (500) by 388 points.
On Tuesday morning, Westbrook received a congratulatory note from Michael Jordan on winning his first MVP award — Westbrook is a Jordan Brand athlete — and Mike apparently isn't a man of many words and decided to get straight to the point in his message.

Jordan manages to congratulate Westbrook, note his own personal accomplishments, and encourage Westbrook to push on for more greatness in the span of 15 words. Who knew Jordan was more efficient with his words than his shot selection?
As for Westbrook following Jordan's path from MVP to championship, it will take more MVP caliber play from Russ plus a good bit more for the Thunder to get past the Warriors in the West so long as Westbrook's old running mate Kevin Durant is still there. That said, Jordan's path didn't look great after his first MVP win in 1988 when the Lakers, Celtics, and Pistons still owned the NBA.
The bigger question is whether Westbrook was more excited to hear from Jordan or to hear from Taylor Swift after winning the MVP — my guess is with Swift.