On Tuesday morning, everyone was fawning over Kawhi Leonard making a statement during the San Antonio Spurs' win over the Houston Rockets. We even got in on the fun, saying that he cemented his status as an MVP candidate.
Russell Westbrook did his best to make the MVP pendulum swing back in his direction on Tuesday night, because we are in the middle of watching a historically great race for the award. Though the Thunder lost, it wasn't due to a lack of trying from their star guard. Westbrook threw down a 58 point, nine assist night in Oklahoma City's 126-121 defeat at the hands of Portland.
Here are some stats that illustrate how wild it is that a player did this in a loss.
Players are not supposed to have games like this and not win, but Westbrook's MVP candidacy has been propped up by the fact that the Thunder wouldn't be sniffing a playoff spot without him. Well, that and the triple-double thing, but by perceived value to their team, it's Westbrook's world and everyone else is just living in it.
Anyway, the MVP race! You've read a zillion things about this over the last few days but it's kind of bonkers right now. Here are the four players who are almost universally viewed as the candidates for the award: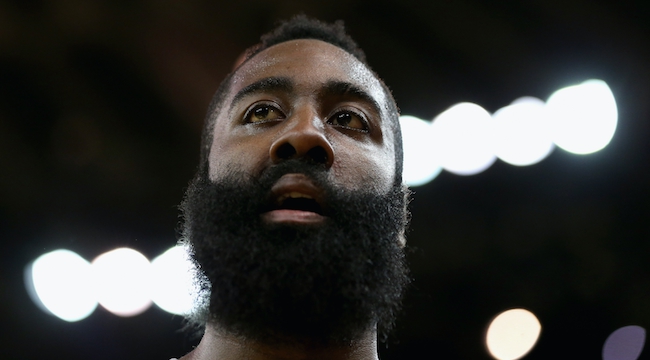 James Harden – What would happen if Westbrook was better at shooting threes, played for Mike D'Antoni, and wasn't the physical manifestation for an entire city's hopes and dreams across all major sports? Well, you'd have Harden.
LeBron James – He is the best basketball player on earth. Uh … I think that's really all we need to say, right?
Leonard – A defensive savant whose offensive game has taken a big step forward this year. He is as efficient on offense as he is ruthless on defense. The Spurs are 2.5 games behind Golden State for the best record in the NBA and Leonard is a huge reason why.
Westbrook – A ball of rage and fury who needs to play out of his mind every night so his team has a chance to win. Is averaging a triple-double. As Deadspin pointed out, even if he plays in every game for the rest of the season and does nothing, he would still have a monster year.
If I had to pick an MVP right now, I'd say Westbrook. This is because this MVP race has been defined by "who was the last player to do something cool?"
Leonard had the mantle for 24 hours, when Westbrook took the crown from him. On Wednesday night, Harden was the only dude with a game (Houston lost to Utah, but Harden did have 35 points, and while the Spurs played and came back from a massive deficit against Sacramento, Leonard rested). Each and every day there's a new frontrunner, so even if Harden is there now, that'll change again. I say "frontrunner" with quotation marks because James, Leonard, and Westbrook all have games on Thursday (Cleveland plays Detroit on Thursday while Leonard and Westbrook will face off, which, hello) and it's totally plausible that one of them move into first place by Friday.
Basically, every time someone declares someone the MVP, it's premature due to the fact that someone else will get frontrunner status within, like, three days. This is why we are watching maybe the best race for the award in league history unfold, because we are watching four players do jaw-dropping stuff on a nightly basis while more or less passing around the MVP award to one another. It's fantastic.
And who even knows if these four will be the players we consider at the end of the year. What if Boston somehow nabs the 1-seed in the East, does Isaiah Thomas suddenly become a candidate? If Steph Curry goes supernova with Kevin Durant out and Golden State ends the season on a tear, is the two-time defending champ going to put his name back into consideration? Could Giannis Antetokounmpo throw down a 30+ point triple-double in every game for the remainder of the year and drag the Bucks to the 5-seed? (He can't.) (At least I don't think he can.) (Well he probably can, I am just not sure he will because that would be ridiculous.)
This MVP race rules. Every time Harden, James, Leonard, or Westbrook play, we're reminded of this. We have a month to figure out who should win. It's probably not enough time. Whatever, at least it'll be fun.