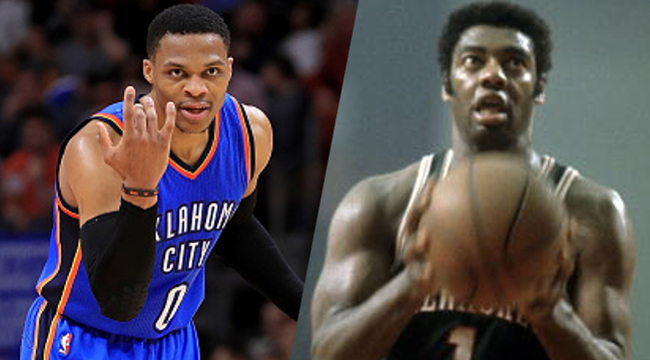 Another day, another triple-double for Russell Westbrook. It's becoming so commonplace that we're starting to take it for granted. But we should pause and appreciate his mind-boggling statistical feats while we can because the Thunder dynamo is doing things we haven't seen since the great Oscar Robertson, who legendarily averaged a triple-double for an entire season (and almost did so again the following year).
Speaking of The Big O, Westbrook once again made history and joined elite company on Tuesday night when he notched yet another triple-double against the Heat just midway through the third quarter. It's his 15th of the season so far, but what's more impressive is that it's his 30th of the calendar year, tying him with Robertson as the only other player in NBA history to reach that mark.
Westbrook insists that he isn't interested in stat lines and that he only cares about winning, which is precisely what OKC did with a decisive 106-94 win over Miami. He finished with 29 points on 50 percent shooting from the field, to go along with 17 rebounds and 11 assists.
If he's able to maintain this level of play and average a triple-double for the entire season – and many basketball experts don't see why not, given his otherworldly athleticism and his seemingly indefatigable spirit – he will have accomplished something that most people didn't think was possible in the modern NBA with the way the game has evolved.