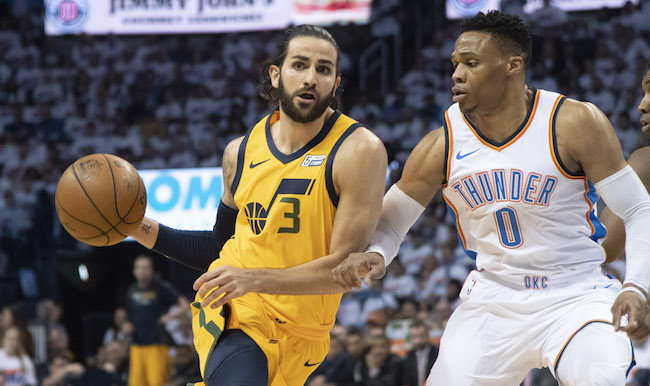 The first round series between the Jazz and Thunder has been one of the best in either conference and on Saturday night the Jazz took a 2-1 advantage as the series shifted to Utah with a resounding victory in Game 3.
The biggest surprise so far in the series is Ricky Rubio outplaying Russell Westbrook through the first three games. Rubio exploded in the 115-102 Utah win with 26 points, 11 rebounds, and 10 assists to notch a triple-double against the triple-double king. For the series, Rubio is averaging 20.3 points, 8.3 rebounds, and 8.0 assists per game on a 38.5/35/87.5 shooting split with just 3.3 turnovers per game.
Westbrook, meanwhile, is averaging 20.7 points, 11.0 rebounds, and 10.0 assists per game, but on a less efficient 36.1/27.3/88.2 split and haas 5.3 turnovers per game. For the Thunder to win this series, one would expect the battle between Westbrook and Rubio to at the least lean in favor of Russ and probably feature a fairly wide gap. That's what Westbrook is guaranteeing ahead of Game 4, after he was asked about Rubio's big night in Game 3 and what he's seeing out of the Utah point guard.

Maybe this is what Oklahoma City needed in the sense that Westbrook will become more engaged on both ends of the floor to try and take back the point guard battle between he and Rubio. In Game 3, Westbrook seemed unlike himself in not attacking on the offensive end and if he's disengaged on offense there's almost no chance he's going to be locked in defensively.
For Game 4, the Thunder will need Westbrook to get that edge back and maybe the chatter about Rubio outplaying him so far will be just the thing to bring him back. If not, the Thunder could very well find themselves in the danger zone headed back to OKC for Game 5.