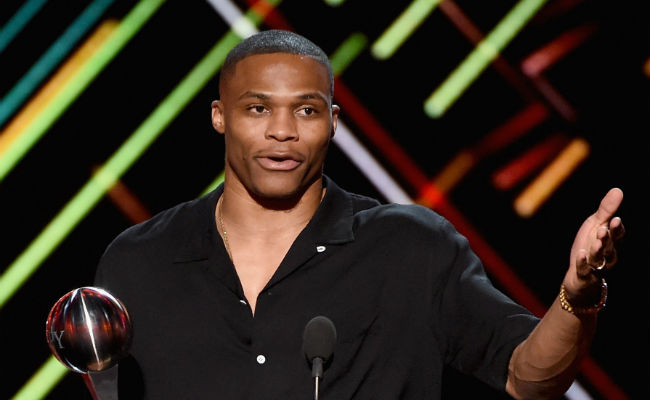 Russell Westbrook and the Oklahoma City Thunder are not in negotiations for his contract extension. Both sides know the numbers and the terms. A deal is on the table, and most people involved think Russ will re-sign. But right now it seems that neither side is sure if the NBA's Most Valuable Player will be in Oklahoma City past this season.
Westbrook has had an extension offer on the table for some time now, but sources say the point guard has yet to give an answer on the terms. According to story written by ESPN's Royce Young on Wednesday, Westbrook is in no hurry to sign the extension offer the Thunder presented him with earlier in the summer. As Young frames it, Westbrook is known for his commitment to the Thunder, but it's unclear if that commitment will last past next season.
The Thunder's offer is on the table, and has been for some time. As Thunder GM Sam Presti said in July, this isn't really a negotiation. Either Westbrook takes it, or he doesn't. According to sources with knowledge of the situation, Westbrook hasn't delivered an official answer — either a yes or a no. Though the chatter and anxiety might be steadily increasing, nothing has tangibly changed.

The hangup on this is not necessarily money, but the length of his deal, which Young lays out in more detail in the article. If Westbrook doesn't take the extension and plays out the last year of his deal, it might be seen as a lack of commitment to the Thunder. But the reason he would do that might also not be to sign elsewhere, but to get a deal that keeps him with the club for longer.
The primary difference, and it could be key, is the years. The rules of the designated player extension stipulate a minimum of five years (with only a player option available for Year 5). Signing that deal would put Westbrook under contract until he's 34 years old. If he waited until next summer, he could sign a two- or three-year deal, and hit free agency again at 31 or 32.

In terms of inking another mega contract after this one, Westbrook could be factoring in life at 32, versus 34. And considering the style and physical brutality he plays with, Westbrook at 32 versus 34 could look quite different. (There's also the difference that if Westbrook wanted a no-trade clause, he'd have to wait until signing a "new" contract next summer.)
As always, though, perception is the key here. Russ might be better off waiting to sign a new contract after this season, but would be dogged by talk of free agency all summer. If he'd rather let Paul George handle all that, he needs to ink a new deal before the season begins.
(Via ESPN)