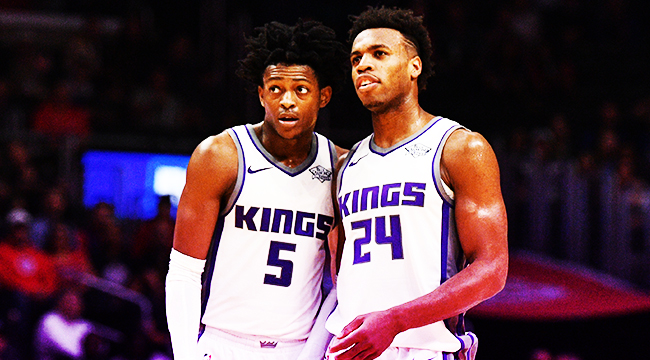 You don't have to spend too much time looking, because the biggest story of the 2018-19 season so far is staring us right in the face. It's not the Draymond-KD dynamic, or the Wizards Wizarding, or Kemba Walker showing us what Allen Iverson would look like if he could shoot.
All of those are big stories, but guys and gals, the biggest story is that the Sacramento Kings have been a blast.
Through 17 games, the Kings — not the #Kangz, but Kings! — are 9-8 with impressive wins over the Spurs, Grizzlies, and the Thunder twice. They're running and gunning their way into relevance, even though they've tried to get in their own way with the Dave Joerger thing a few days ago. That's a big part of why their hot-by-their-standards start needs to be praised. Still, it's very possible that the Kings regress at some point — they're currently 16th in offensive rating and 18th in defensive rating … but they rank in the bottom third of the league in net rating, assist percentage, and rebounding percentage.
If they don't regress naturally, there's still a non-zero chance that something like the apparent power struggle between Joerger and the front office hurts them. Regardless, it's not hard to see a scenario where they fall under .500 at some point and fade from the spotlight. But while they have it, let's key in on what is sustainable about this start: The De'Aaron Fox and Buddy Hield partnership, which gives Sacramento a backcourt for the present and future.

There's a fire-and-ice dynamic between these two that works perfectly. Fox is a speeding bullet that can't be contained in transition. Even more impressive, though, is that he can barely be contained in the half-court — the John Wall comparisons he caught coming out of college weren't off-base.
What's made Fox so dangerous this year is how he leverages that speed. He can turn on the jets whenever he wants, and defenses know that, too. Last season, the fear of his speed and the unreliability of his jumper allowed defenses to duck under picks. Fox ranked in the 27th percentile as a pick-and-roll scorer in 2017-18 and only generated 0.732 points per possession when his defender went under the screen.
This year, he ranks in the 40th percentile as a scorer — not a great mark, but sizable improvement. He's currently generating nearly 1.3 points per possession when the defender goes underneath, burying opponents with an improved pull-up jumper. On the whole, it's hard to overstate how fluid and confident he looks pulling up now.

That jumper has opened things up for him. When he is able to run a guy off a screen, he's giving the "big" defender something else to account for. He can pull up on a dime or probe his way into the paint, where he feasts.
With the game slowing down for him, Fox has been able to showcase his improved vision and passing accuracy. More specifically, he has been threading the needle on skips to the corner. Just take a look at this dime to Hield from Monday's win over the Thunder.
That is a cross-court dart over the head of a rolling big, right into Hield's shooting pocket for a triple. It just doesn't get better than that, and it's a pass that Fox has started pulling off with regularity.

His assist average has shot up from 4.4 per game to 7.4 a night, and he's generating 1.39 points per possession on passes to spot-up shooters out of pick-and-roll. He's developed nice pop chemistry with Nemanja Bjelica and roll chemistry with Willie Cauley-Stein. Watching Fox commandeer the offense has quickly become one of hidden treasures in the league.
If Fox is the fire, Hield would be the ice, the cold-hearted bucket-getter that thrives when he gets the chance to pull up. Hield is averaging a career-high 19.2 points per game, and is doing so behind a banner year from beyond the arc. He's draining 44.3 percent of his triples on nearly six attempts a night. He's been nearly unconscious on catch-and-shoots, knocking down 51.2 percent of those.
Those are obviously eye-catching figures, but they aren't new. Hield shot over 43 percent from three and over 50 percent on catch-and-shoots last year. The biggest development from Hield, though, has been his work inside of the arc.
He's using his gravity from beyond the arc to pump-and-go. After shooting 39.3 percent on pull-up twos last season, he's raised that mark to 48.1 percent in 2018-19. He's shooting a career-high 66 percent inside of three feet, further proof of Hield's development into a bonafide three-level scorer.

The fit between Fox and Hield is a natural one. It should come as no surprise, then, that the Kings have a positive net rating (plus-2.8) when they're on the floor together. Hield is shooting nearly 46 percent from deep off passes from Fox, with a large bulk of those coming in transition.
Fox is able to put pressure on defenses with his blazing speed, while Hield's spatial awareness makes him the perfect player to benefit from this. He leaks out to the corners, then relocates if necessary to create a window for Fox to find him.
The Kings are fun and competitive right now. For a rebuilding team, that's all you can ask for, but for Sacramento, which hasn't made the postseason in more than a decade, it's worthy of victory lapping. It's very possible regression is in the cards, but one thing has become clear in the early goings of this season: Better days are on the horizon thanks to one of the NBA's most exciting young backcourts.