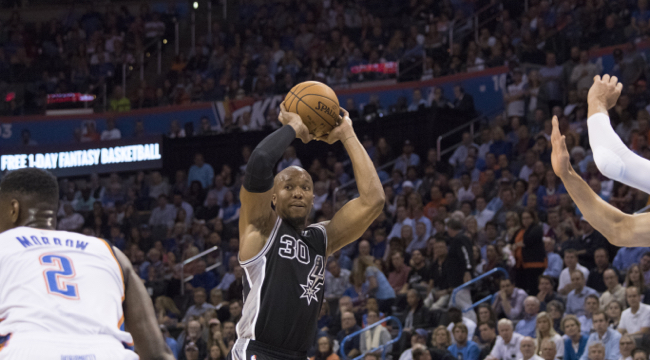 Tunnel vision isn't usually a positive. People should always be encouraged to think outside their inner orbit and experience as many sects of society as possible. This way they can empathize with all different sorts of people and experiences. But this flies in the face of the San Antonio Spurs, who focus almost exclusively on what they can control: themselves. And then they let the chips fall where they may. This franchise characteristic is best exemplified by David West, who turned down around $11 million in guaranteed money with the Pacers this summer to join the Spurs and play for a title.
"One of the biggest adjustments for me has been the lack of focus on other teams," West told Yahoo Sports. "It's all about this group, and what we're doing every day. Maybe we spend three minutes on who we're playing that night. … We watch a few clips. Here, you just realize that it's not really about anybody but us."
West's surprise comes after Adrian Wojnarowski explained the paucity of paper in West's scouting report:
David West pinches his index finger and thumb together, leaving the slightest sliver of space between them. Small, he's telling you. The smallest he's ever been handed in basketball.

"The scouting reports are like this," West told Yahoo Sports
West goes on to applaud all that the Spurs do to maintain their consistency through the years, but it's the scouting report that's interesting, since it seems almost cocky of San Antonio — the last attribute one would normally associate with the Silver and Black. Teams go out of their way to prepare for opponents these days. There's also an increasing reliance on analytical tools tracking every bit of minutiae surrounding NBA teams. This leads to Ayn Rand-sized chapters on every opponent — a veritable treasure trove of insider information on how to attack any give team in the league. But not San Antonio.
This isn't the first time we've heard this sort of seeming blasphemy, either.
Gregg Popovich has stated in the past that he doesn't watch film on other teams.
"I don't see any reason to watch film," Popovich told reporters over two years ago. "When my team has a game and [they] have zero turnovers and shoot 60 percent, and the other team scores 40, then I'll start worrying about the other teams. But until that happens, I've got enough to correct and teach on my team, and that's how I spend my time."
While Pop isn't deriding the film junkies who predominate NBA front offices in these days of Synergy and SportVU data for seemingly every on-court movement, his explanation is eye-opening in its simplicity.
"One of the assistants will tell me something. I believe whatever they tell me. So if they say, 'we're gonna do this on the pick-and-roll,' I say, 'OK,' or 'I don't know if I want to do that,' and then you go play. I mean, have you seen a sercret play lately? Or a new pick-and-roll defense? Or some new amazing continuity offense that nobody can guard? It's the same stuff every night. Whoever executes the best; whoever is the most competitive and does both on a consistent basis for more of the 48 [minutes], that's the team that wins. Take it to the bank."
There is something to be said for over-preparation. Studying the tendencies of opponents can muddle things in the mind of a player. The NBA season is so long, and teams are playing so many games against so many opponents, that disinterest in the opponent makes things easier for Popovich and Co.
In the throes of the playoffs, you can game plan more, since you're facing the same team four to seven times in a row. But for the regular season, we think Popovich's approach makes sense. The proof? Fives titles and counting.
(Yahoo)