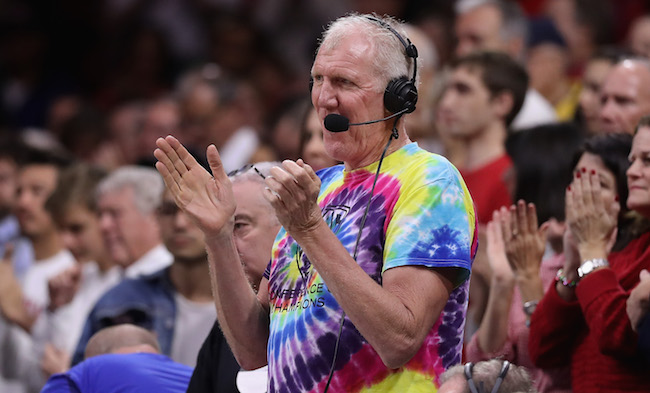 Bill Walton has a number of notable accolades on his resume, including two NBA championships, a league MVP, a Finals MVP, and a Basketball Hall of Fame induction in 1993. He might also be the first person to delay an MLB game by simply talking for too long.
According to Kevin Acee of the San Diego Union-Tribune, a game between the San Diego Padres and Colorado Rockies was delayed because of the unpredictable 66-year-old. First, Walton had to throw out two ceremonial first pitches. His first one was less than ideal, so he asked for a second chance and threw a dart down the middle.
Then, after redeeming himself, Walton spent three uninterrupted minutes talking in the lineups card exchange at home plate.

Tonight's game will not start on time, almost entirely due to the fact that after he threw out the ceremonial first pitch, Bill Walton joined in the exchange of lineup cards — and proceeded to talk for three full minutes without interruption. It was an awesome sight. pic.twitter.com/dvzIcOYcFE

— Kevin Acee (@sdutKevinAcee) August 9, 2019
To top things off, Walton was in attendance because he played the congas for a Grateful Dead Tribute Band before the game began. For any other player, the last half of that sentence might raise a few eyebrows, but it's not at all surprising for Walton.
There have been a handful of memorable Walton moments since he retired from basketball in 1987 in large part due to his career as an NCAA sideline commentator, but this might be the most on-brand one. Even for a free spirit like Walton, it's going to be tough to top this.
(Via Yahoo Sports)