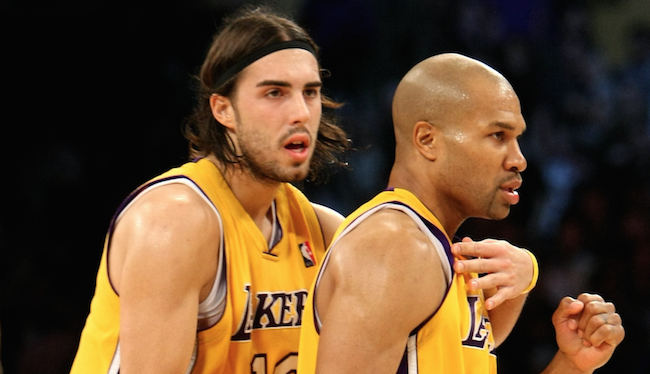 Phil Jackson and Derek Fisher enjoyed immense success with the Los Angeles Lakers during the early and late 2000s. Understandably, the New York Knicks' president and coach are hoping to create a semblance of that winning culture in the Big Apple. It remains to be seen whether this latest development, however, will help them accomplish that goal.
According to Shams Charania of Real GM, New York has signed former Lakers guard Sasha Vujacic to a one-year contract.
At least he's a two-time champion, right?
Vujacic played for Los Angeles from 2004-2005 to 2010-2011, winning titles alongside Jackson and Fisher in 2008-2009 and 2009-2010. After being traded to the New Jersey Nets in December 2010, the Slovenia native finished out the season and signed in Turkey as the ensuing lockout approached. Despite multiple attempts to return to the league over the following years, his last NBA stop was on a 10-day contract with the Los Angeles Clippers in February 2014.
The Knicks surely won't count on meaningful, consistent contributions from Vujacic next season. He's 31-years-old and playing on a minimum contract, after all, and wasn't much of an impact player to speak with during his prime with the Lakers. But as a proven three-point shooter with experience running the triangle offense, he could still offer New York attributes few others on the barren free agent market could.
Will his addition ultimately make the difference that could propel the Knicks to a lower-rung playoff birth? No way. If Fisher's team somehow gets there, though, it's possible Vujacic might have a moment or two – just like he did for Los Angeles many years ago.
[Via Shams Charania]