The Seattle SuperSonics made a terrific run all the way to the NBA Finals in 1995-96. While they lost to the Bulls 4-2 in the Finals, they'll always be remembered as one of the most electric teams of their era, and evening the series against the Bulls at 2-2 was all the more impressive when you consider that Bulls team had only lost one playoff game before then and only 10 regular season games that season on their way to a historic 72-10 mark.
But, what's happened to that team since then? We all know Gary Payton is in the Hall of Fame, but what about players like Hersey Hawkins, Shawn Kemp and Sam Perkins? Let's find out.
Steve Scheffler
Scheffler was kind of a victory cigar in Seattle, mostly only gathering playing time late in games during blowouts.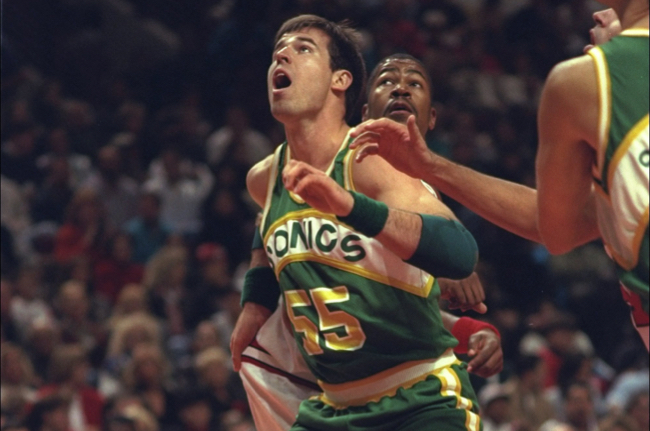 He did play sparingly in the Finals, however. Scheffler's LinkedIn says he's the owner of K.S. Specialties, which, according to the site, represents manufacturers to Amazon's grocery site.
Vincent Askew
Askew's four-year stint with the Sonics was also his longest with any team before or afterwards. What's interesting about Askew is that he actually played for George Karl before he was on the Sonics. Karl was the coach of the Albany Patroons of the CBA in 1988, and got a reluctant Askew to come play for him for a couple of years.
After his playing days, Askew coached for a few small and high schools, though it seems as if each stop was marred by recruiting scandals. He also hosted a radio show on a Yahoo AM station.
Hersey Hawkins
Hawkins started all 82 games for the Sonics during their '95-96 season, averaging 15.6 points, 2.7 assists and nearly two steals per game. He was an ideal complement to the Sonics' guard rotation.
He's currently the head of player development for the Portland Trail Blazers. In a pretty cool twist of fate, he got to watch his son, Corey, go through a pre-draft workout for the Blazers in 2015.
Frank Brickowski
Brickowski's second stint with the Sonics proved to be his finest.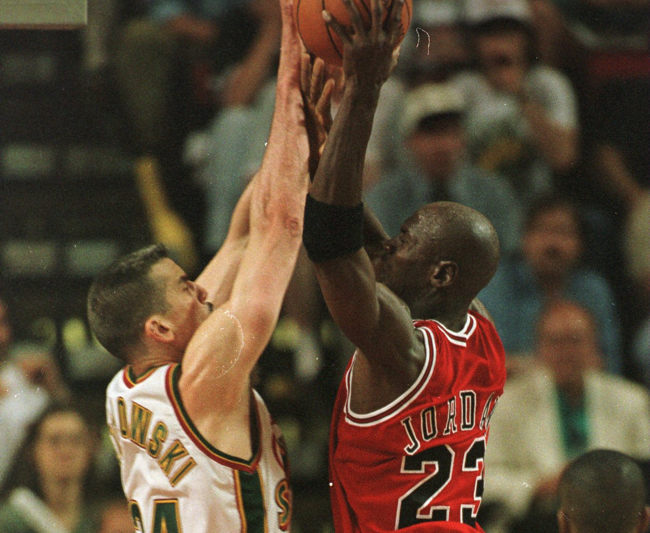 He was a bit of a stretch-four years before they were in vogue, hitting 40 percent from deep. He was renowned for his physical, at times too-physical, defense on Dennis Rodman, which led to a few technical and flagrant fouls. Brickowski was released by the Boston Celtics the following year after just 17 games, and retired thereafter. He seems to keep a pretty private life these days. He's appeared on a radio show with CSN in Oregon, and his LinkedIn profile lists him as a regional rep for the NBPA.
Sherell Ford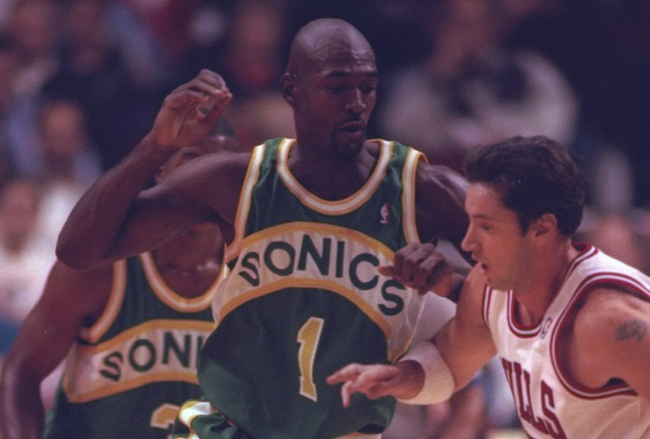 Ford was a first-round pick of the Sonics, but couldn't find much playing time on a team full of great guards like Nate McMillan, David Wingate and of course Glove. He only played in 28 games for the Sonics, none of which were in the playoffs. He played in a few international leagues and toured with the Harlem Globetrotters, but never made it back to the NBA.
Not much is known about Ford's post-playing days. He was scheduled to appear in the "Legends Taking Back The Streets" tournament in Chicago in August.
David Wingate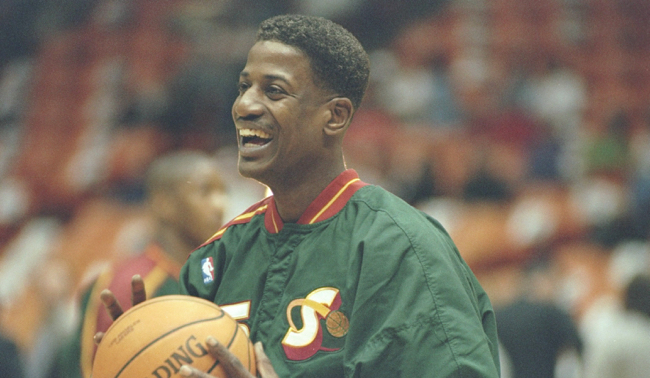 Wingate enjoyed a 14-year career in the NBA, with his stint with the Sonics coming towards the tail-end of his playing days. Nonetheless, he was celebrated as a do-everything scrapper. In an interview with Denver Stiffs, Karl, who was coaching the Nuggets at the time, praised Wingate's "always-ready" mentality.
"Like David Wingate, who never played for me in Seattle. I don't know why, but in Game 5 of a series he had to play 25 minutes and that was the final game – that was a 2-2 [series] tie. I remember after the game, the whole team gave him the ball and signed it. I don't know if it was an injury, I don't remember why he had to play, but he had to play. The guy might not have played 100 minutes during the whole regular season – that's hard to do."
Much like Ford, there's little information about Wingate's current career. His LinkedIn profile says he's entertaining "new ventures or job opportunities" in basketball.
Ervin Johnson
No, not Earvin Johnson, Ervin. The Sonics' Finals run was Johnson's last season with the team. He bounced around the league, including stints with the Nuggets, Bucks and Timberwolves, as a dependable back-up center. He's currently a community ambassador for the Denver Nuggets.
Shawn Kemp
There's not much news of what Kemp's doing these days. He attempted a few NBA comebacks, though they were all unsuccessful. He had some legal trouble in the early 2000s, getting arrested on two separate occasions for drug possession. Kemp resurfaced earlier in 2015 to watch his son, Shawn Kemp, Jr. of the Washington Huskies, play Gary Payton's son, Gary Payton II, of the Oregon State Beavers. He also hosted a party last April to celebrate the Thunder missing the playoffs, naturally.
Sam Perkins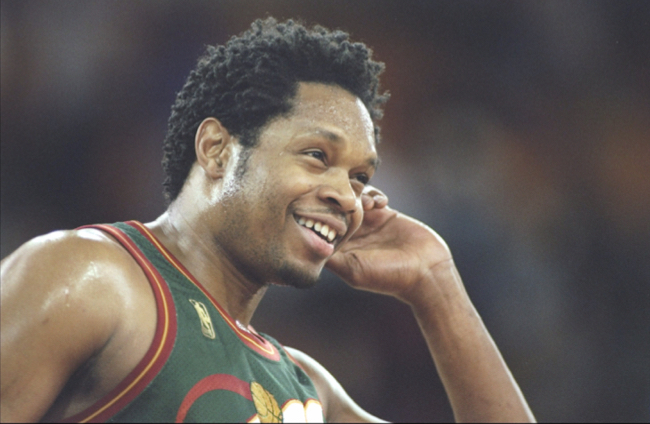 "Big Smooth" or "Sleepy Sam" served as the Vice President of Player Relations for the Indiana Pacers from 2008 to 2010. It's not clear what he's doing currently, though he stops by a few media outlets to give his thoughts on the NBA from time to time.
Gary Payton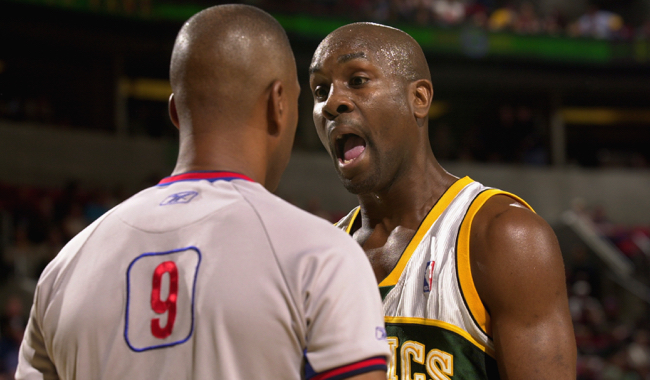 Though Payton didn't get his ring with the Sonics, he did eventually get one at the end of his career with the Miami Heat. Still, who can forget him talking smack to MJ in the 1996 Finals?
http://gifyu.com/images/MJAndPaytonJawing2.gif
The audacity to go after him like that after MJ and Chicago put up their 72-10 season is still a spine-tingling bit of brio.
In addition to his current work as an analyst with Fox Sports 1, Payton's also heavily involved in trying to get the Sonics back to Seattle. He was inducted into the Naismith Basketball Hall of Fame in 2013. His son, Gary Payton II, plays for Oregon State, and recently unleashed this insane dunk on the Kansas Jayhawks.
Like father like son, too.
Detlef Schrempf
Schrempf, one of the most decorated European players in NBA history, won the Paul Allen Award for Citizenship in 2012 for his charitable work in the Seattle community. He also appeared on several episodes of Parks and Recreation.
Eric Snow
Snow didn't have much of an impact in Seattle, but he had a surprisingly long career in the NBA, playing 13 years overall for the Philadelphia 76ers and the Cleveland Cavaliers (going to the Finals with both teams).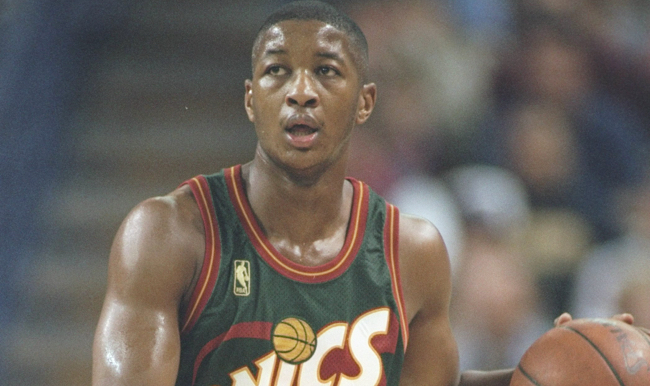 He appeared on Real Housewives of Atlanta with his now-ex-wife DeShawn, and is now an assistant coach at Florida Atlantic University.
Nate McMillan
McMillan never actually left the Sonics when he retired in 1998, as he transitioned to an assistant coaching role. He was named the interim head coach in 2000, then ultimately had that tag removed. He led the Sonics to the playoffs twice, first in 2002, then in 2005, where they lost in the Western Conference Semifinals.
Following that, he moved down a state to Oregon, where he was the head coach of the Portland Trail Blazers during the Brandon Roy era. The Blazers reached the playoffs three times under McMillan, though they never advanced beyond the first round. He was fired during the 2011-12 season. Currently, he's an assistant coach with the Indiana Pacers.
Terry Stotts
Two years before this Sonics team went to the 1996 NBA Finals, they were upset by the Denver Nuggets in the first round of the NBA playoffs, becoming the first number one seed to lose to the eight seed in NBA history. You might remember this moment:
Fast forward to 2014. This reporter is talking to Terry Stotts, head coach of the Portland Trail Blazers. At the time, I was writing for Hardwood Paroxysm, a longstanding NBA blog started by Matt Moore of CBS Sports. Stotts asks me what a "paroxysm" is, and I tell him the literal definition is a sudden attack or violent expression of an emotion.
"Remember Dikembe Mutombo falling down on the ground and screaming in sheer elation after the Nuggets upset the Sonics in '94? That's a paroxysm," I tell him.
Stotts stares off into the distance, ever-so-slightly curling his lip inwards and nods. "Yup, I was an assistant coach on that Sonics team."
"Oh."
Now Watch: What Was Michael Jordan's Greatest Season?