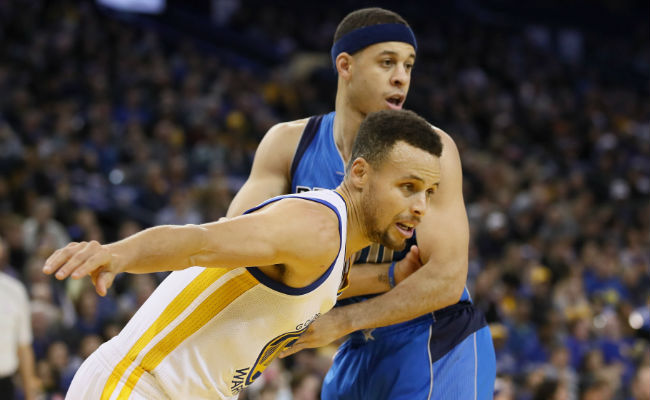 Seth Curry getting picked to play in a pickup game right now isn't that much of a surprise, let alone his brother Stephen Curry. But both of them getting chosen ahead of NBA stars back during their father Dell's playing days? Now that's interesting.
The Dallas Mavericks guard talked about playing pickup games with NBA legends at a young age on Chris Broussard's "In the Zone" podcast on Wednesday and had a fun story about how well the two Curry brothers did against some big names.
"My dad was in Toronto, so you got Vince Carter, Tracy McGrady, Muggsy Bogues—those were some of the guys shooting against him. And we were still some of the best shooters in the gym as far as spot shooting."
Curry said he was about 10 years old at the time, saying he was in fifth grade while Steph was in seventh or eighth grade. Broussard asked if they were better than some of those NBA players at the time, and he told a story about getting picked before them because of their shooting ability.
"When you pick teams in these shooting games, you'd be one of the top picks. We'd get picked before NBA players. Before some of the big men were picked. We could shoot.

It's crazy, guys like Vince, still in the league, or see him around the NBA gym saying 'I remember you or tell some stories about us back in the day.'"
Curry said getting that kind of experience in elementary and middle school was a huge boost to their careers, as they were used to NBA locker rooms by the time they actually made the Association themselves. Whether this story is true or apocryphal is a question for another time. It speaks to their (well, at least Steph's) all-time prowess as a long-range sniper that it doesn't even sound that outlandish.
Of course, if you asked Vince, Muggsy, or T-Mac about these alleged losses, they might have a different take on it altogether.