PORTLAND – Imagining how the Portland Trail Blazers' home matchup against the Golden State Warriors on Dec. 29, 2018 will dramatically end, Twitter user @pdxbrocialite created what is essentially a Trail Blazers fan's biggest dream in a single tweet.
In this hypothetical, Blazers guard Seth Curry would outshine his brother, Stephen, by going a perfect 7-for-7 from behind the arc and nailing a game-winner at the buzzer. The real kicker to this imaginative future recap is how the Warriors superstar will dismiss his brother's high-five as the Moda Center erupts in cheers of "BET-TER CUR-RY!"
On the surface, this tweet is a tremendous Blazers-based joke. But there is a shred of truth to the tweet, especially given the sibling rivalry aspect … well, "rivalry" might not be the right word, because unfortunately for Seth, things have been pretty one-sided when he's taken on his older brother.
In the six times they've played against each other in the NBA, Steph has always been the victor. While it adds to everyone's perception of Seth as the Warriors superstar's younger brother, the younger Curry could not care less about comparisons to the two-time MVP. After all, he is his own person.
This is why he's focused on how he can make himself and the Trail Blazers better this season. Curry does acknowledge, though, that his superstar brother's work ethic has fundamentally shaped his.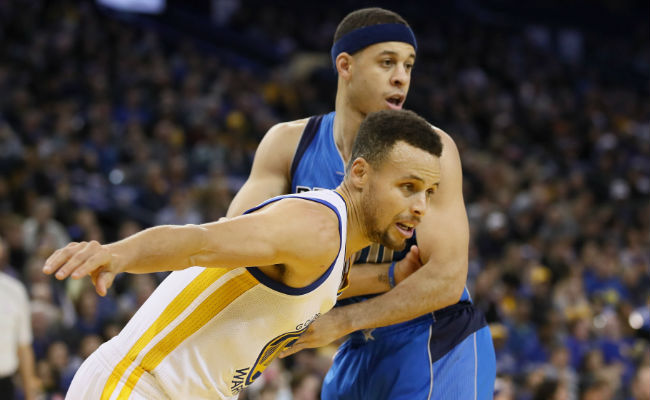 "I don't really compare myself to anything he does or anything like that," Curry said at Portland's Media Day in September. "He's always motivated me my entire life, just being around him and being able to work out with him, watching his work ethic. That hasn't changed over the last few years. He's always been a guy for me to look up to and model my work ethic after."
Like Seth mentions, the Curry family prides themselves on their work ethic. Steph became the superstar he is due to his penchant for constant improvement, which is why Seth is hoping that his own work ethic allows him to be a legitimate rotational player again after missing all of last season with a leg injury. Missing that much time wore on Curry and stalled the momentum he was building over the last couple of years of his career.
"It was a long year," Curry told reporters at a recent practice. "It was the first time in my life where I was in pain so much, I didn't really want to go into the gym and work on my game. It was tough. Usually, when I wasn't doing anything, I would go to the gym and shoot. I couldn't do that at all."
Curry's injury forces him to, once again, go through the struggle of trying to establish him in the league. This was something Curry went through early on in his career when he flirted with the NBA while honing his game in the then-D-League. Curry got his break after an excellent Las Vegas Summer League campaign in 2015 and ended up on the Sacramento Kings for the subsequent season.

With the Kings, Curry averaged just 15.7 minutes a night in 44 games, but he shot a stellar 45.5 percent from the field and 45 percent from three. Curry parlayed his strong play in Sacramento to a deal with Dallas, where he averaged 12.8 points per game while shooting 48.1 percent from the floor and 42.5 percent from distance in his first season.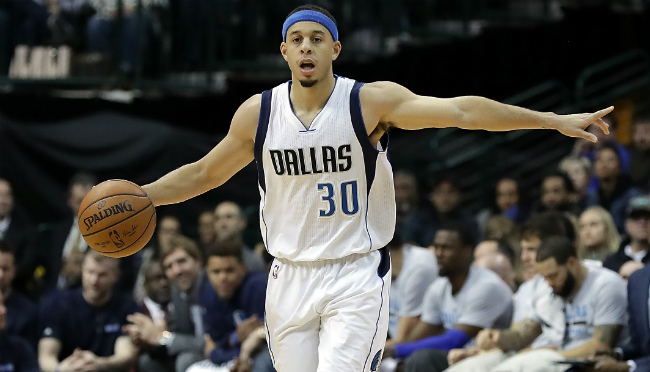 But just as Curry looked like he had carved out a role as a key part of the Mavs' rotation, his injury derailed his tenure with the team, which moved on from him during his absence. Now, once more, Curry has to prove that he can actually be a key rotation player in the league, only this time, it's following an injury that stripped him of his ability to play basketball for a year.
Fortunately for him, the Blazers give Curry the perfect opportunity to showcase his skill set, especially since they have a need for shooters outside of Damian Lillard and C.J. McCollum. Further helping Curry is the fact that he can play alongside either Lillard or McCollum due to his ability to play either guard spot, which is crucial in Portland's system.
"That's the beauty of my game," Curry said. "I can play on and off the ball. I can spread the floor for those guys. You can't really help off me, the way I shoot the ball. Hopefully I'm here to make it easier for those guys playing with one of them or both of them at the same time.
"The system fits me well," Curry continued. "It's great for guards with my skill set that can play on and off the ball and can shoot. It's a good place for me come in and fit in and get to that next level scoring wise and offensive wise, try to be that offensive punch off the bench that they need."
It's not hard to agree with Curry's assessment. Portland's bench has lacked rotational shooters and a significant scoring option off the bench. While this may seem a bit far-fetched due to the rust that has likely accrued over the last year, Curry can conceivably be one of the leading scorers off of the bench for the Blazers.
Whether or not Curry is able to fill this role in Portland remains to be seen. However perhaps what's more important for Curry is becoming part of the NBA's conscience again instead of hanging out at the periphery. If he is able to do that, Curry will not only continue to forge a path that's separate from his brother, but he'll also live up to the Warriors star's advice from his 2015 MVP speech.
"Just seeing you, how you've grown and following your career, it's not easy having an older brother that's playing in the NBA and, obviously, a dad that's done it before both of us," Steph told Seth. "And the way that you're handling it is impressive. The sky's the limit for you, keep doing what you're doing and keep making the family proud."